When you want to do something to boost your house's curb appeal, have you noticed that ugly, exposed concrete foundation? Like the rest of the house, they also need to beautify. Just with a little bit of creativity and some hard work, you can turn your unattractive concrete base into something with awesome curb appeal. If you've been looking for ways to hide or dress up them, we have 11 ideas for you.
1.Flower Beds and Hedges
Plants, such as Hydrangeas, hedges, and vines can add beautiful effect to your surrounding, and they can do great job of masking a rough concrete foundation.
Image via: loveoffamilyandhome.net and Pinterest.com
2. Lattice
Covering the foundation with lattice will add a warm and country feel to your home. You can do the job using painted wood lattice or bricks.
3. Paint It
It seems a simple idea for refreshing those ugly foundations with paint. In fact, it is a risky idea because you need a durable, outdoor paint for the job, and the color should match the rest of your home.
4. Pebbles
Build a rock maintenance strip around the house, which buries shallow foundations, catches splashes, keeps walls clean and minimizes pests.
Image via: mymodremod.com
5. Stucco
Although it may be a bit outdated in interior decor, stucco is still used on exteriors and usually gets a nice finished look.
Bottom Image via: doitbymyself.com
6. Stone Veneer
Cover stacked stone veneer panels on top of concrete foundation. The way will be durable and efficient, although it needs you invest a sum of money.
More details: Youtube.com
7. Corrugated Sheet Metal
Metal sheets are common materials for outdoor diy projects. They can be easily trimmed and installed. In addition to hiding ugly concrete foundations, metal sheets add color and texture.
8. Brick
Brick comes in all types of colors and textures. It's another great way to dress up your boring foundation.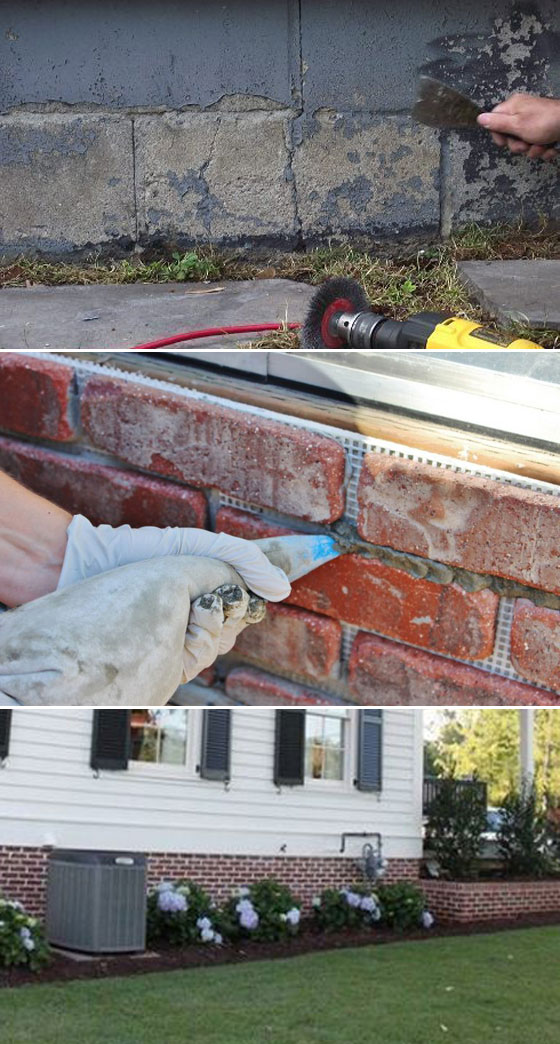 More details at: homemadelovely.com and mysweetcottage.com
9. Stone Cold
Applying stone materials is a beautiful way to hide the cement foundation and give a really high end look.
Bottom Image Via: fortheloveofahouse.blogspot.com
10. Cement Block
Paterned concrete blocks and pavers can add an interesting design to the house foundation.
11. Wood
Wood allows you to use a lattice or picket-fence pattern for a unique, homey look.
When properly sealed and treated against water and insects, wood makes for a versatile skirting material.