Breaking a mirror doesn't mean bad luck. In fact, I believe just the opposite. Broken mirror can be used into a great decorating project and make your space magical. If you want to turn those broken shards into something spectacular, just reading a list of ideas below…
1. This is an exciting idea for mirror shards. Turn an ordinary concrete planter into a gorgeous front porch decoration.
The first step about this project is to make a concrete planter and then stick hundreds of mirror shards on it. It may take a lot of time to stick the mirror shards if you want to achieve the effect in the picture.  Image source for bottom project: flickr.com
How to Make Concrete Planter: modernmaizy.blogspot.com
2. Use broken mirror mosaic on stair risers to bring interest to boring stairs:
Source Unknown.
3. Create a piece of broken mirror wall art for your wall:
All You Need:
You will need broken or old mirror, a hammer, heavy duty butcher paper or a heavy duty paper bag, gloves, a scrap piece of plywood, liquid nails and a caulk gun.
Image source: wallpaperartdesignhd.us    Get the full Instructions here: potholesandpantyhose.com
4. Create a wall mosaic in the bathroom with pieces of broken mirror:
Use industrial strength adhesive to attach pieces onto the wall and finish with unsanded grout to fill in the spaces between pieces.
5. Decorate your old piece of furniture with broken mirror and make it look new…
Image source: flickr.com   Get the full Instructions here: tedioustinkering.blogspot.com
6. Stick hundreds of mirror shards on garden fence to give it a gorgeous look:
For more details at: Cindy S@hometalk.com
7. Glue broken mirror pieces and blue marbles onto a bowling ball to make a cute mosaic gazing ball for your garden:
See the details at: gardendrama.wordpress.com
8. Turn those broken mirror pieces into a great modern dresser design:
The tutorial for above project: msbinglesvintagechristmas.com
The Instructions for
Case2 project

:
1. Primed with 2 light coats of Rustoleum spray primer in Black. 2. Painted with 2 light coats of Krylon spray paint in Oil Rubbed Bronze (it's a fancy black). 3. Removed doors and used Dollar Tree Super Glue to glue on broken mirror pieces. Let sit at least 8 hours. 4. Karacualk (unsanded) in Black in between mirror (apply like you're applying grout to tile).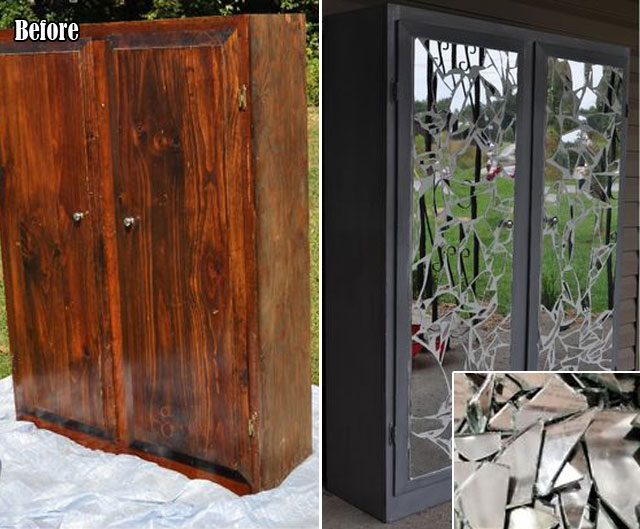 9. Applying the broken mirror idea to your garden door will have a stunning effect: beautiful and make a small space look bigger.
Image source: thankyouforasking.typepad.com
10. Suspended glass floor features mirror shards located in the space between subfloor and glass floor:
For more details at: freshome.com