Simple art can enhance the taste of the space, and the garden is no exception! They will make your garden more colorful and unique. Adding some gazing globes to the garden would be a great idea. They are perfect to tuck in a corner of your garden, to punctuate a busy flowerbed, or to add some interest to a boring pathway. Garden globes will help your garden keep the good look throughout the whole year, especially during winter and fall. Instead of buying glass gazing globes, you can choose diy some creative garden balls. From upcycled bowling balls to concrete projects, you can create garden balls out of so many different materials. I have chosen some examples for you, have a look them if you love DIY!
1. Use Old Bowling Balls and Spray Them with a Mirror-Like Spray Paint to Make Gazing Balls That Will Add Unique Character To Your Yard and Garden:
See the tutorial at: thegardenglove.com
2. Trim Out a Spherical Plant Sculpture to Beautify Your Garden:
Here's an article about Topiary – DIY Topiary: Take Your Pruning to the Next Level
3. Add Mirror Mosaic to an Old Bowling Ball:
Source: winevineimports.com
4. Garden Gabion Ball Created From Wire Mesh and River Rocks:
See the tutorial of similar project: bonneylassie.blogspot.com
5. Different Glass Light Covers Will Give Each Concrete Garden Sphere a Different Look and Style: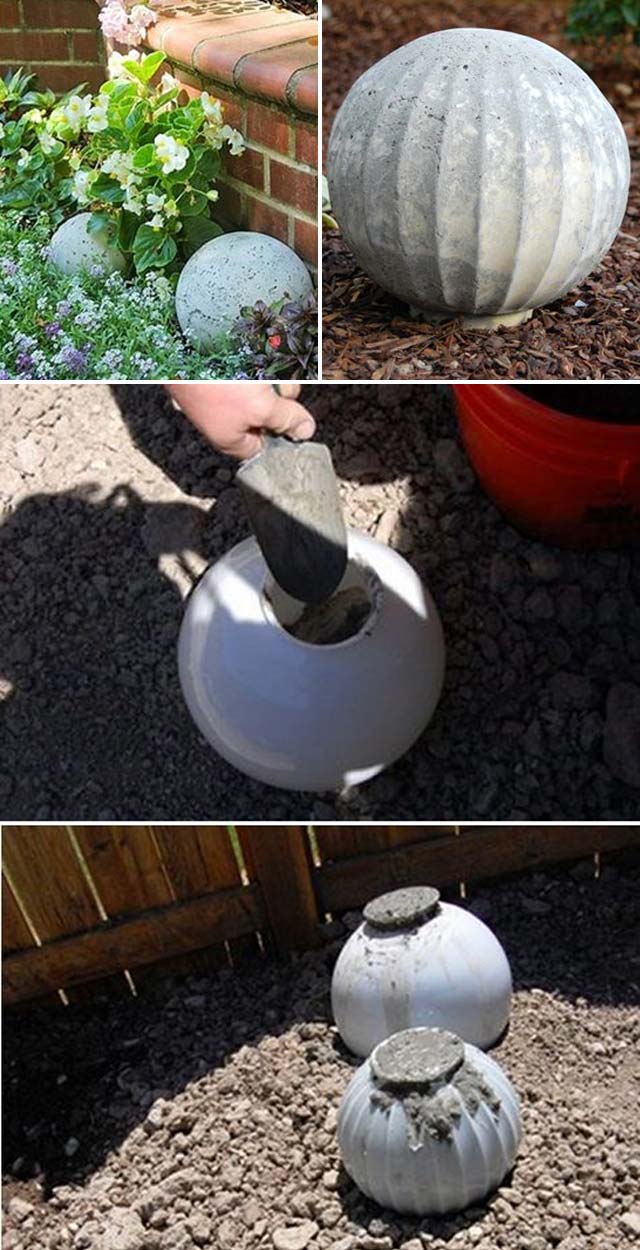 All you need to prepare: $3 glass light covers from thrift store; some quick-dry concrete and a little non-stick cooking spray.
Check out the full instructions here: designsponge.com
6. Create Garden Balls from Hundreds of Slate or River Stones That Look Downright Magical: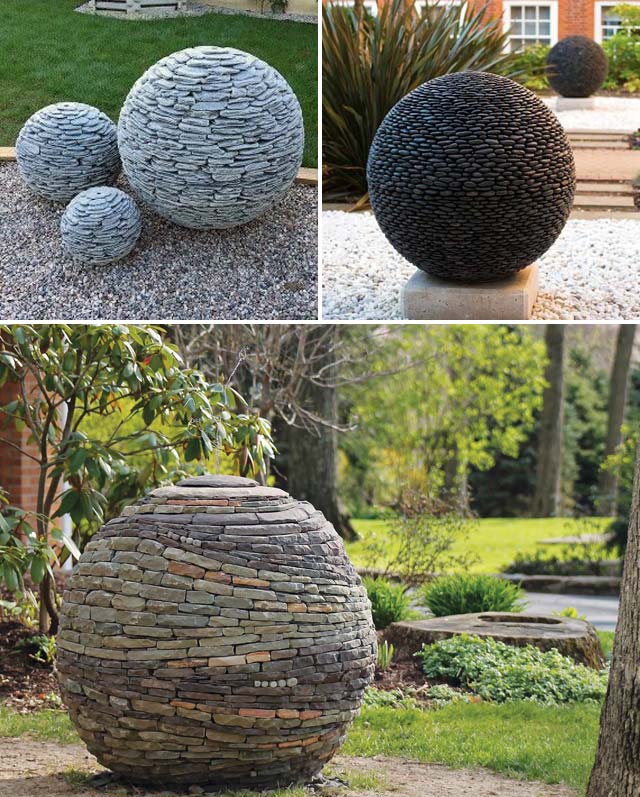 Image Source: mymodernmet.com and cleveland.com
7. DIY Flower Clay Pot Succulent Sphere with Video Instruction: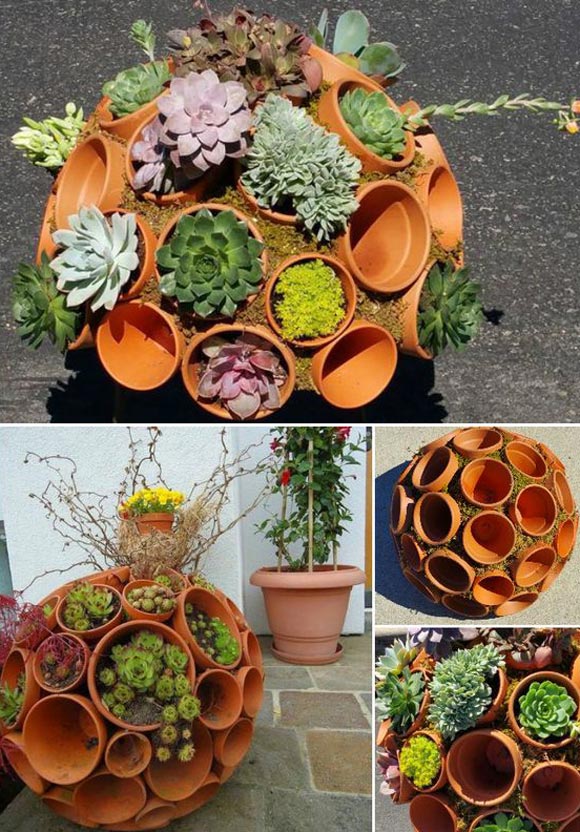 Video Instrucions here.
8. Simply Glue Marbles to a Spherical Shaped Something Like a Bowling Ball or Light Cover to Make a Gorgeous and Bold Garden Statue: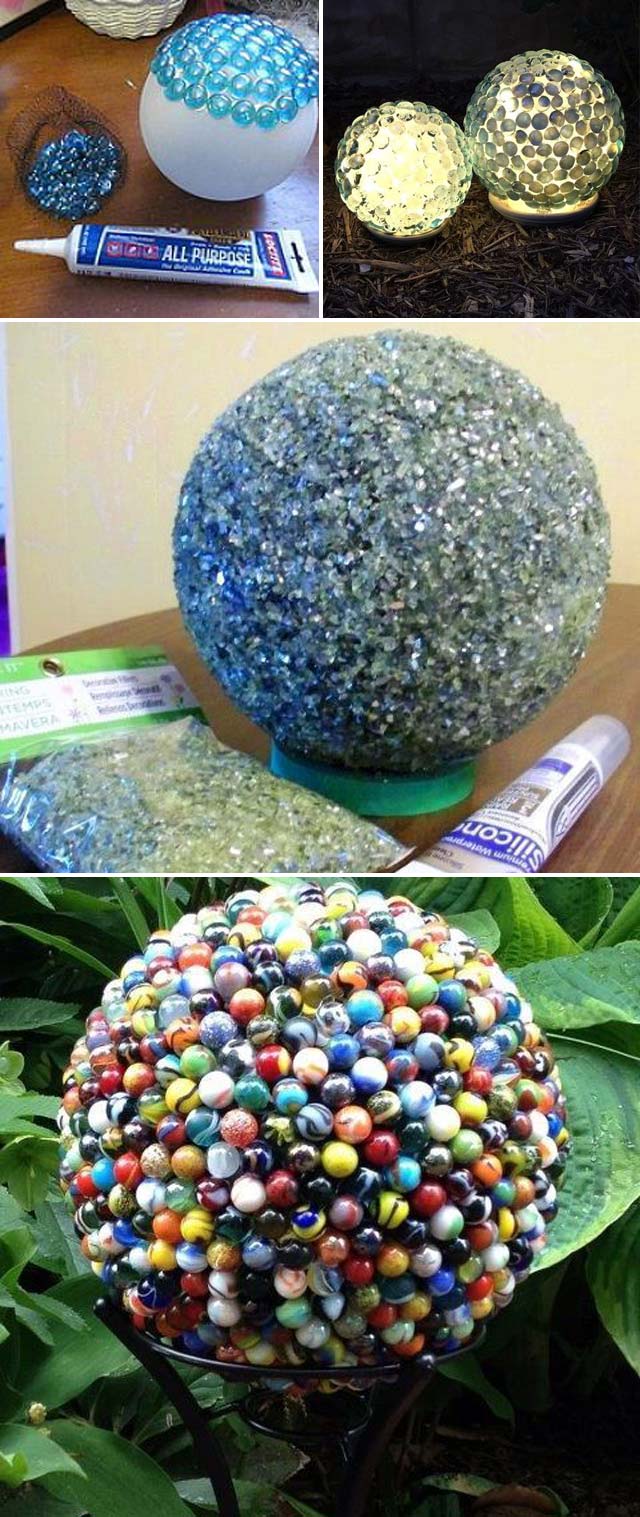 Top Image Source: flickr.com Center Project Tutorial: hometalk.com Bottom Project Tutorial: fleamarketgardening.org
9. Enhance Your Home's Outdoor with These Giant Concrete Spheres: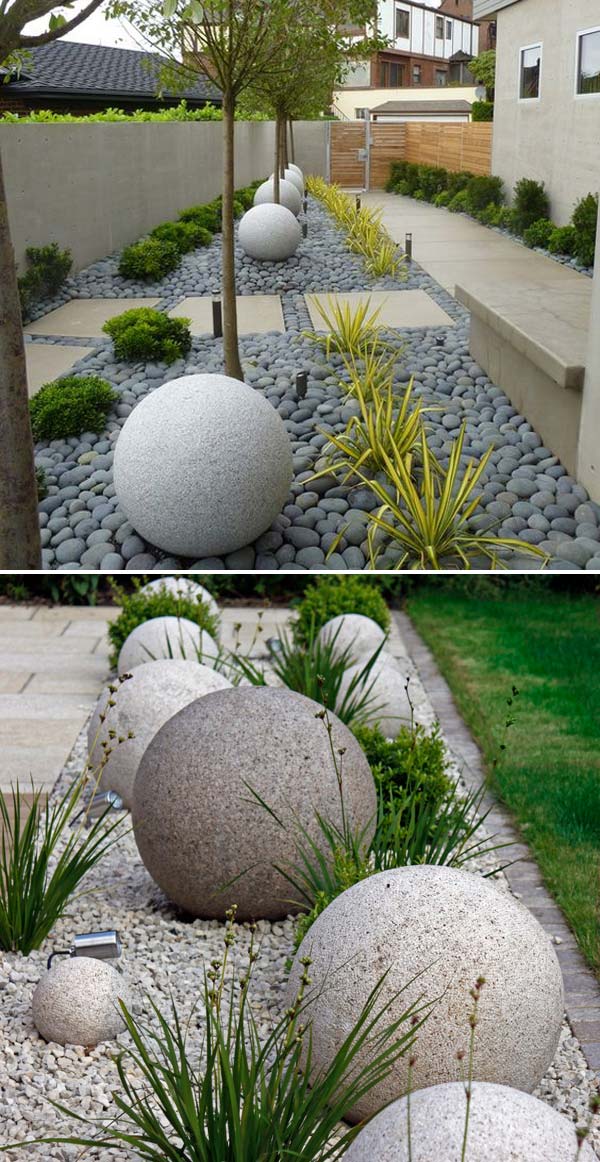 Bottom Image Source: greencubelandscapes.blogspot.com See the Tutorial "How to Cast Concrete Exercise Balls": ashbeedesign.com and bizfluent.com
10. Spray Paint Chicken Wire Ball to Look Like Truffula Flowers:
Check out the full instructions at: feralturtle.com Center Image Source: flickr.com
11. Stick Pennies on Old Bowling Balls Bought from Thrift Store To Make a Piece of Garden Art:
Visit kindredstyle.blogspot.com or houseofhawthornes.com for full instructions.
12. Inflatable Molds, Concrete Dipped Fabric and Yarn Make Cute Garden Orbs. You Can Also Spray Paint Them with Your Favorite Colors:
Get the full Tutorial here: madebybarb.com
13. Metal Sculpture Ornament Crafted From Kitchen Spoons and Fork: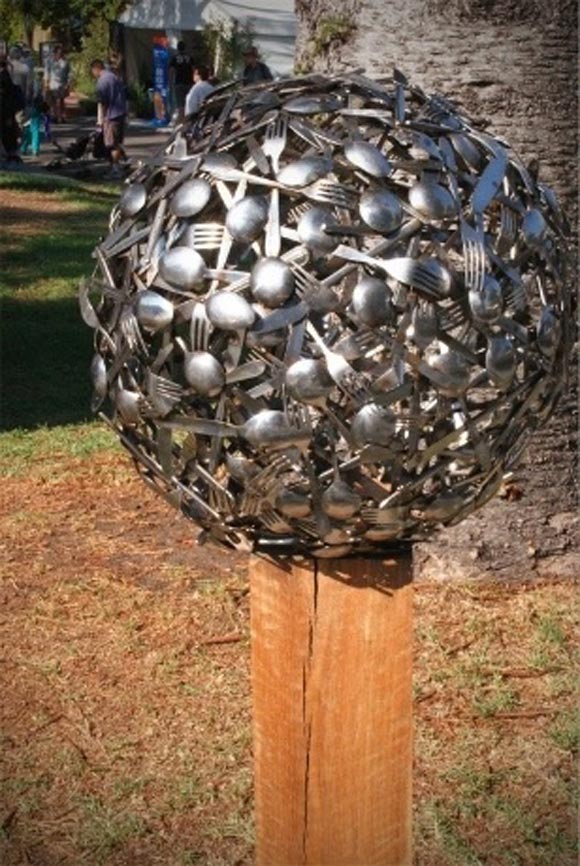 14. Do You Want to Have a Large Wooden Ball in the Garden?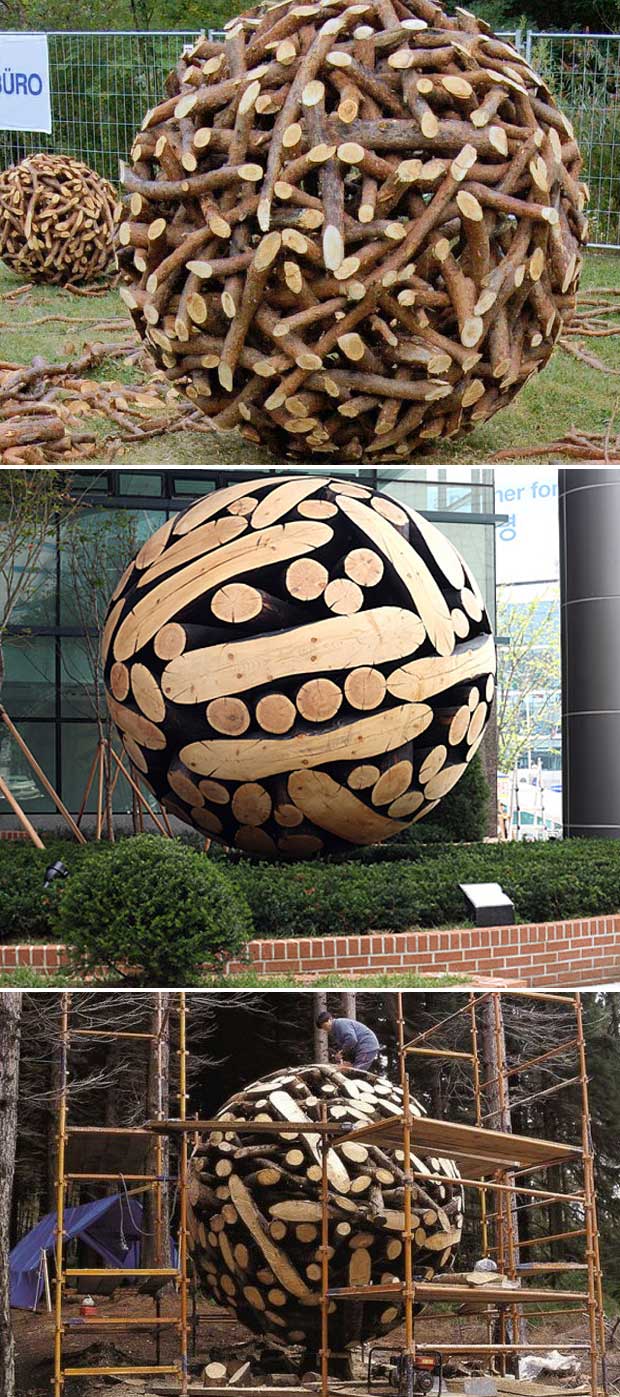 Image Source: monblog75.blogspot.com and theinspirationgrid.com and journal-du-design.fr
15. Bend, Weave and Shape the Vine into Spheres that Will be the Simple Garden Accents: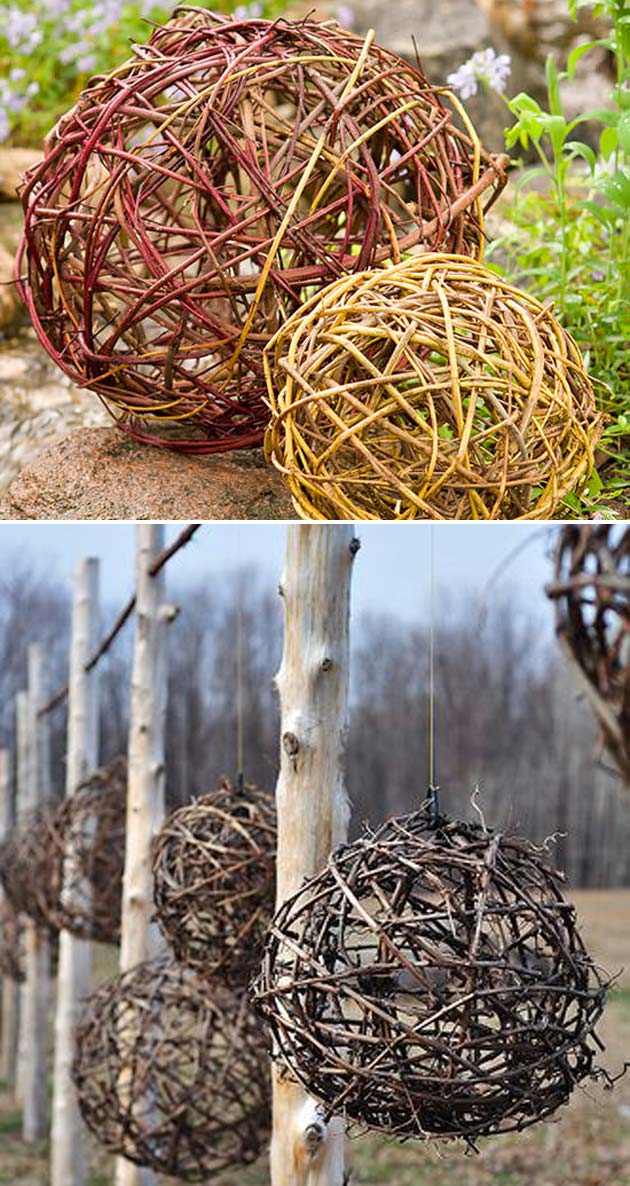 See the full instructions here: bhg.com Image Source: flickr.com