Spring will be arriving soon, and the best way to celebrate the best colorful season is to plant flowers. So here's great time to think about what kinds of planters you should place on the front porch. The front porch is the first impression that guests get when visiting your home. Flowers on the front porch can let your visitors feel welcome and enhance the look of your home. There are a lot of store bought versions of planters, but we recommend that you make one yourself. You can re-purpose a vintage container or old piece of furniture to get your wonderful planter. All you need is a little time and a big imagination. Have a look at these 12 Wonderful DIY Planter Ideas for Your Front Porch, and get inspired!
1. If you have a stash of the kids outgrown rubber boots in the closet, then you can try give them a new life such as these colorful boot planters:
tips: "Using a mix of potting soil and horse manure they filled up each of the boots right to the tip of the toes."






Check out the full instructions here: rosinahuber.blogspot.com   Top Image Credit: twelveoaksmanor.com
2. A beautiful vertical wall planter made using wood trellis will add great curb appeal for your porch wall:
3. If your backyard shed happens to have an old horse trough, why not transform it into a giant impatien planter?
4. Grab an old shipping pallet and turn it into a planter for butterflies:
tips: use an old dog food bag to make the pockets for plants, which will hold the moisture in nicely.
Check out the full instruction here: aproverbs31wife.com
5. Add a little personality and fun to your front porch by making a unique green home address:
tips: If you have a little woodworking skill, you can make this wood box yourself. And a shadow box with the glass removed will also work, just fill it with the faux grass.
Learn how to make it: abeautifulmess.com
6. Cedar flower boxes printed with your house numbers are sure to catch your visitor's eyes: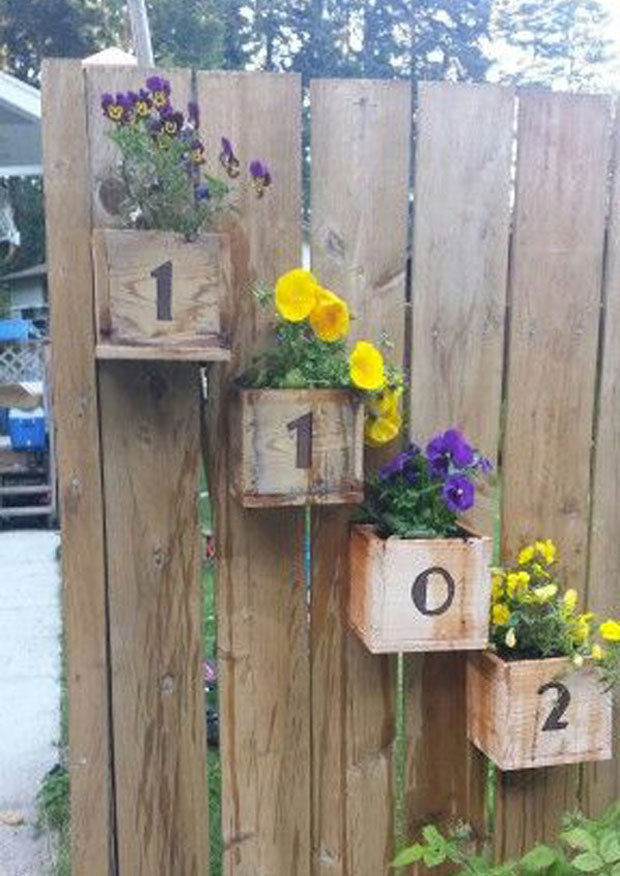 tip: This kind of wooden plant boxes can bring rustic touch to your home's outdoor. And they are perfect for a wooden fence.
7. Add wooden shelf to the underneath of windows and fill it with potted plants:
Image Credit: southernliving.com   and   marthastewart.com
8. Repainted old window frame, old chair and hanging wreath bring romantic feel to your porch decor: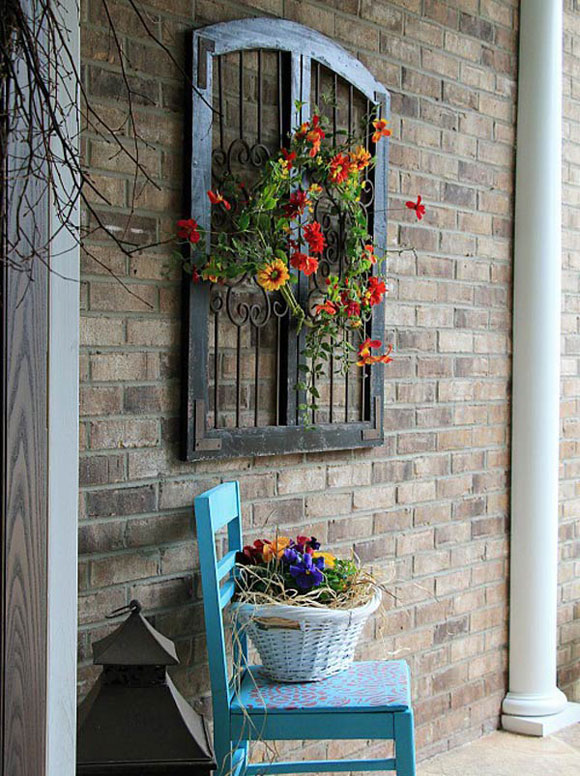 See the more details at: debbie-debbiedoos.com
9. Giant flower pots usually have a strong visual effect, so housing the blooms in a giant glazed clay pot and placing it in front of your porch would be sure to catch your guest's heart: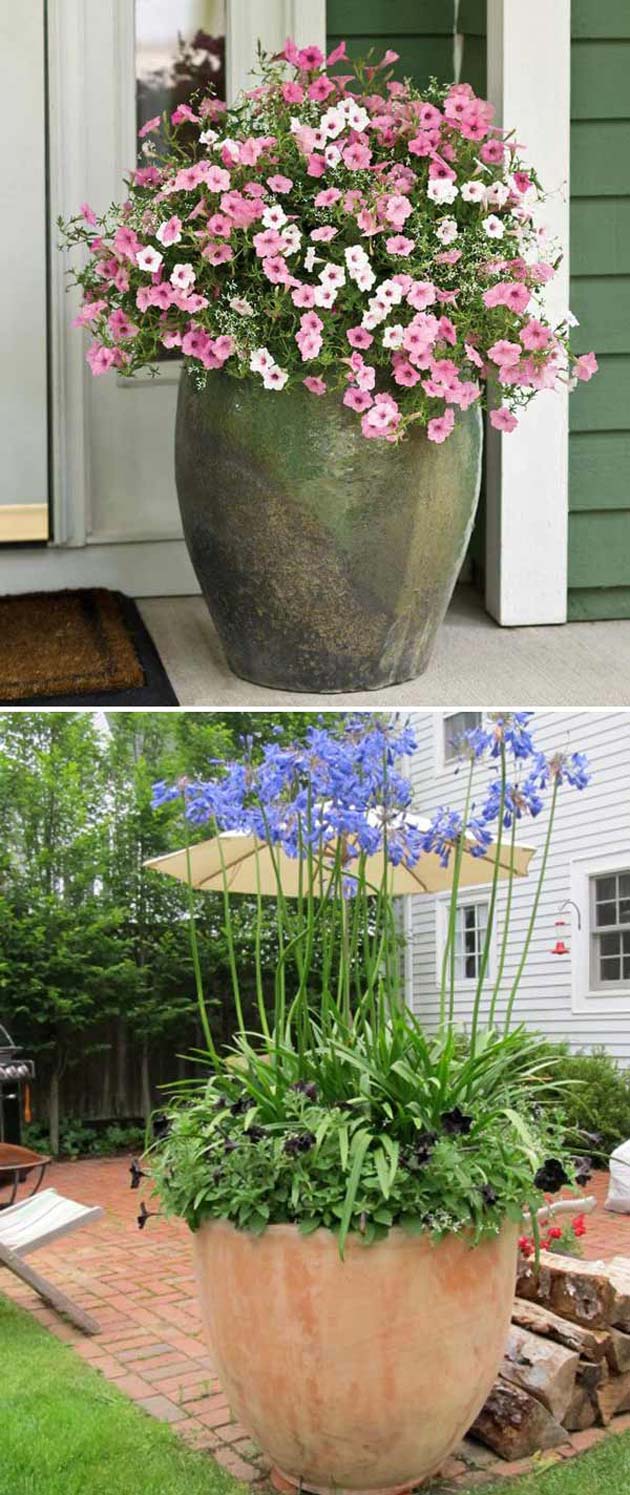 10. Galvanized planters are ideal for rustic outdoor decor:
For above example: Two square galvanized planters filled with tumbling blossoms and spiral upward branches.
Image Credit: stonegableblog.com
11. Paint the house address numbers on the flower pots. Their attractive feature will make your home easier for first time guests to find:
See the tutorial for top project: diyshowoff.com    Check out the full instruction for center project: mywonderfullymade.blogspot.com    The instruction of bottom project can be find at: curbalertblog.com
12. Mount a letter "K" shaped planter onto the porch wall to enhance your curb appeal: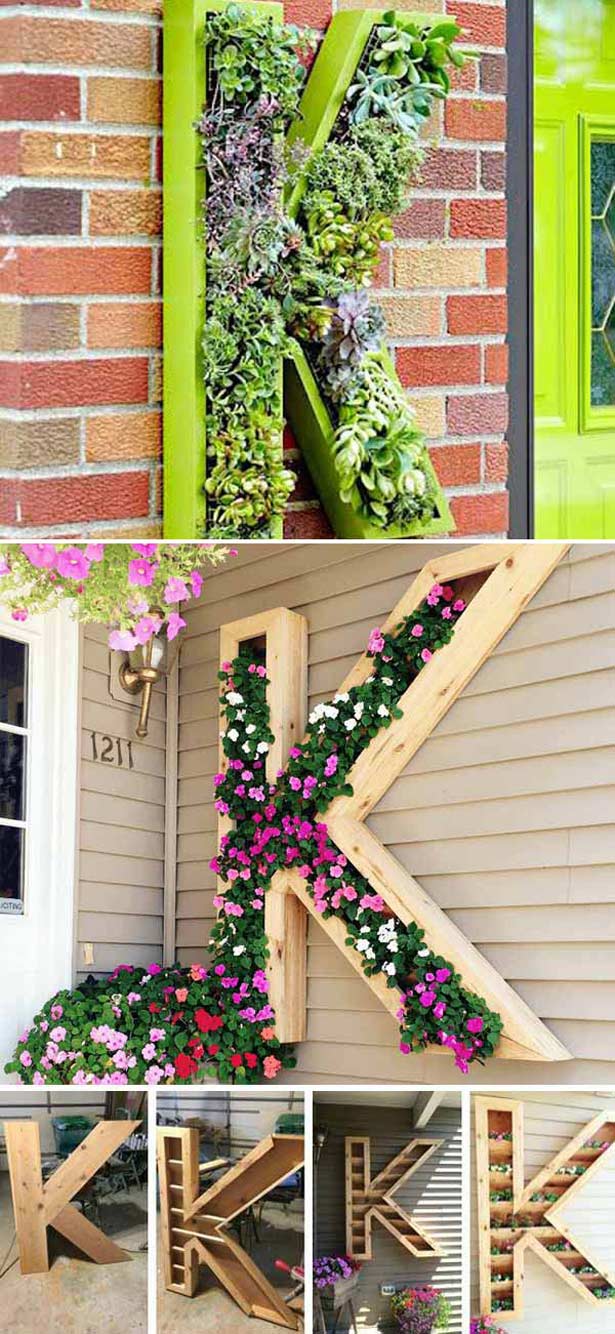 See the detailed tutorial here: remodelaholic.com