One of the best ways to decorate and celebrate special days is to create some chic and "UNIQUE" planters. When it gets closer to Halloween, do you want to make some planters that have a spooky look but still chic? It is not difficult to create your own Halloween-themed planters. They will feature Halloween's traditional purple and orange colors and many other creepy accents, like animal skulls, googly eyes, broken dolls, monster plant…
1. This sugar skull planters tower is definitely eye catching:
2. Could you accept this coffin table planter? It is enough to give goosebumps to anyone who sitting around it.
3. Paint the chestnuts or plastic balls to look like eyes to make terrifying monster plants:
See the TUTORIAL for "Halloween Chestnut Eyes".
4. When the terracotta pot gets a black coat, and covered with googly eyes of different sizes, a planter that has a daunting look will scare your guests:
Check out the full TUTORIAL on: realhousemoms.com
5. Fill the animal skull with potting soil and plant your succulents. The result will be a scary Halloween table decoration: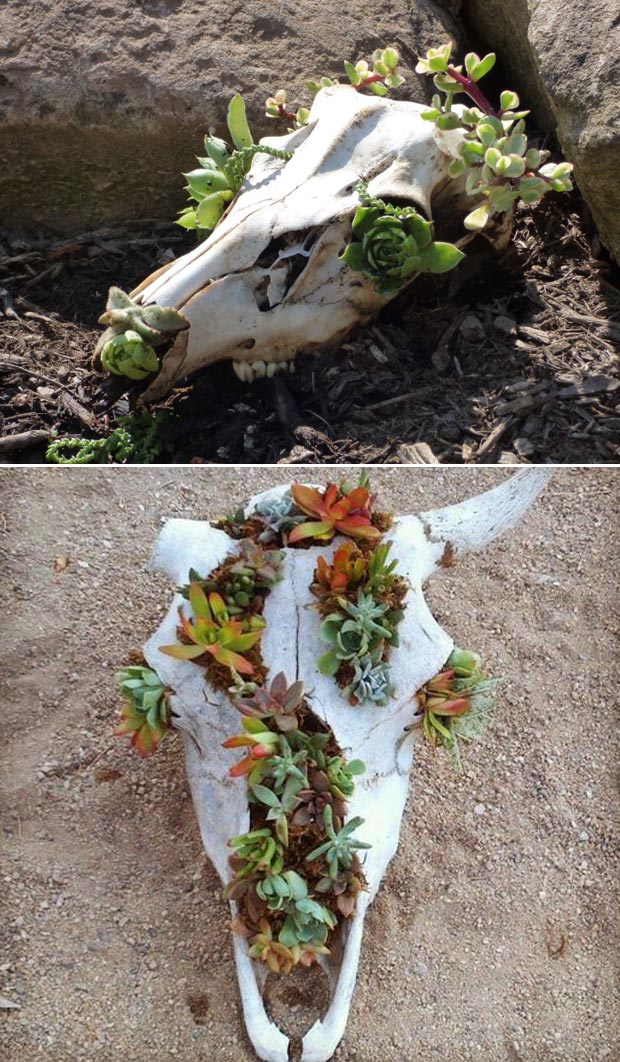 Image via: apositivelybetterlife.com
6. Standing around your front yard, a man-eating monster plant adds spooky atmosphere at Halloween nights:
See the full instructions here.
7. Need a little more black in your Halloween decor? Take a few fake potted plants, spraypaint them entirely black… and you can use them again next year: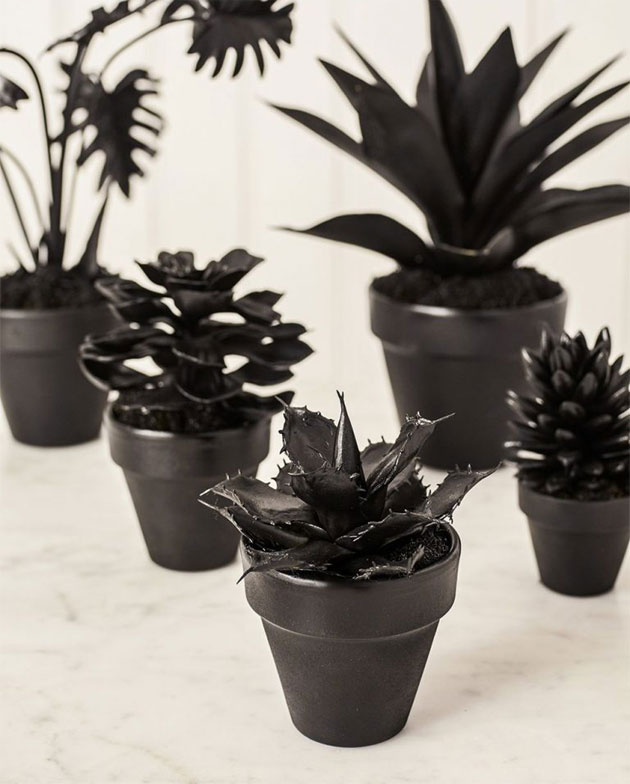 Image via: elledecor.com
8. Broken dolls can be seen often in many horror movies. Collect some creepy dolls from thrift stores and flea markets, and then transform them into ghastly doll planters.
See the tutorial on: diynetwork.com
9. Turn those old pumpkin candy buckets into concrete pumpkin planters that has the ability to stand alone your garden path and scare your visitors:
Follow the instructions at: Rhonda B@hometalk.com
10. Made of styrofoam, cardboard, or plastic resin, skull planters will add a mischievous note of Halloween flair to your table:
Image via: imgur.com Visit Themerrythought.com for the instructions.
11. Add a spooky touch to your flower planter through a surprising Halloween-themed accent, like zombie hands:
Image via: gardentherapy.ca
12. Skeletons are almost everywhere in Halloween decorations, so when the they appear in your flower pots, the effect of horror should be good:
Image via: katiemayed.blogspot.com
13. Draw a scary face on the pumpkin and carve out the holes to make a jack-O'-lantern planter:
Follow the instruction here: thriftyfun.com