When talking about creating landscaping projects for your home's outdoor, hardscape made of masonry should be given priority. Due to its timeless style, the hardscape that defined by landscaping with brick becomes the choice of many owners.
Besides of that, there are several reasons that use brick so often in landscaping applications:
1. Brick is a Highly Versatile Building Material
2. Durable and Withstand Weather Extremes
3. Retain a Rustic Natural Element
4. Match the Home's Primary Structure
5. Artistic Pride in Arrangements of the Bricks
Brick is not only used for pathways and walkways, but it also can be seen in many excellent landscapes – inviting walls, charming planters, elegant patio and others. Landscape created with brick increases curb appeal and provide a stylish yet, rustic feel that speaks of coziness and warmth, and it also add a lot of value to a home's resale price. Here are 15 brick landscaping ideas to start:
1. Outdoor Kitchen
Build low wall fences for your herb and vegetable garden. The white garden door is unique and beautiful among the red brick walls. But the most attractive thing is an outdoor kitchen that is built along a low wall. It will greatly enrich your outdoor life.
2. Bench Garden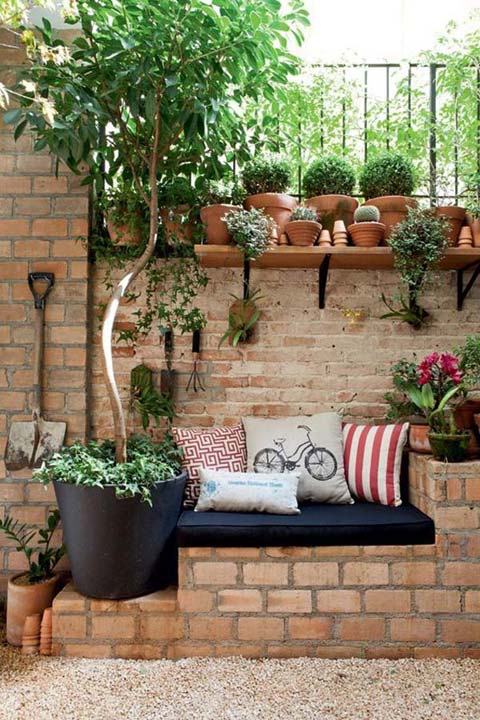 Container plants of different sizes are placed on this stepped brick bench, turning this small area into a mini garden. With a soft cushion and beautiful pillows, this area is going to be a good place for relaxation.
3. Herringbone Pattern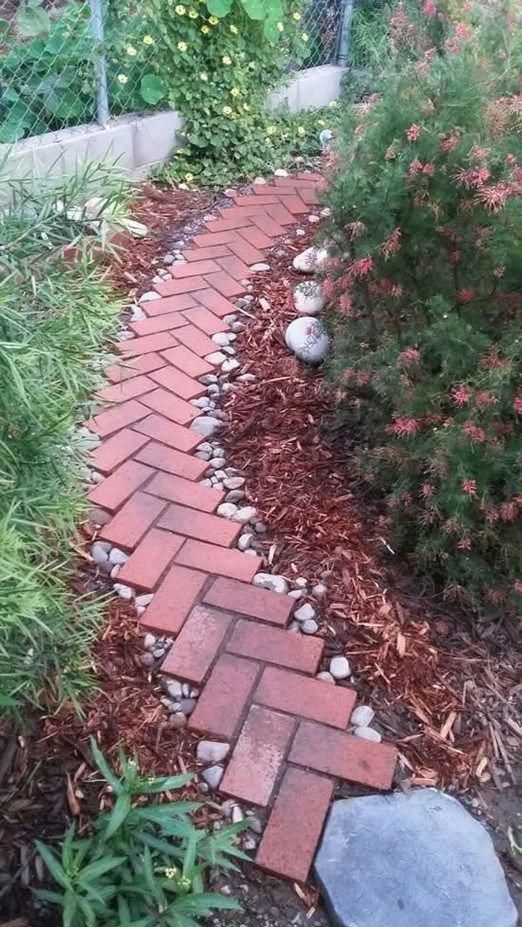 Garden paths are not only functional due to their use but also make your garden look more beautiful. Laying a garden path does not always require a lot of work. Sometimes, you can build a simple path with herringbone pattern, by using red bricks and some pebbles.
4. Paved Courtyard
A brick wall lends privacy to this brick-paved courtyard. Even though this adorable side house patio area is small, the interesting furniture and surrounding plants make it the perfect nook for relaxing.
5. Low Retaining Wall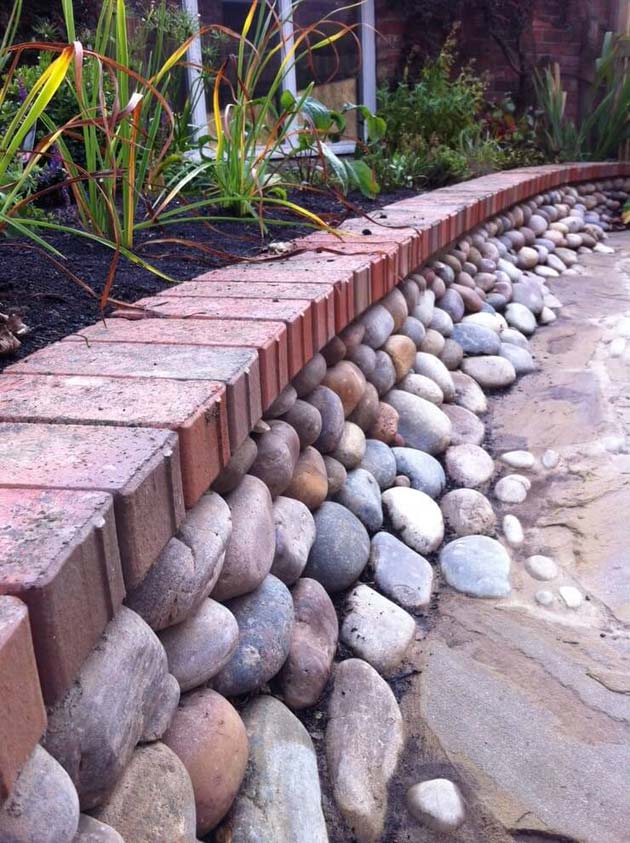 Image Source: houzz.de
If your home is building along hills or on sloped places, then you need to build retaining walls to retain soil on the backside. Besides of their functional part, retaining walls also serve as a decor element so that it can add to the curb appeal of your home.
6. Brick Water Feature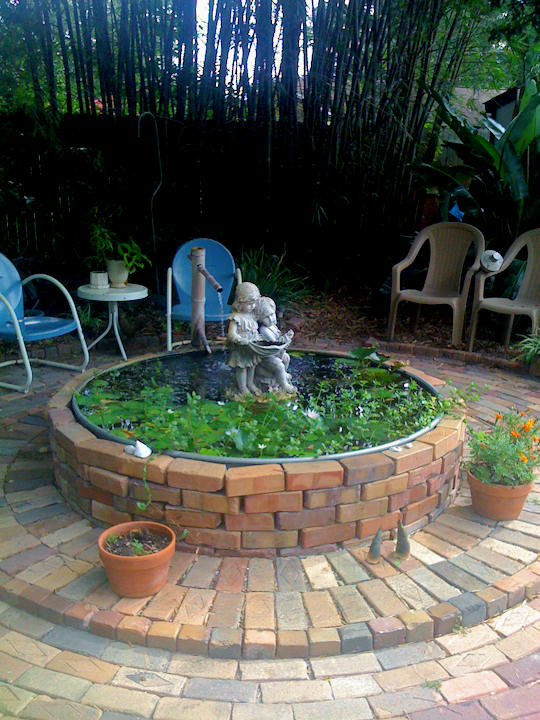 How to build this: mmeara.wordpress.com
Place red bricks around a large galvanized tub for creating a simple backyard pond where you can add some water plants for a beautiful look.
7. Brick Steps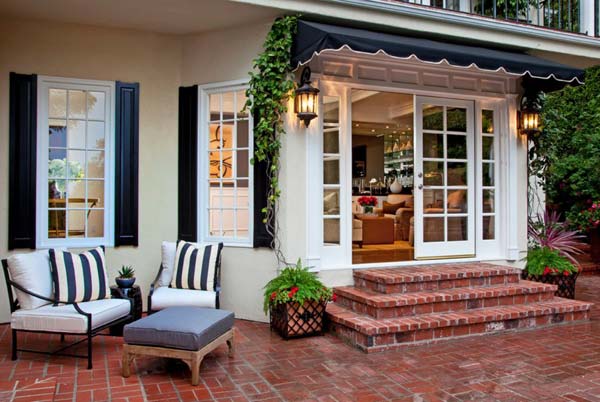 Image Source: decoist.com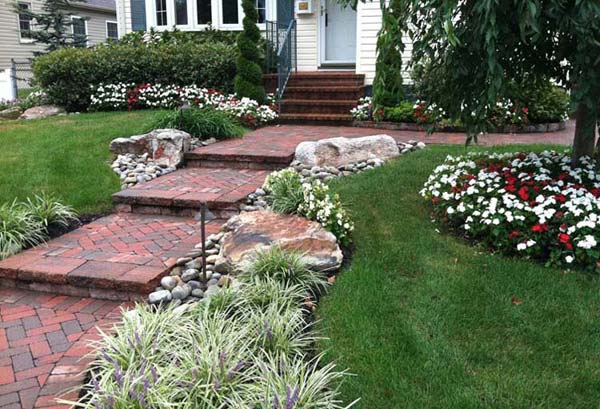 Image Source: front-porch-ideas-and-more.com
The white facades and red brick patio impressed me a lot. Besides of that, by adding some brick steps that lead into the patio, it creates interesting depth of perception.
8. Raised Bed Upper Edge
Raised beds bring a unique look to a garden. They can do wonders for maximizing your landscape area. Bricks and cinder blocks have been usually used to create a raised bed. The base and walls of a raised bed can usually be made with cinder blocks. Then give the walls a white paint coat. The upper edge paved with red bricks is very unique and promotes landscape of the raised garden beds.
9. Pierced Brick Walls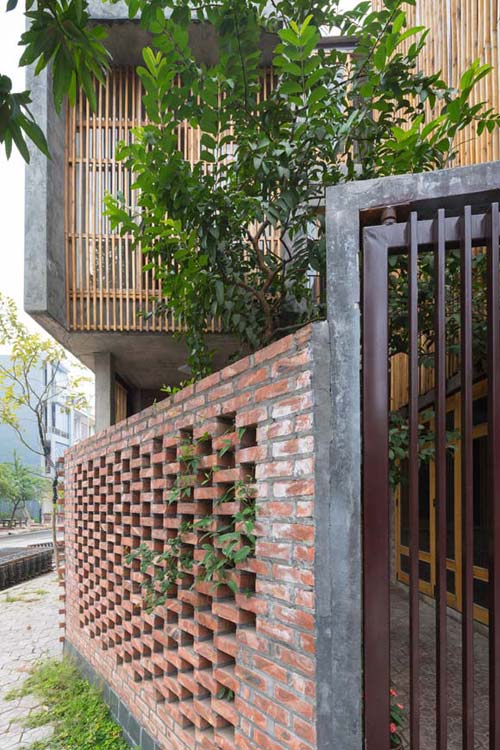 Image Source: archdaily.com
Brick walls can lend permanence to your landscape. They are more durable than wire and wood walls. And interesting pierced brick provides privacy and air flow while providing only a hint of what's in your garden by passersby.
10. Brick Border Flower Bed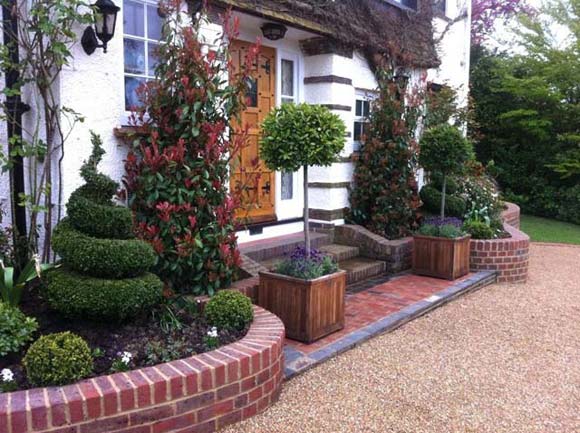 The flower garden in front of the house gives an opportunity to using bricks to creates a stylish finish touch to both the house facade and the garden. This brick border flower bed adds texture to the whole house and will make your neighbors envy you.
11. Brick Bench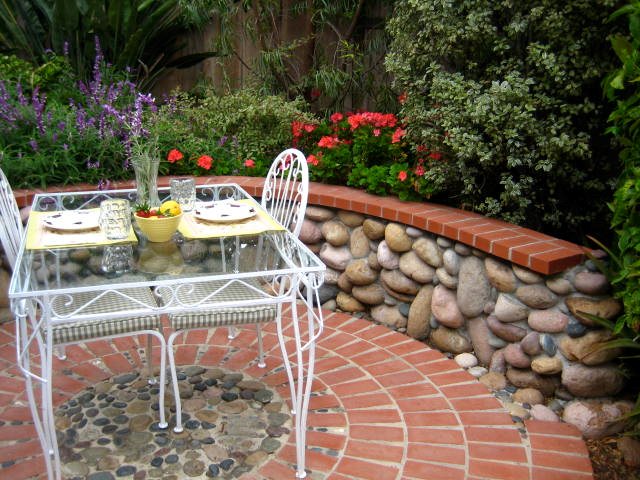 Image Source: landscapingnetwork.com
Brick patio provides a really cozy place for relaxing. The design of the brick patio can be traditional or modern depending on your home style. Brick looks especially nice as bands or borders around a concrete or stone patio. This patio bench that built from pebbles and stones, looks particularly beautiful because the surface paved a brick band.
12. Curved Brick Planter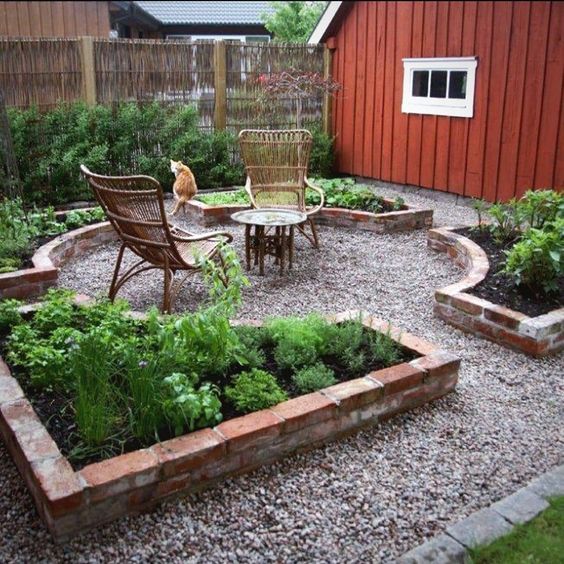 Image Source: instagram.com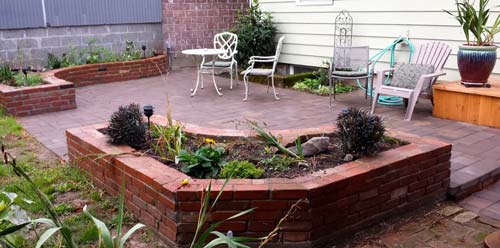 This layout of raised garden beds is great. The chunky red bricks look outstanding coupled with the bright green herbs and veggies. The circular interior is perfect for a pair of sitting chairs to enjoy the garden as it fills in over the warm summer months. Apart from that, it is also good to build a long planter for patio.
13. Brick Walls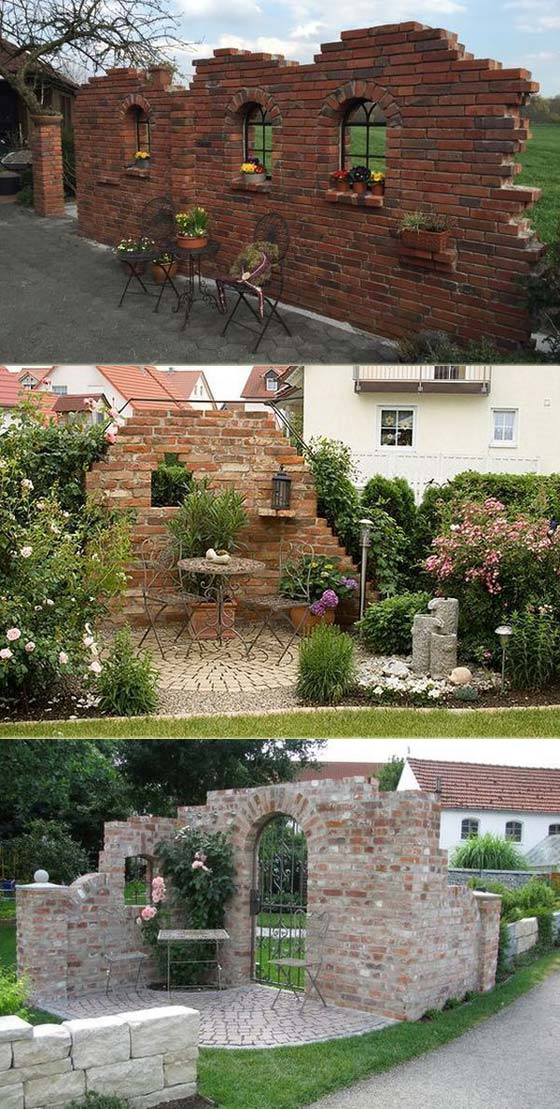 Brick wall with decorative windows just like a sculpture in a garden, which add a lot of fun to your landscape. A pair of sitting chairs that placed along the wall will create a comfortable relaxation area.
14. Sitting Area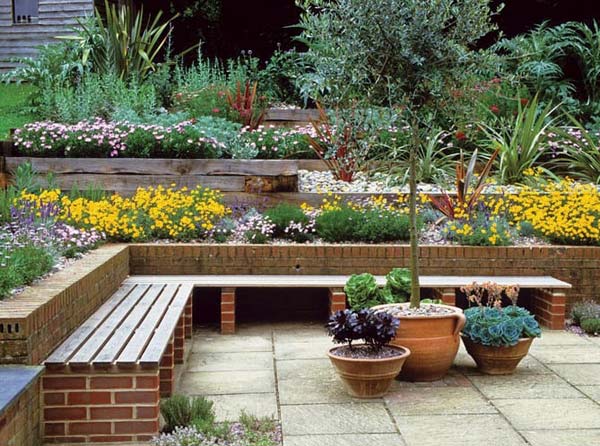 When you plan to make perfect oasis for relaxation in your yard or garden, the seating area is must. It does not require a lot of space. Add a brick bench around your big container plants which can be replaced with fire pit in cold weather.
15. Water Fountain Landscape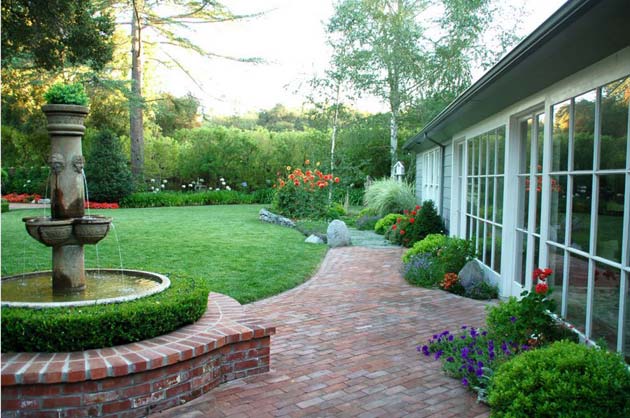 Image Source: houzz.com
The pedestal of bricks artistically surrounds this fountain, creating a focal point for the courtyard.