Babies' rooms are so cute. Creating a dreamy baby registry can be thrilling, but decorating the nursery is where the real fun begins. You should be very concerned about how to add some elements that any dreamy nursery would have, so we have gathered a collection of 17 cutest nursery decor ideas that will help you. They are all created with love by creative parents.
1. With 5 steps you can create your cute nursery mountain mural: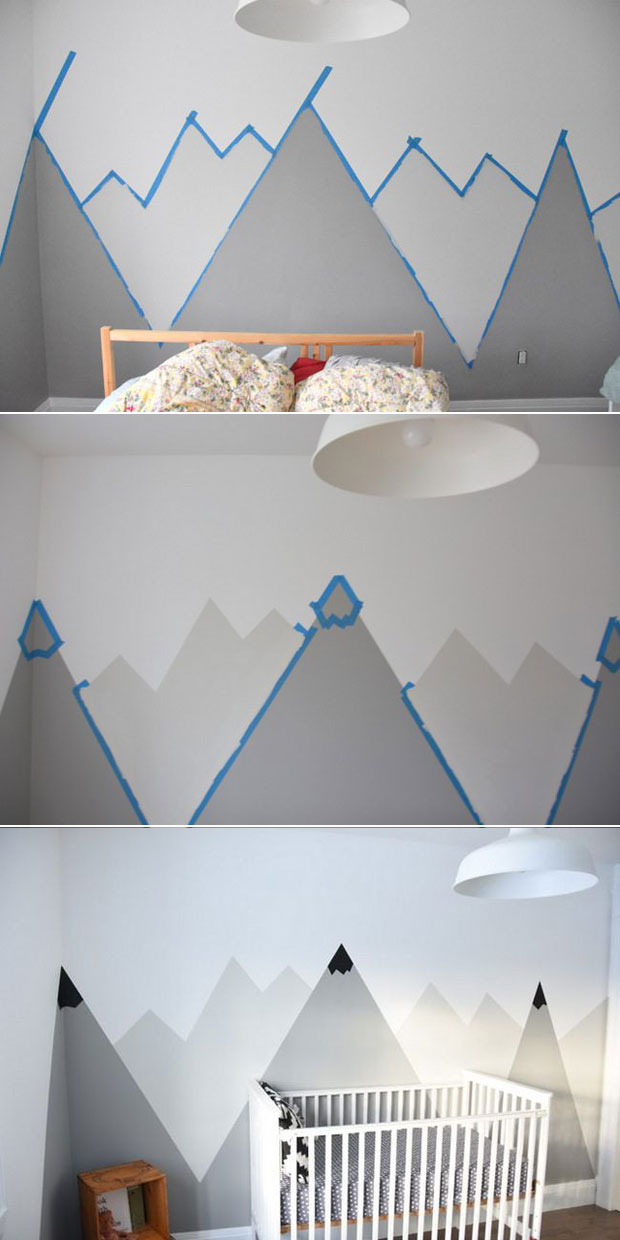 To finish this DIY project you need to prepare wall paint in 3 colors, good quality painter's tape, damp washcloth and paintbrush & rollers. The full tutorial is available here.
Check out the video tutorial below:
2. A whimsical woodland-themed nursery: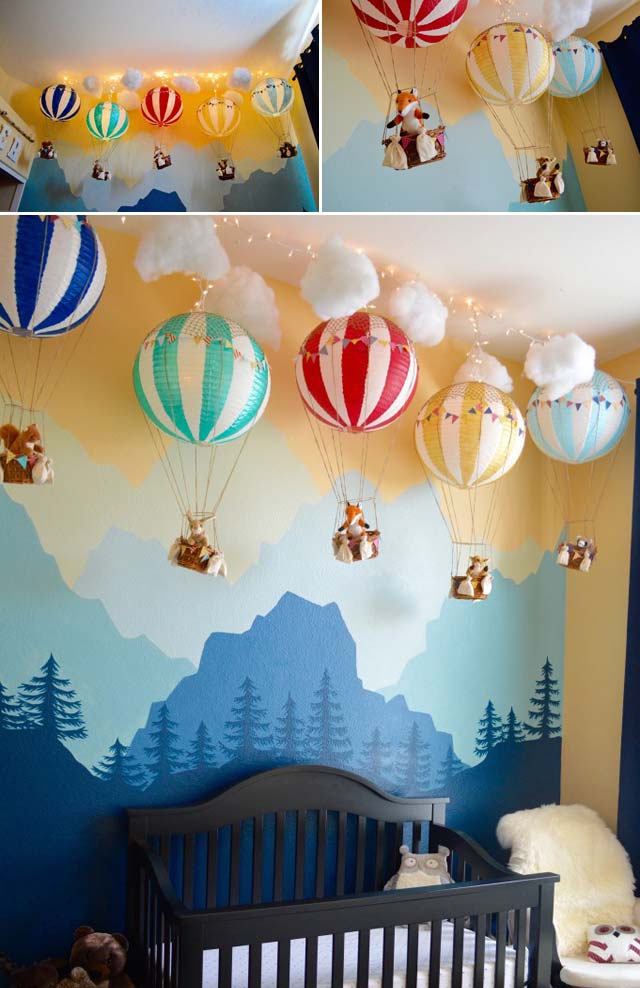 The hot air balloons are adorable that were made out of painted paper lanterns, and the clouds were made from pillow stuffing that look like floating in the air.  For the more details at projectnursery.com.
Check out the video for paper balloons below:
3. String lights create the stars of the skies in the nursery:
4. Make the letter "R", and paint it with magnetic paint, then paste a magnet under each toy car:

Image source find here.
5. Hanging winged keys help you create a Harry Potter themed nursery:
6. Scrap fabrics can be used to create happy clouds and rain drops mobile for baby nursery:
craftinessisnotoptional.com has full tutorial about the left project. And the guide for "Fun Felt Rain-Cloud Mobile" is availabe here. The source of "Clouds and Rain Drops" can be find here!
7. Realize a button balloon and elephant wall art piece: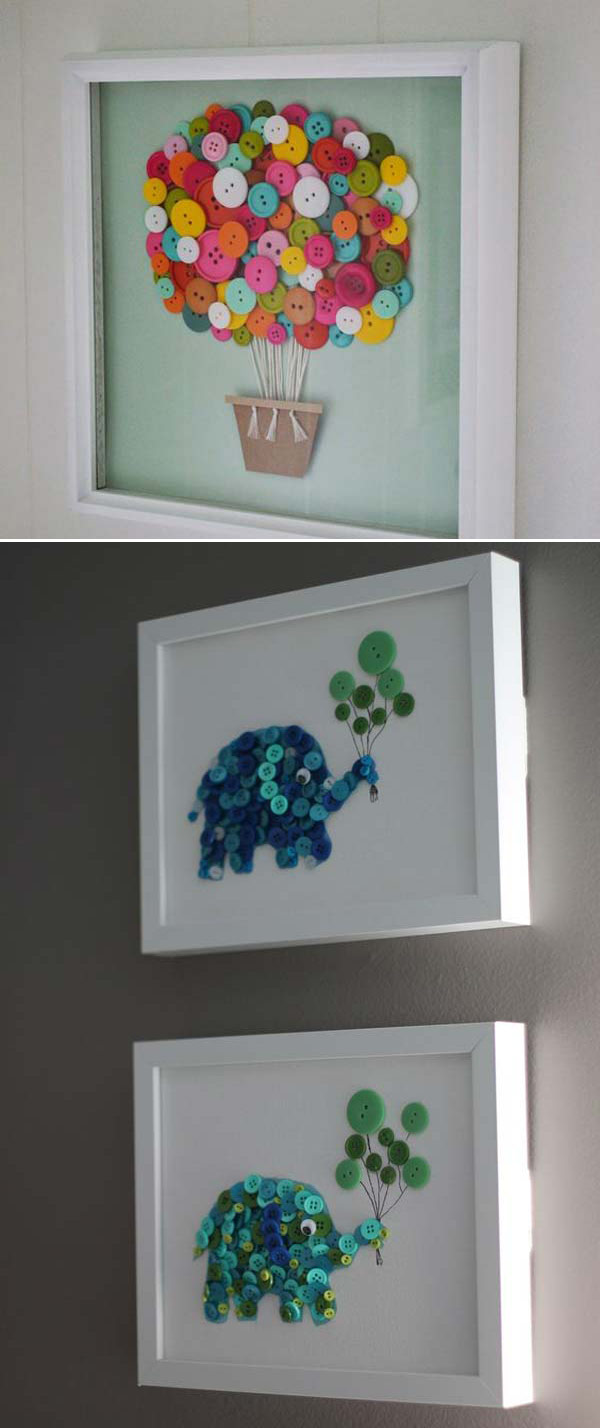 Go check out the more details at 724southhouse.blogspot.com.
8. A Beautiful Cottage Themed Nursery: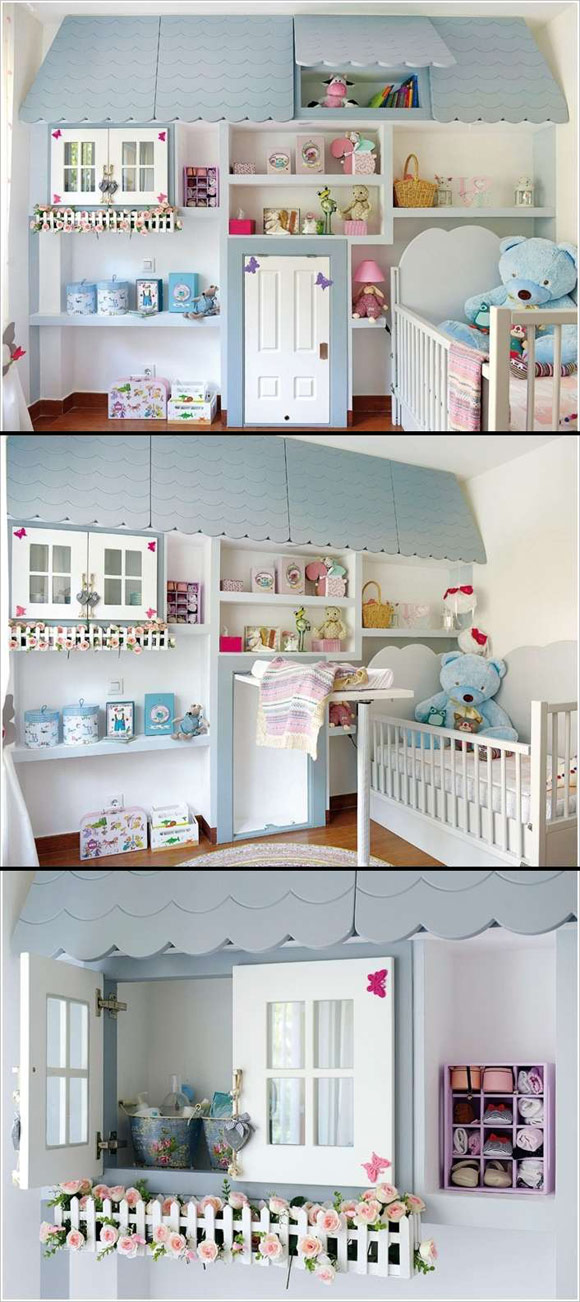 9. What do you think of a video game-inspired baby's room?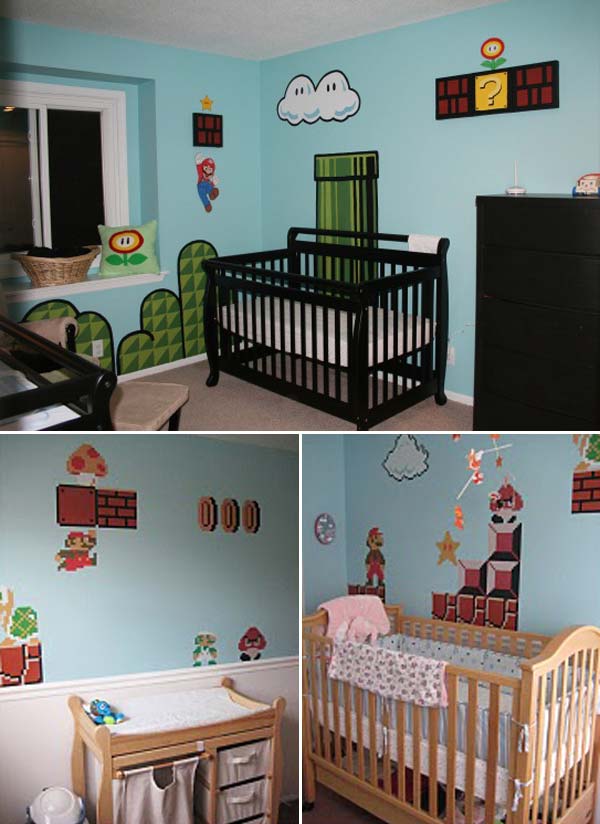 See the details at babycenter.com.
10. Nestle fluffy toys and clouds in a baby nursery: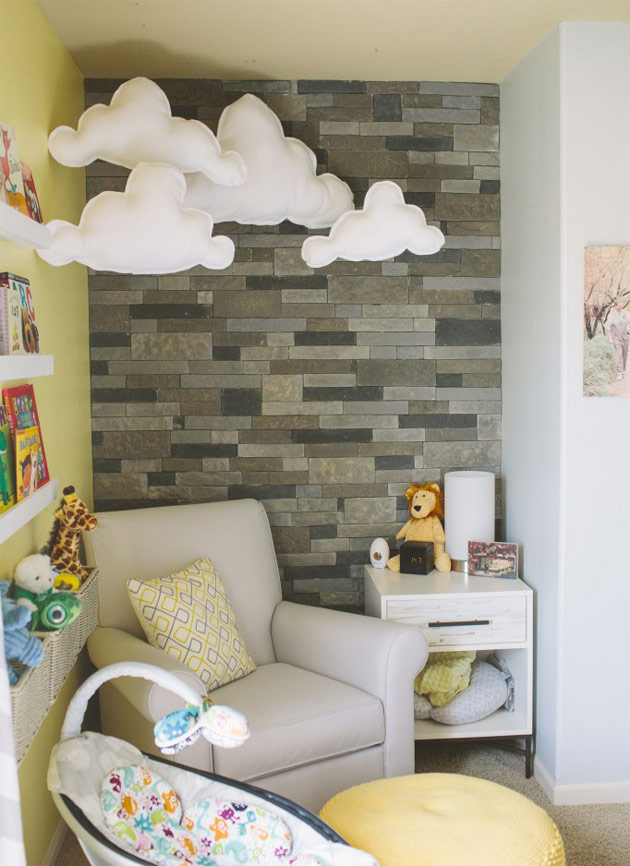 Check the details for this project here.
11. Baby's 4D ultrasound pictures can be displayed: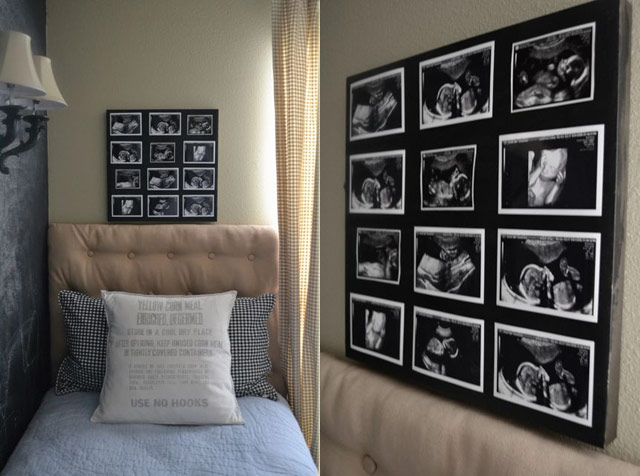 Get the details here.
12. Use plastic rain gutters to create a decorative bookshelf for your nursery: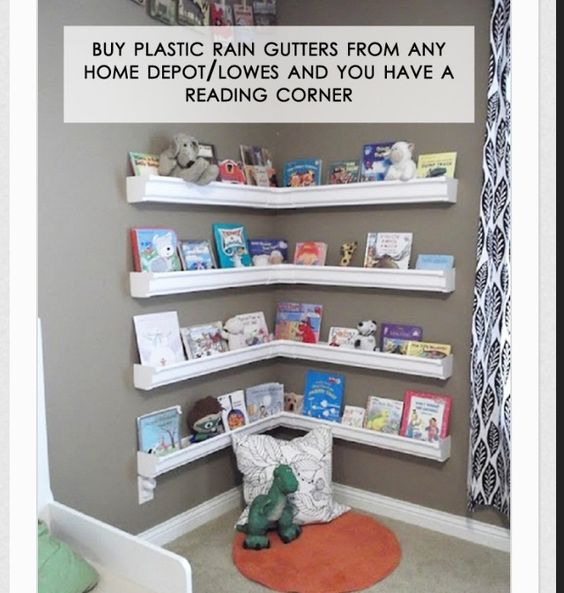 The installation process pretty much consists of sawing your gutters to your desired amount, finding studs on the section of the wall you want to mount them to, using a leveler to make sure they come out straight and screwing them in! See the full tutorial here!
13. Wooden pallets create a rustic wall art pieces: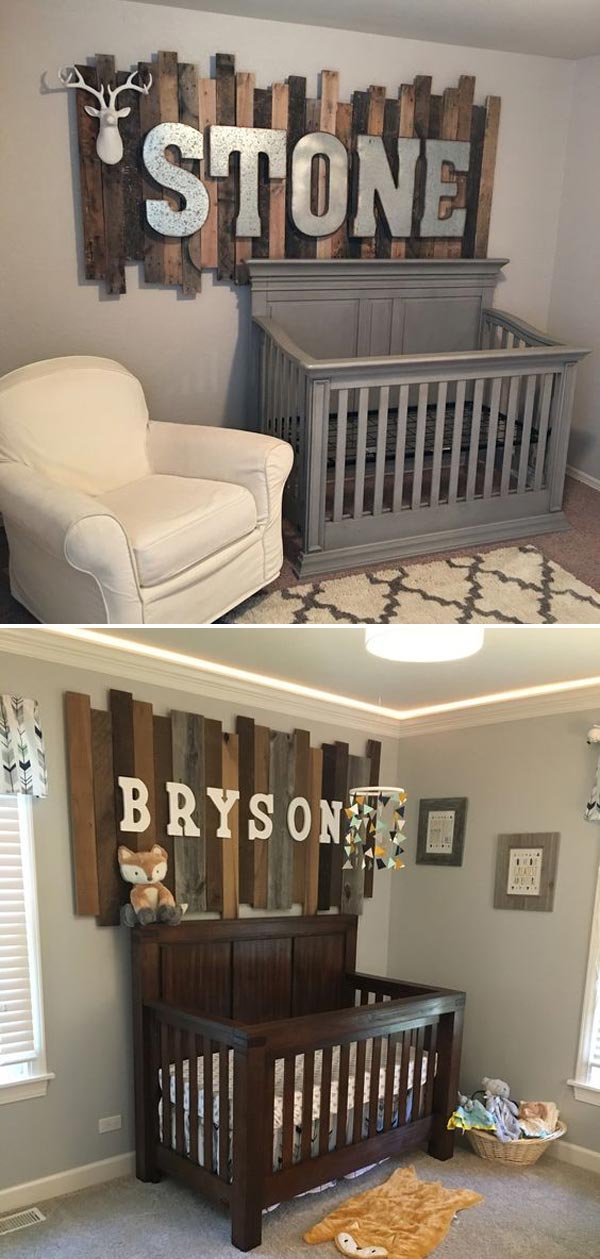 14. Realize a beautiful butterfly mobile: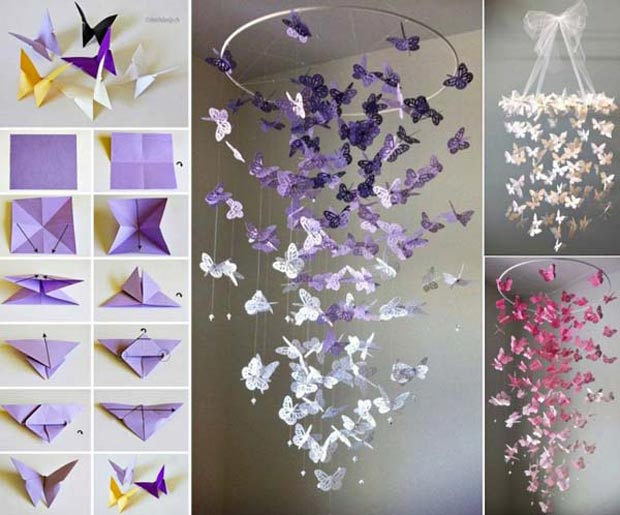 Check out the video tutorial below:
15. A Chalkboard Wall Would be So Much Fun: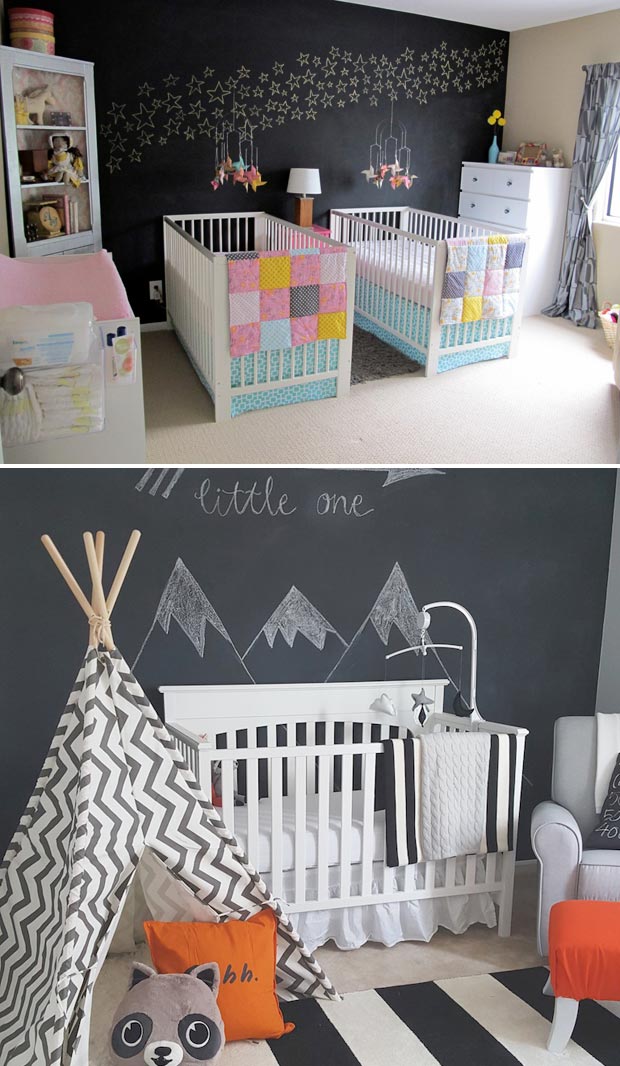 Image source at projectnursery.com and fawnoverbaby.com.
How to make a chalkboard wall:
16. Baby nursery features glittered mini animal figurines: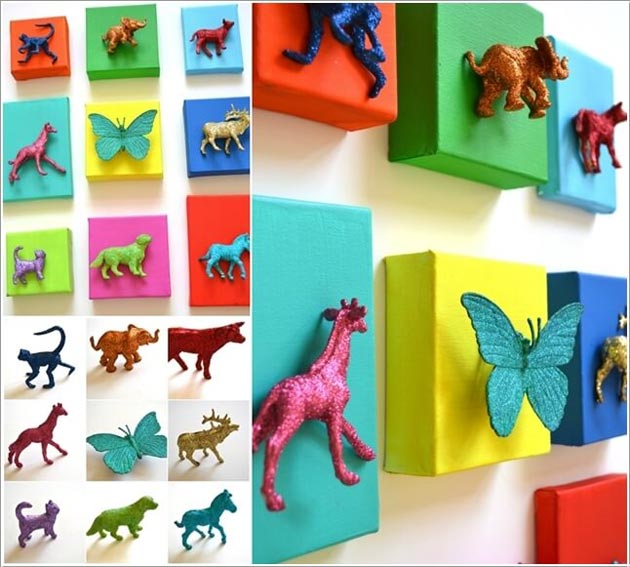 Glitter those mini rubber figurines and then mount them onto your painted canvases. See the step by step instructions here.
17. Bring white fence to indoor, and then decorate it with giant flowers: