Do you want to transform the look and feel of your black kitchen? If you add some unique decorative elements, you can improve the look of your kitchen. Slight changes in window coverings can make a strong impact. Let the natural night flow in by replacing old plastic mini-blinds with a new curtain set. Use valance and complementary drapes to open and close them in the morning and evening.
You can come across many more black kitchen design ideas. Add black color to your kitchen with some essential accessories. One good example is to use a soap tray or a draining rack to make your sink look magical. Here are 17 pleasing and delightful ways to make a black kitchen elegant and appealing:
1. This personalized vinyl wall art will transform the look of your kitchen. It will adhere to a backsplash or any extra wall space perfectly.

2. This crafty wooden spice rack is a perfect addition above your stovetop control bar to store your cooking essentials.

3. If you are looking for a cheap and stylish kitchen supply, you can choose this decorative towel with holders. It is a practical and beautiful choice for your black kitchen.

4. This painted wooden tray with handles lets you distinctly carry your beverages. A coat of black paint makes the tray modern and elegant.

5. This mobile black kitchen island can be used in many different ways based on your needs.

6. This black-painted wooden cabinet allows you to hide trash and makes the kitchen look beautiful. You can save a lot of space in the kitchen with this discreetly-designed trash cabinet.

7. This black kitchen idea teaches you how to make a small and cozy corner cabinet. It is a perfect addition to your counter space.

8. You can make a countersink drying rack with a sleek and contemporary design. It enhances the look of your kitchen without compromising the space.

9. Use your pottery to make a charming coffee canister with a black matte finish. It can be a wonderful addition to your current coffee station.

10. This modern black burner cover safeguards your burners and enhances the counter space.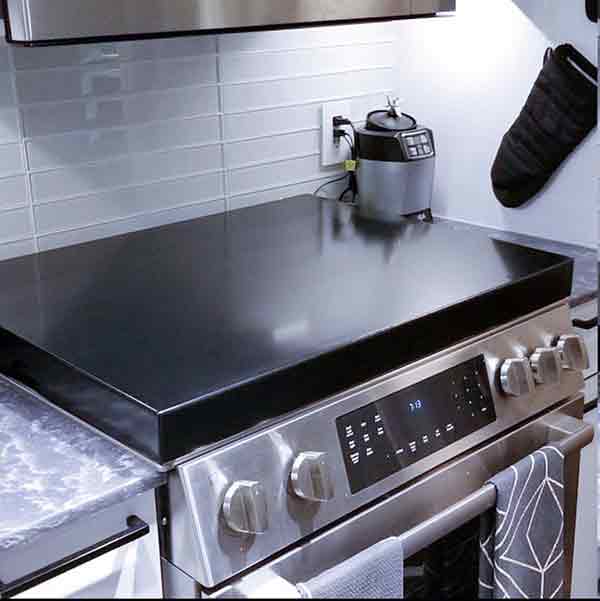 11. Decorate your kitchen window with a bold and elegant black and white print curtain set.

12. This matte black soap dispenser keeps away the germs in a stylish way.

13. This black kitchen idea shows how to create a storage solution to keep your soap and scrubbers at the kitchen sink in an organized way.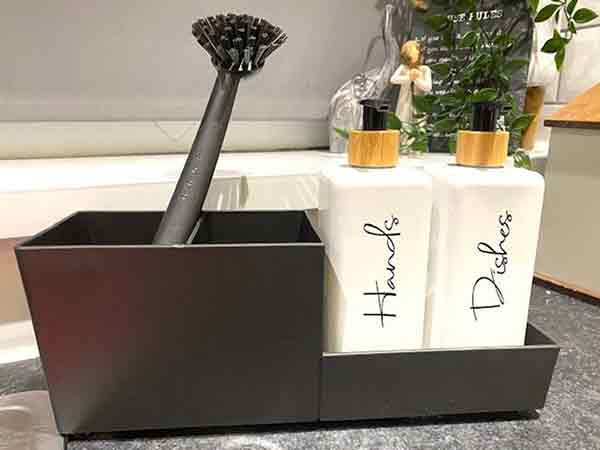 14. Make a black wooden script cook design and place it on the window sill or countertop.

15. This elegant custom kitchen sign is a simple piece of wall art that offers your nana the attention and respect she deserves.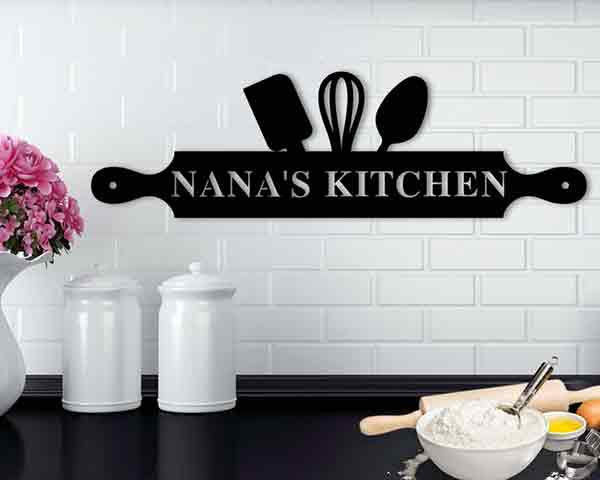 17. This wall-mounted wine rack with an oblong rectangular box frame helps you store all your favorite wines beautifully and efficiently.