Dogs, cats, rabbits, fowl, birds…are part of our lives and they are no less than family members, so why not make something that is exclusively for your pets to enjoy? The backyard is the most comfortable area that blends with your home, and also is the best place to create some fun projects for your pets. We've found 15 interesting pet projects can be built your backyard, such as cat enclosure, goat tower, dog tug…Take a look them!
1. By adding a pet window on your full privacy fences to expand your pet's horizons:
See the Tutorial for above project: thehappyhomebodies.com
2. Wood frame and chicken wires made a screen that protects grass from being scratched up until it is long enough for them to nip:
Above picture via: thegardensmallholder.com
HOW TO SPROUT GRAINS FOR CHICKENS:  pacapride.wordpress.com   and   the-chicken-chick.com
3. Stack the two recycled wire spools together with the pallet boards, then wrap them around with the chicken wire to get a cool wire spool bird house:
See the more details at: backyardchickens.com
4. Build a screened cat enclosure that has two levels, along your backyard fences:
There are great full INSTRUCTIONS at Cuckoo4Design. Tutorial-1    Tutorial-2
5. A goat tower gives your goats a fun place to sleep and could be also used as a shelter:
6. Stick this wood bird house to the window with suction cups, and then you can watch birds build their nest and hatch their babies:
7. Cat ladders & exterior stairs that any urban cat will be thankful for:
Image via: livejournal.com
8. Build a dedicated Outdoor wash station for your furry friend:
9. Your cute bunnies are sure to love a fun activity centre that includes tunnels, mini hills, rivers and much more…
Image via: pinterest.com
10. DIY dog tug will develop your dog's strength and muscles and will help release those pent-up doggie energies:
To create it, you will need a sturdy post, spring and your dog's favourite tug toy.
Image via: renoguide.com.au    Similar project TUTORIAL at: instructables.com
11. The fence cat guard will prevent your cats from accessing the top of the backyard fence and going over it:
12. Build quick and cheap fencing for your pets, just install posts and slip pallets over them.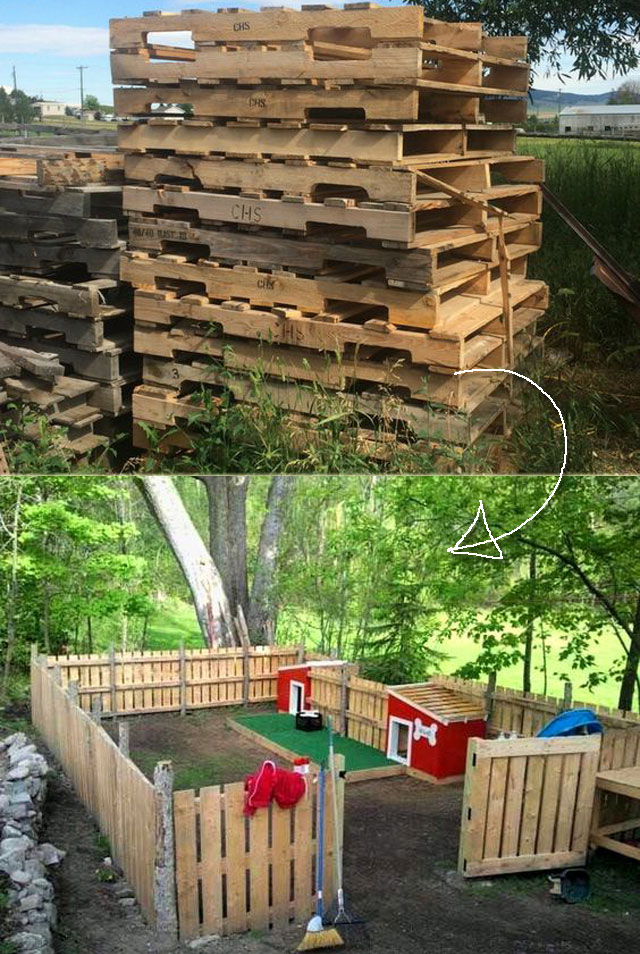 To make them more secure, run a couple screws through the pallets and into the posts.
13. Backyard ducks will be happy with a small wading pool:
Image via: backyardchickens.com
14. Install a doggie door through the exterior wall in the closet, built a ramp and fenced in a dog run. That way your pet can go in and out as she pleases:
15. Chickens hanging homemade treats play toy:
See the TUTORIAL for "Chickens Hanging Cabbage Ball Play Toy ": citygirlfarmingblog.com