It finally happened. You've been informed by your child that their room is "boring". It needs to look different. They don't know how they want it to look, exactly, they only know that the room where they text friends, read books, play games, do homework, sleep, and generally relax is "blah", and it has to change.
So how do you change a room that's perfectly fine—okay, maybe a little bit ordinary—and fill it with life? More importantly, how can you do this wonderful makeover without having to break the piggy bank?
This is where mystical, magical stripes come in. Stripes can make your child's room (and your room too, if you wish) so it will be full of life. And never again will the room be considered "blah".
1.Piano Player
Is there a musician in the house? This piano keys look will bring joy to any pianists heart.
source: houzz
2.Make One Wall Stand Out
Bold stripes in a refreshing color can make a wall seem to come alive.
source: hometown feed
3.Echo a Color in the Room with Striped Drapes or Curtains
Great way to make a room appear larger.
source: 100 layer cakelet
4.Stripe the Floor with a Rug or Carpet Made of Stripes
Like Champagne bubbles, the energy starts at the bottom and floats up
source: hgtv , icons corner
5.Stripe the Sky Wall—The Ceiling
You might be surprised at the amount of energy that can come from the sky wall. Plus, you can see it while lying in bed.
source: houzz
6.Put Bands of Color on the Head and Foot of the Bed. It Will Be the Star of the Room.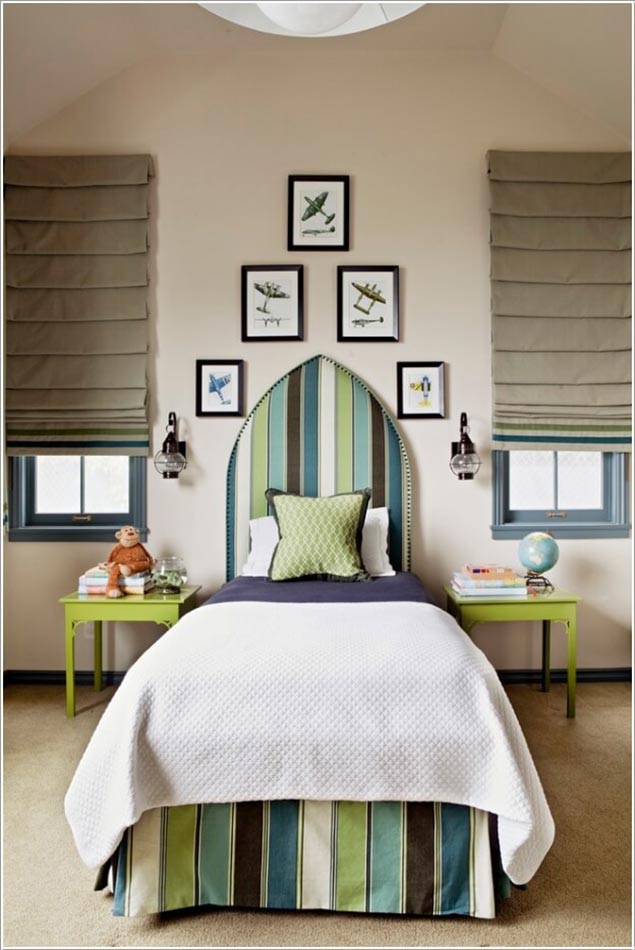 source: houzz
7.Do they Like Surprises? Only Stripe the Pillows
The linear pattern can be picked up by something else in the room. Or contrasted by completely different shapes.
source: one kindesign , comforter decor
8.Try Adding Zing With the Stripes in a Window Valance
This not only allows for fun color echoes in the room, but can make a low ceiling seem higher.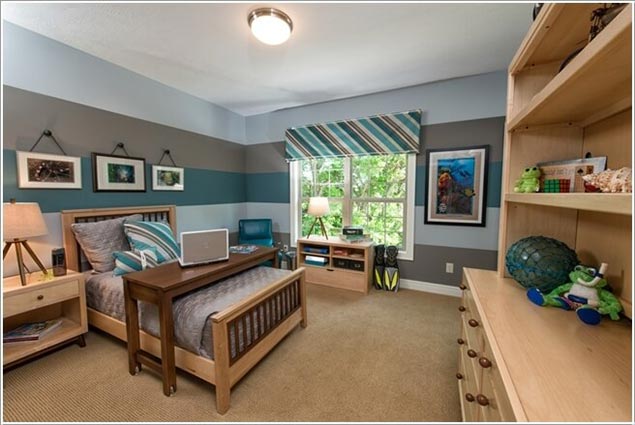 sour: homedit
9.Paint stripes on a piece of furniture or two
This is especially useful if you live in a rented home.
source: tomiannie , just a girl and her blog
10.Hang Fabric with Stripes—As Canopies or in Other Ways
Have the room look exciting and exotic, both at once
source: houzz
11.Enjoy Crafts? Make Striped Wall Decor
Much easier than it looks, and it makes such a huge change. Another good one if you live in a rented home.
source: etsy
12.Make a "Kid Cave"—A Tepee with Stripes
We all need our own special place to be able to escape the problems of the world. Your child can have it in their own room.
source: project nursery
13.Put Up a Lamp with Stripes
Then, when the light is on, the stripes will be everywhere.
source: houzz
14.Paint Stripes on Paper Lanterns, Add Baskets, and POOF!—You Have Hot Air Balloons
Whether your child is awake or falling asleep at night, hot air balloons would be a fun way to float away.
source: make life lovely
15.Put Wood Across One Wall So it Looks Like Stripes
This serves double duty. It adds pizzazz to an accent wall, plus, things can be attached to the wood, for additional decoration or as reminders, such as calendars.
source: design dining and diapers