The kitchen should not be just a messy space (at least for most people). Like other rooms, the kitchen needs well organization and beautiful décor, especially if you like cooking and like your work space. In special days, the kitchen also needs special decor. For Halloween, it's time to show off your creepy side and it's also the time of year to really cook up some bewitching magic and illusion for your kitchen. Decorating your kitchen for Halloween can be fun and you don't have to spend a lot of money and still make it look creepy. So take a look at the following fun decorating tips to add some spook to your kitchen without large budget and all the extra clutter!
1. Blood-stained or witch kitchen towel can create horror effects, and you just have to be willing to ruin a nice fluffy white towels: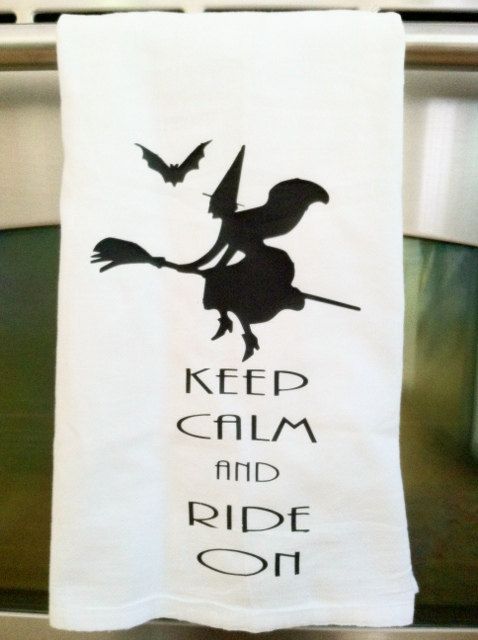 Source: thegraphicsfairy.com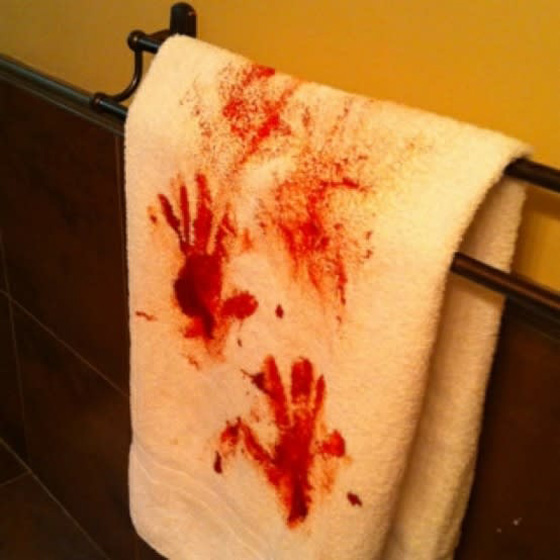 Source: thedesigndaredevil.com
2. Decorate your refrigerator, stove, or dishwasher with these creepy plastic spiders(glue magnets to the plastic spiders):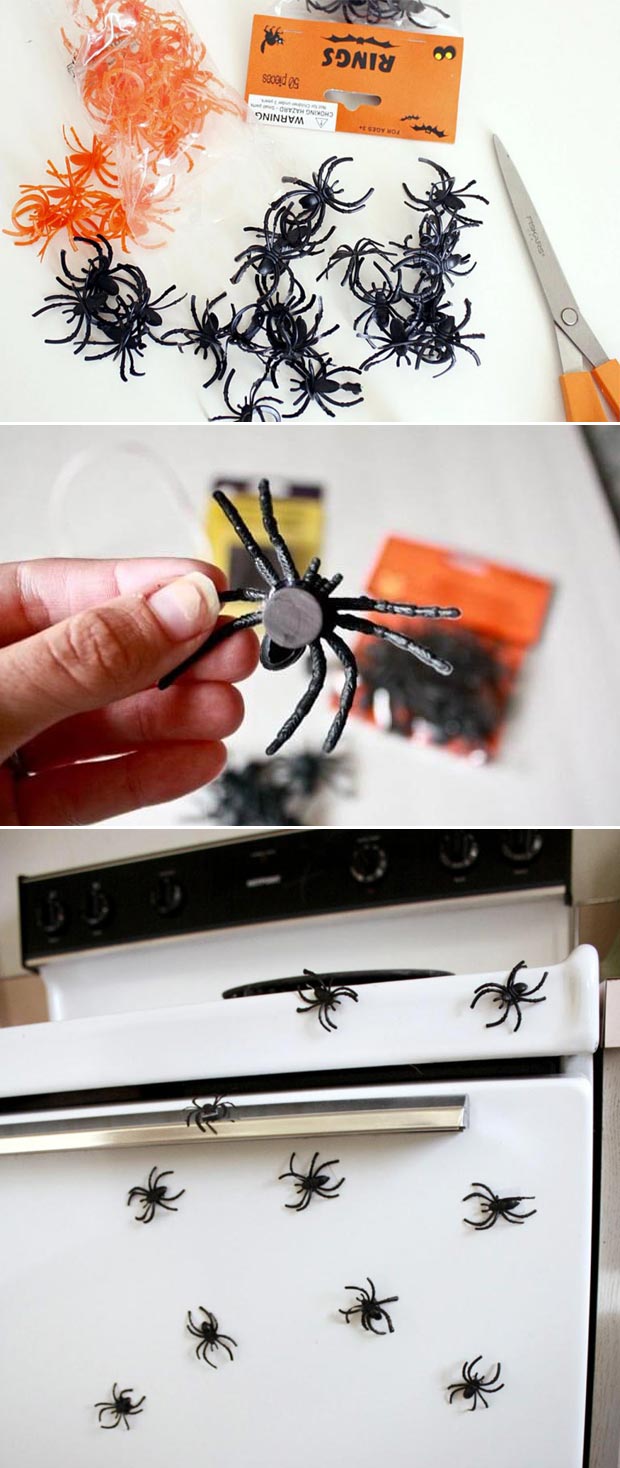 Tutorial: thatswhatchesaid.net   and   hgtv.com
3. Bring the Halloween spirit into the upper of kitchen cabinets:
The center project tutorial: theghostess.com
4. Hand painted wooden spoons in mason jars can be the decoration of Halloween kitchen countertop:

5. Create the effect of mysterious fog flowing freely from the kitchen sink using dry ice: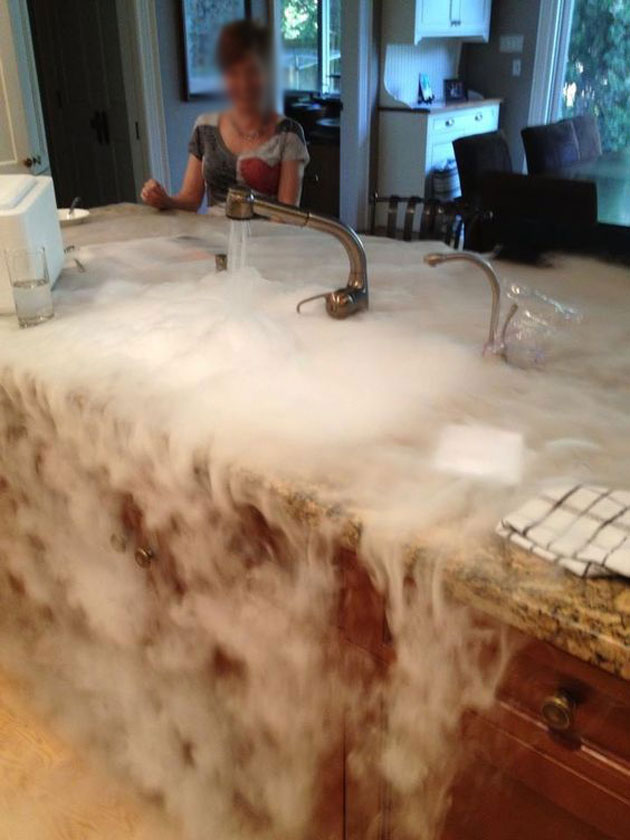 Read the instructions on how to use dry ice safety if this is your first time working with dry ice.
6. Simple use tacks and clear fishing line to hang witches hats from the kitchen ceiling, that look like floating in mid-air: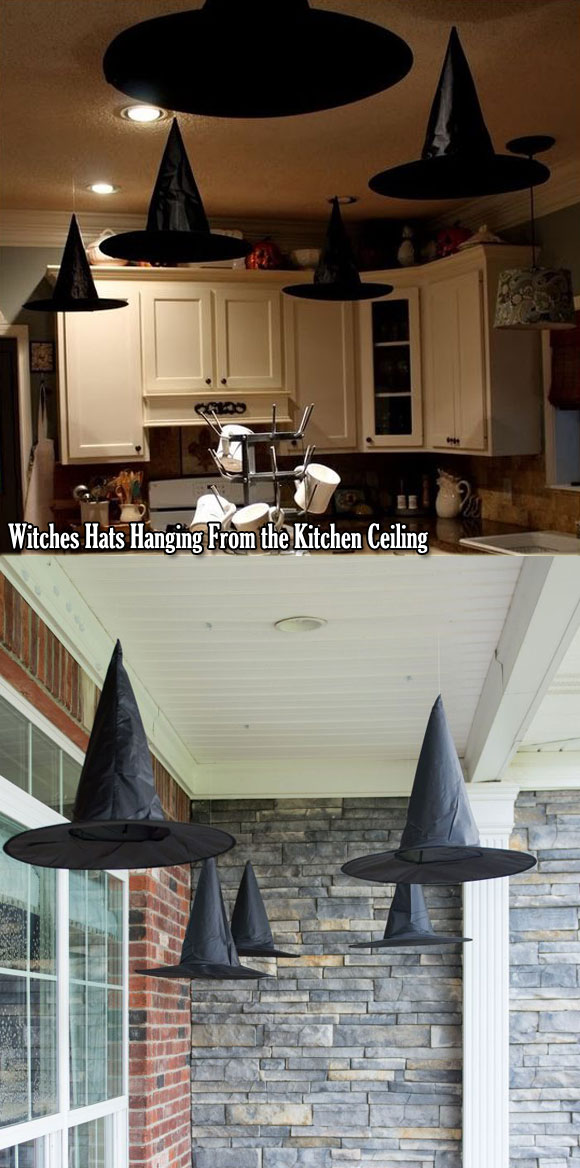 Tutorial: polkadotchair.com
7. Give your fridge a coat of spooky pumpkin orange: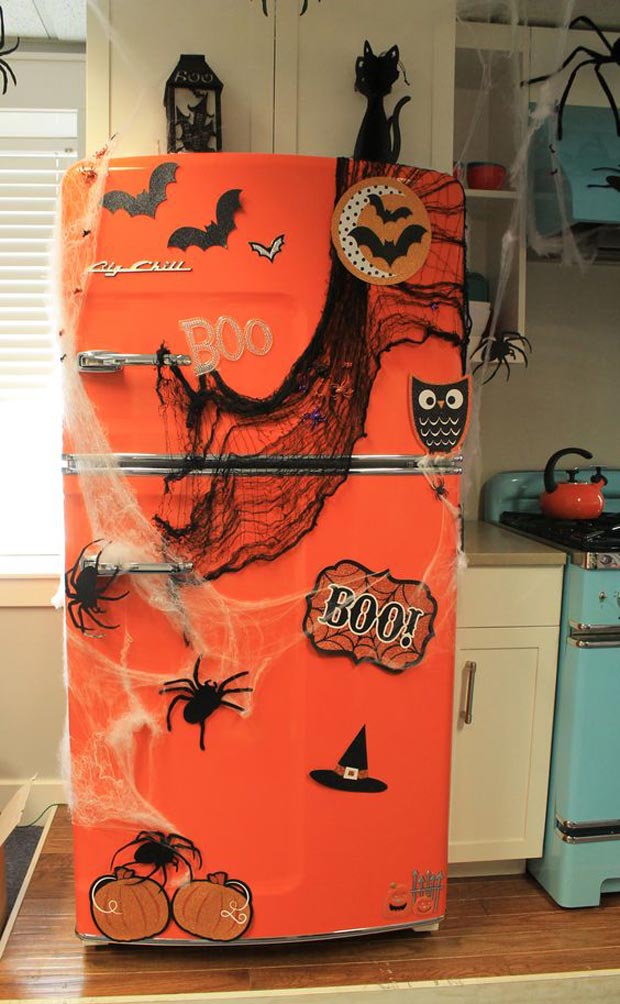 8. Change the look of your cabinet doors in Halloween style: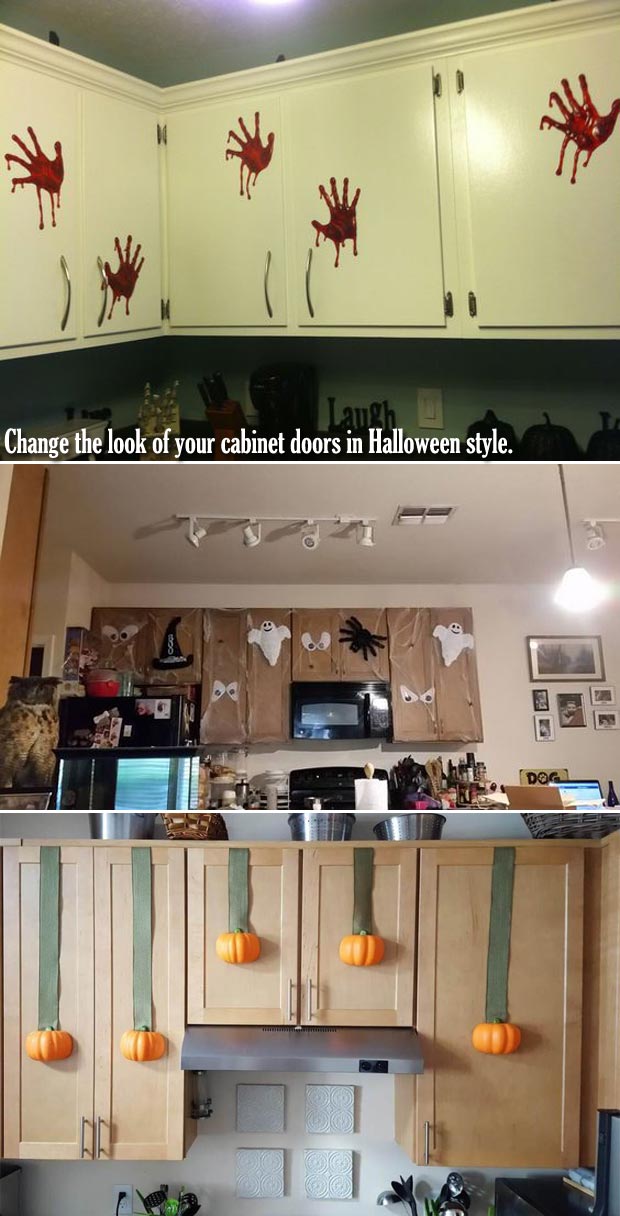 The bottom picture source and tutorial: justhollyann.com
9. A working skeleton in your kitchen will be sure to freak out your guests: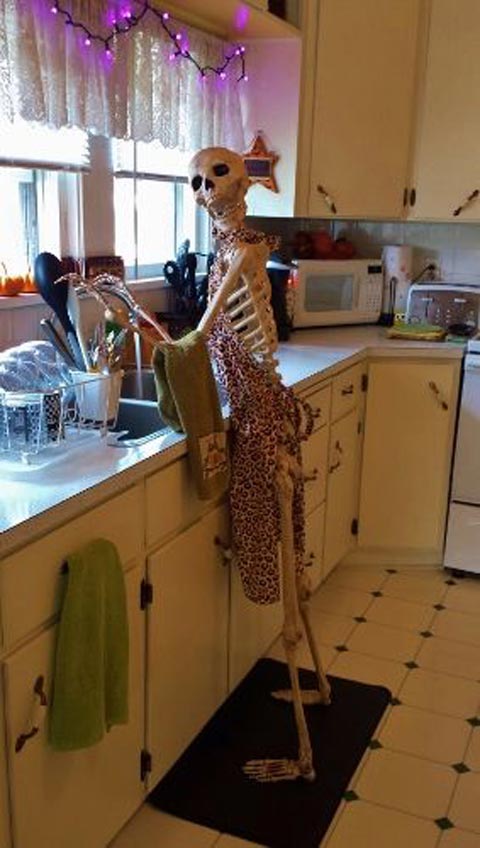 Source: halloweenforum.com
10. Black bats hanging from the kitchen ceiling: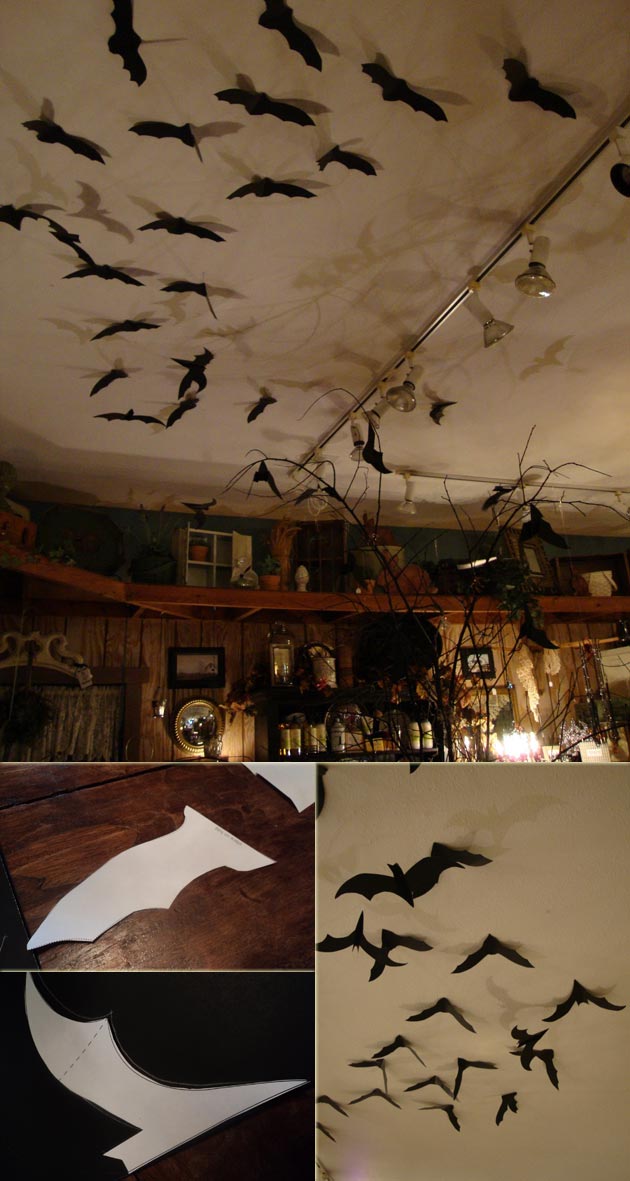 Tutorial: summerkitcheninteriors.blogspot.com
Source: kropyok.com
11. Make a scary crow and witch decal for your Halloween kitchen windows: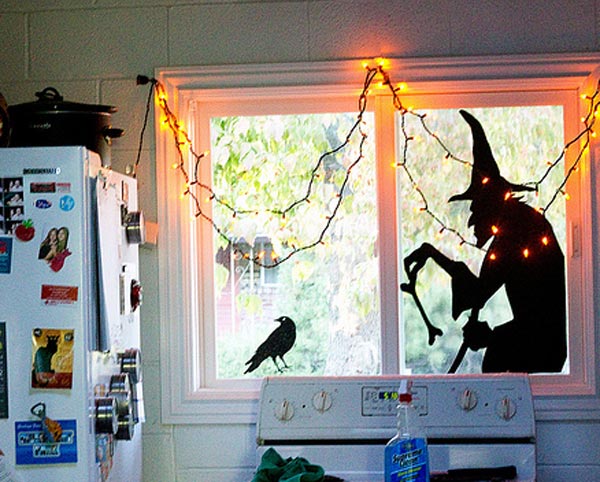 12. Place bound body on the kitchen counter to scare your guests: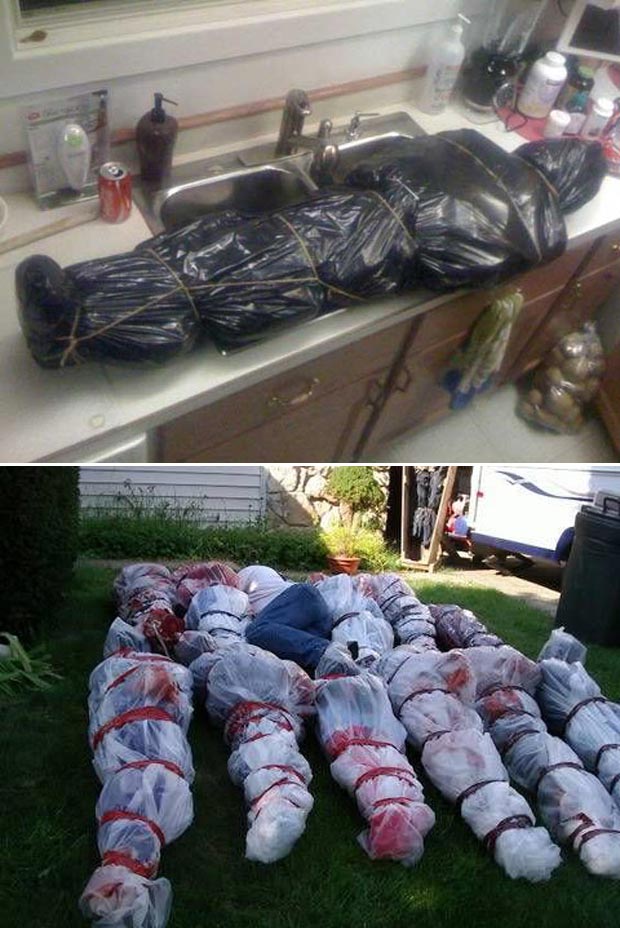 Source: instructables.com
13. Transform your kitchen lights into ghosts by covering white sheet over lamps, and adding some spooky dark eyes and a mouth with sticky felt and viola: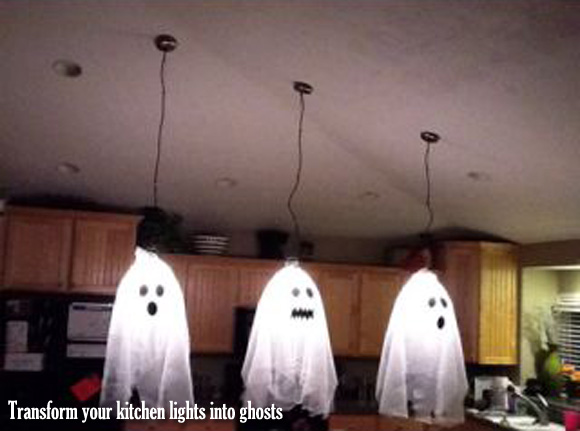 14. Glue large sheets of black foam to magnets to decorate your fridge with Halloween-themed ghost: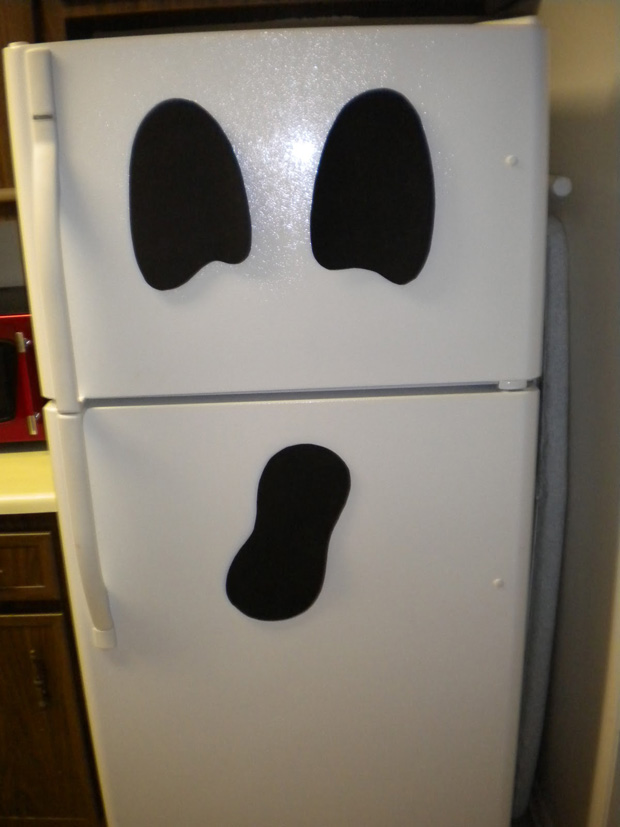 Source: jeanscraftycorner.blogspot.com
15. Simply clip the creepy cloth or tattered crepe paper on to the curtain rod to decorate the kitchen window in Halloween theme: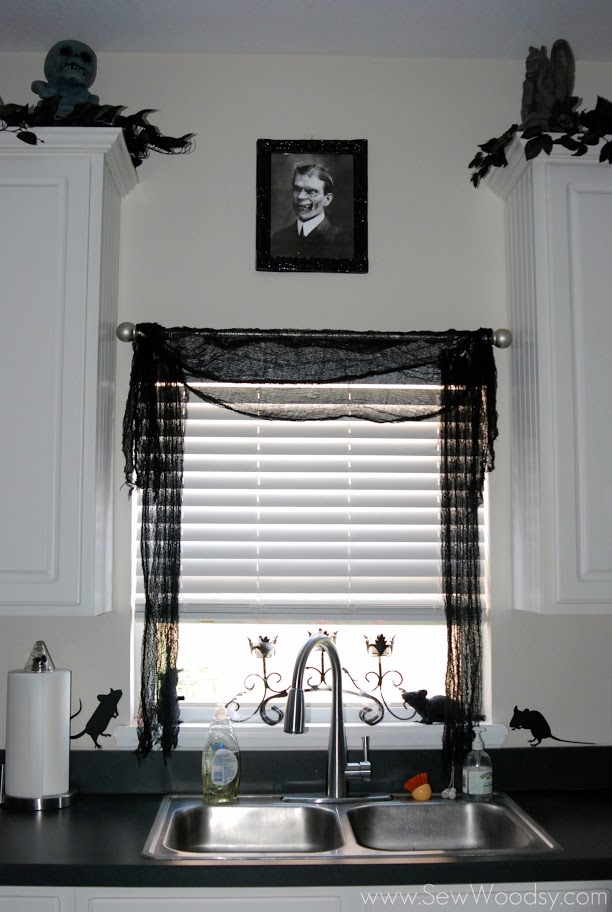 Source: sewwoodsy.com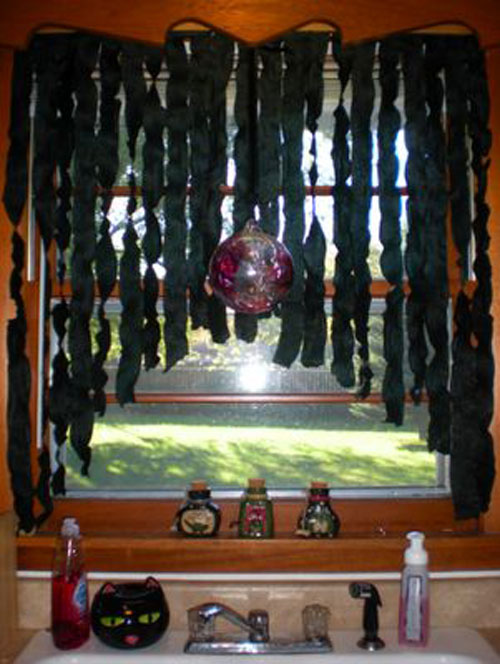 Source: tonyadusold.blogspot.com