There is still about a month, but it is never too early to start thinking about making fun projects for Halloween home. Halloween is an exciting time of the year when you can expand your creativity and create super spooky and cool projects for your interior or exterior. Instead of buying at the store, the do-it-yourself Halloween decorations and crafts are unique, and you can reuse old stuff laying around your home. So not only will you save money, but you can have those decorating projects that other houses in the neighborhood won't have. Check out the below round up of 24 Cool DIY Halloween Projects and have a creative and spooky Halloween.
1. Drill a hole and string them up to craft a creepy bone mobile for your front porch: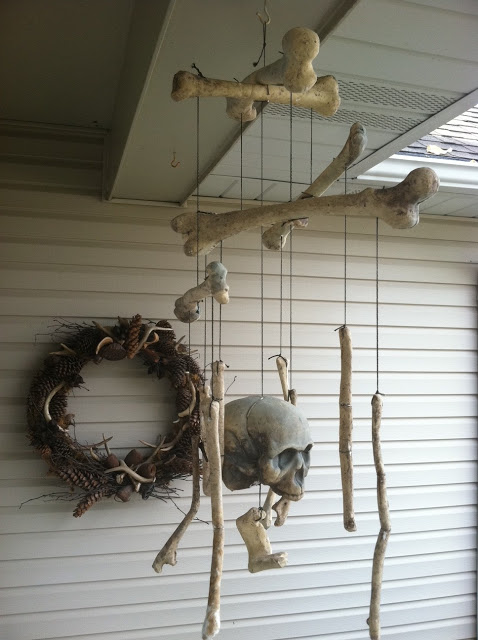 Source: aweemeenit.blogspot.com
2. Make spiderwebs out of trash bags: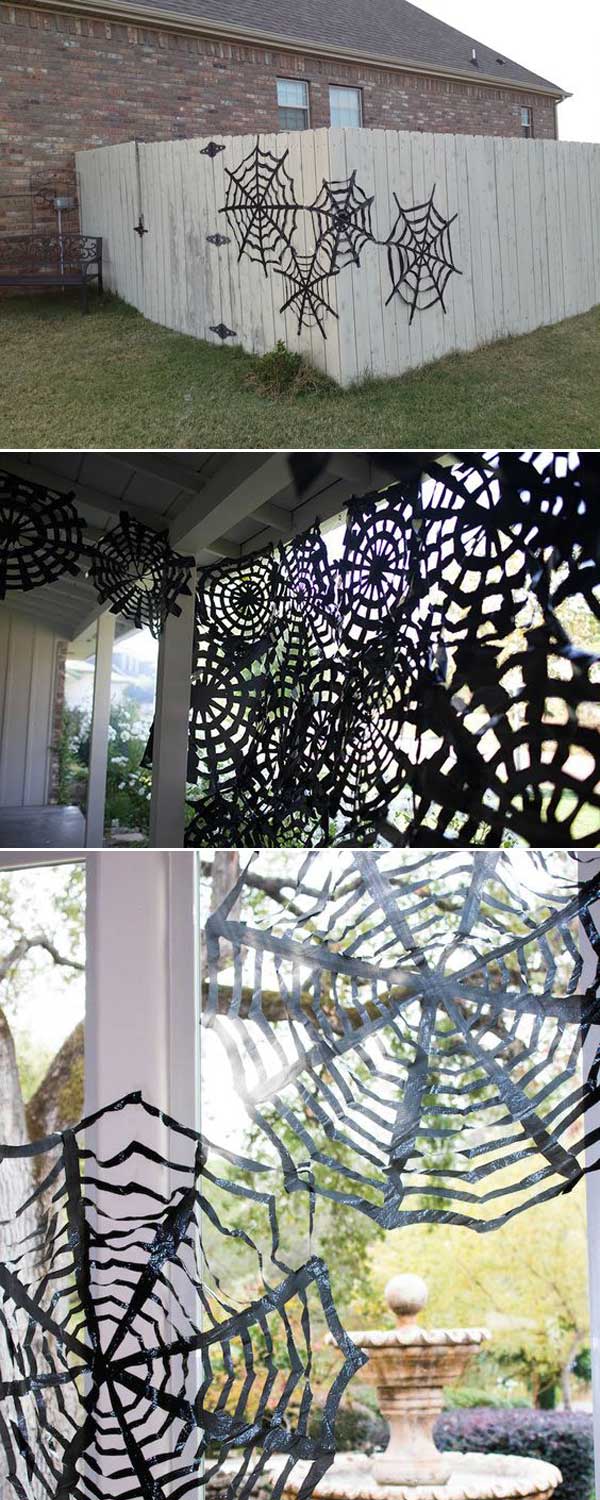 How to fold it: fastforwardfun.com
3. Use led strips to light a garage door silhouette from back, which was created from black-painted plywood or cardboard:
If you love above project, you can get the full tutorial at instructables.com.
4. Spreading artificial web nicely on the tree and adding giant spiders will create freaky effect to your yard trees: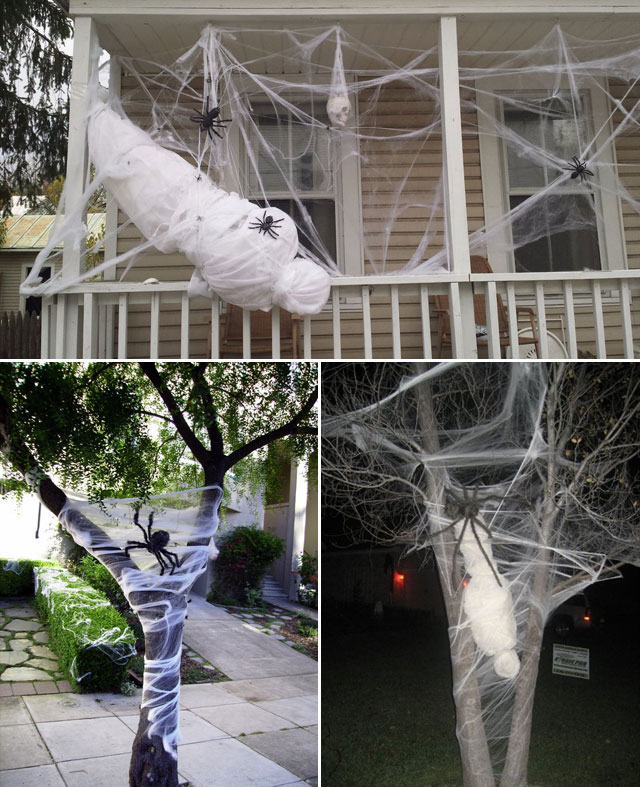 Image Source: residencestyle.com    Tutorial: instructables.com
5. Cut out the shape of the zombie hands from the cardboard and spray paint them with black color, then place them through the banister of stairs: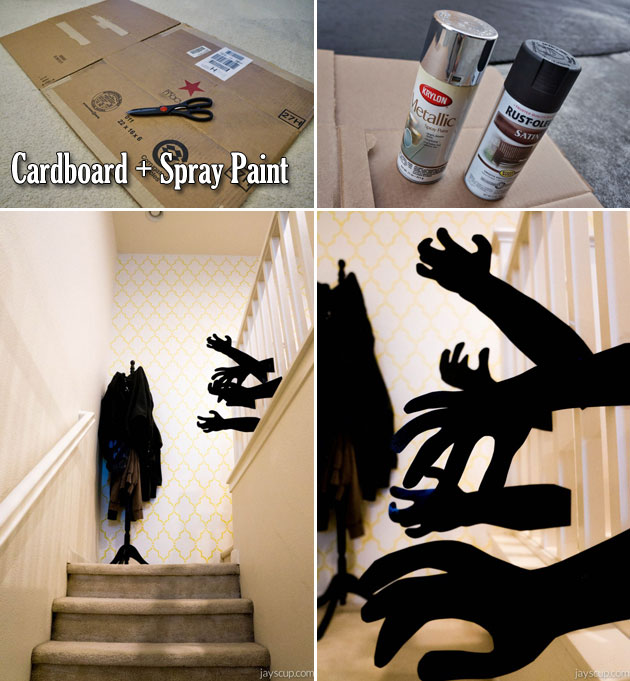 Check out more details at: jayscup.com
6. If your front yard tree has a swing, adding a ghost made of white plastic felt or skull ghost will get spooky effect: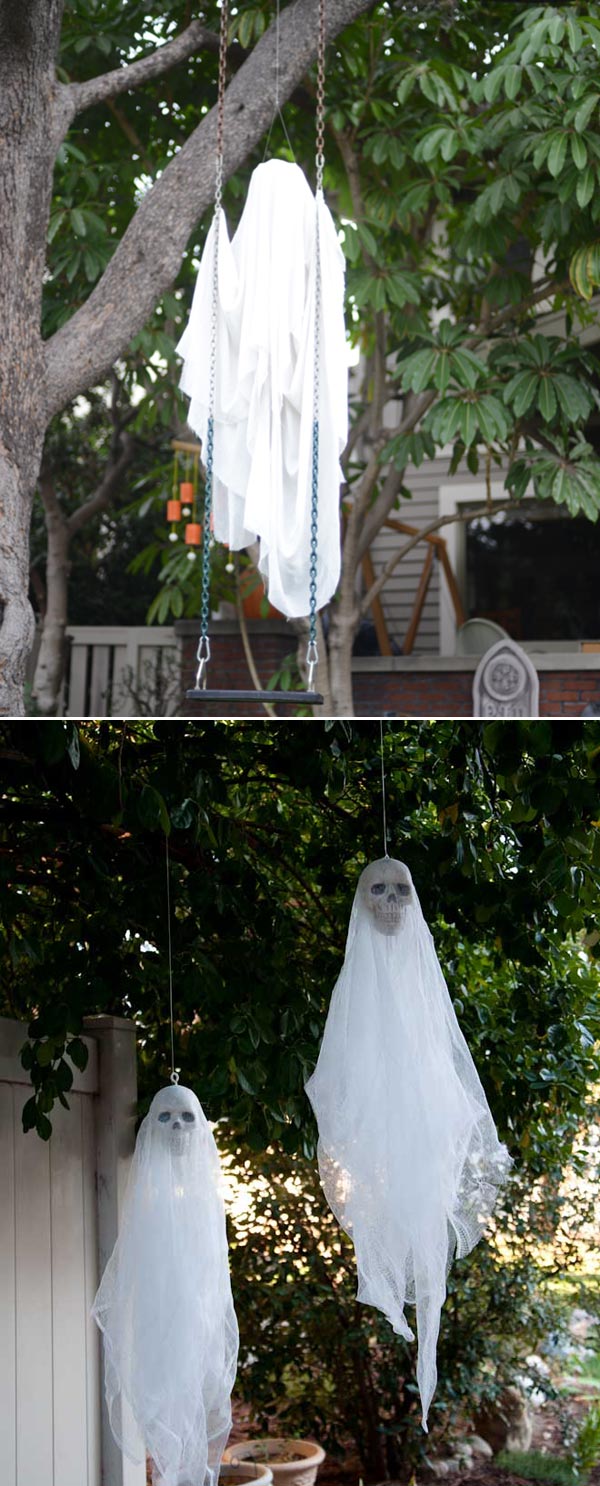 Source: cupcakesandcashmere.com    Skull Ghost Tutorial: housefulofhandmade.com
7. Three plastic cowboy skeletons gathered around the campfire; such a scene will sure to surprise your visitors at night: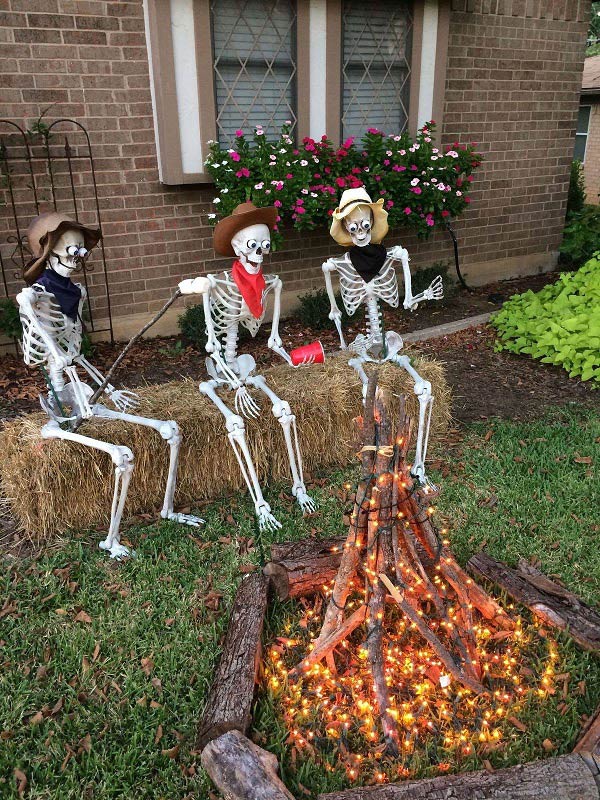 Source: craftymorning.com
8. Craft paper towel rolls and tealights into spooky Halloween candles: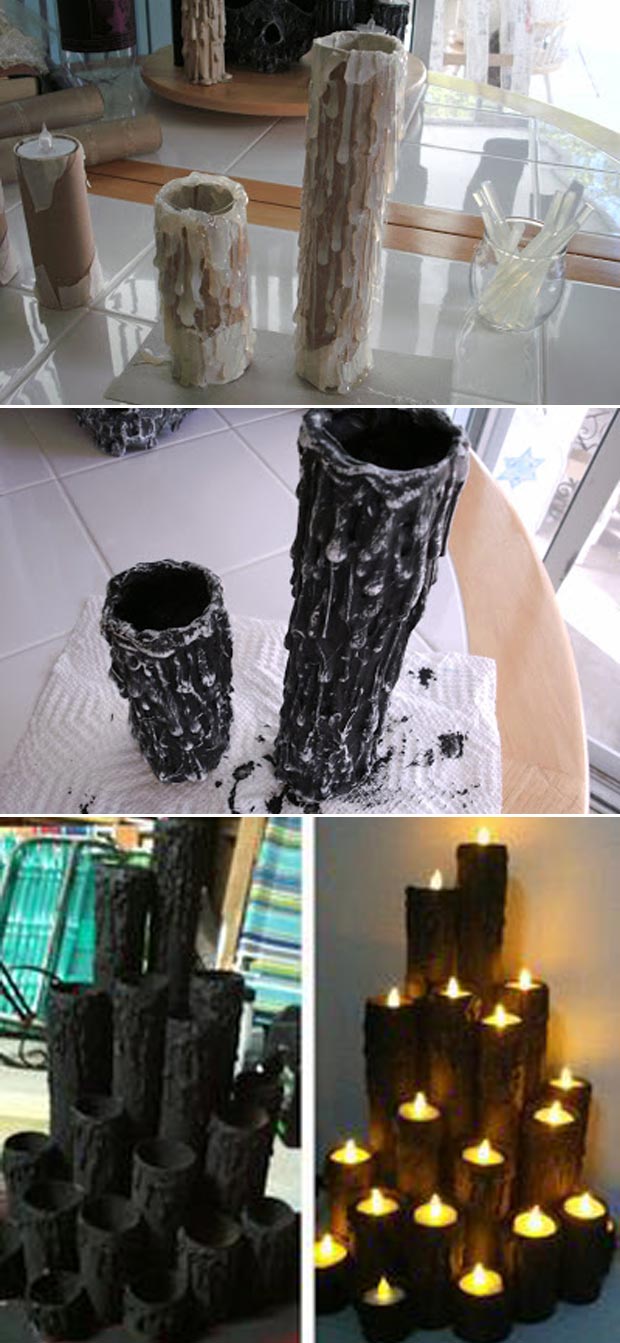 Check out full instructions at: houseofdewberry.blogspot.com
9. Tape plastic cockroaches all over the bathroom wall to scare your guests: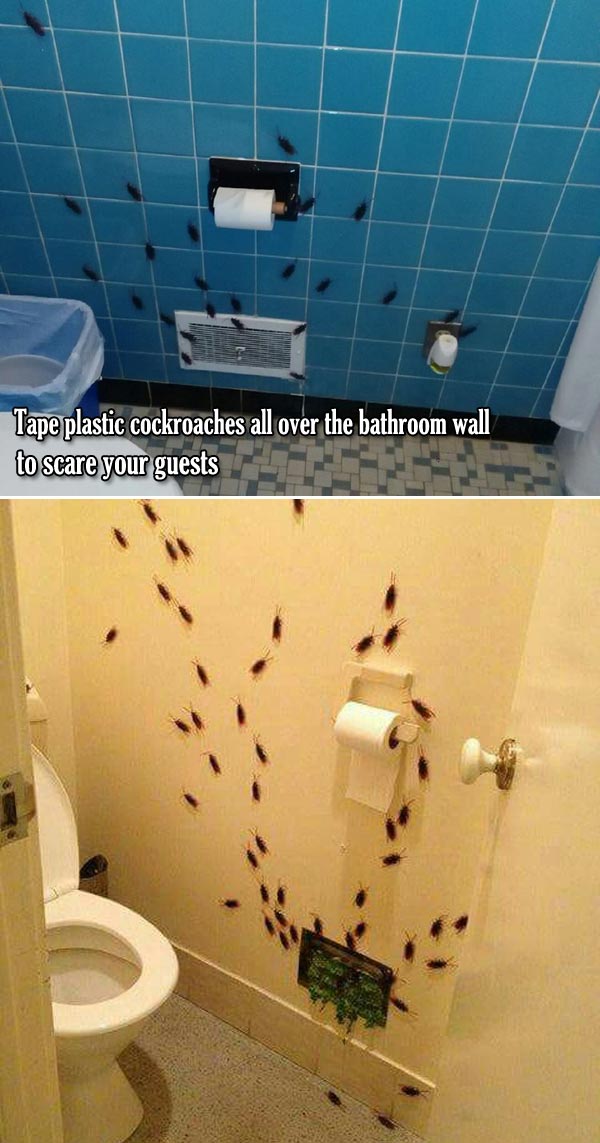 Source: pinterest.com
10. Decorate the fireplace with these spooky ideas – zombie hands, witch's feet and burning pumpkin: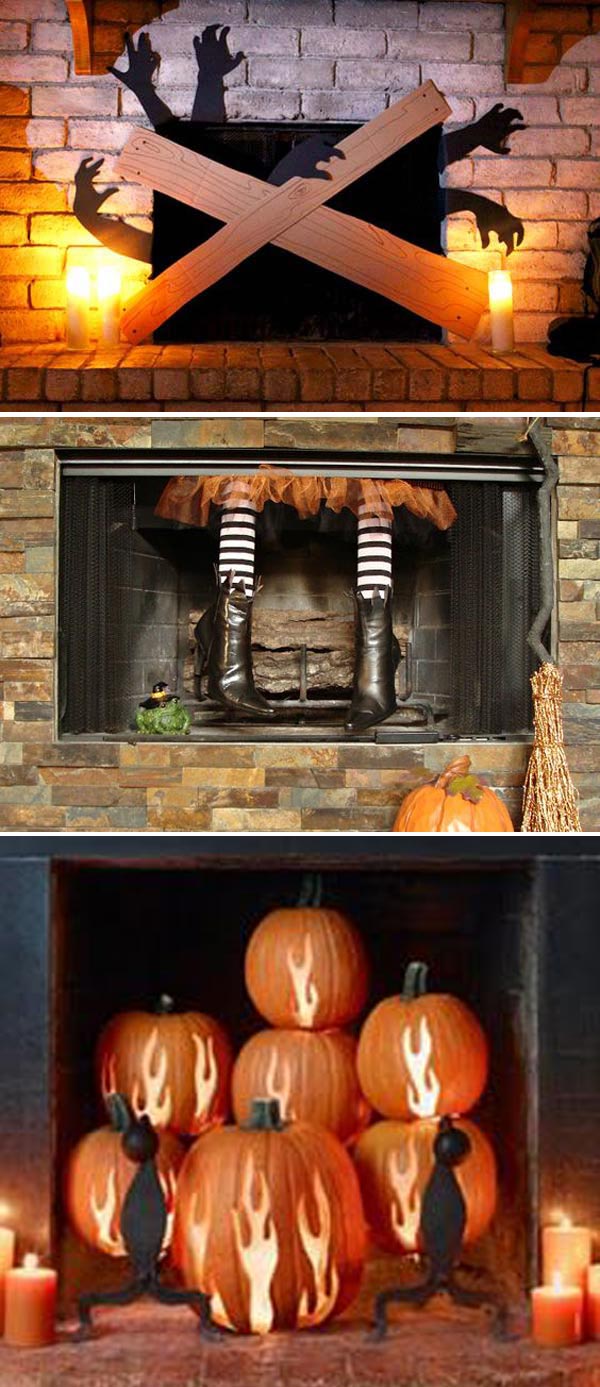 11. Wrap the door with paper tape and add two eyeballs cut from black and white paper to turn your door into a Halloween mummy:

Source: woohome.com
12. Make spooky candles by letting red wax or crayons drip melt down the sides: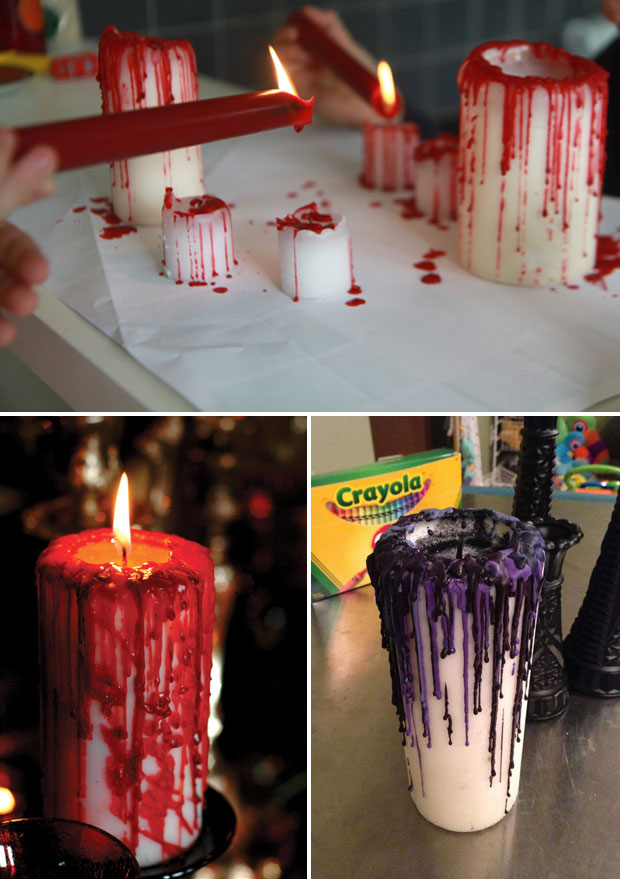 More details at: sous-notre-toit.fr
13. Pose a set of skeletons in front yard to scare your guests; (How to do: tuck skeleton hands and skull, and feet if desired, in a pose and scatter fallen leaves):
Source: sweetsomethingdesign.blogspot.com
14. Create bats from black felt and fill the front door: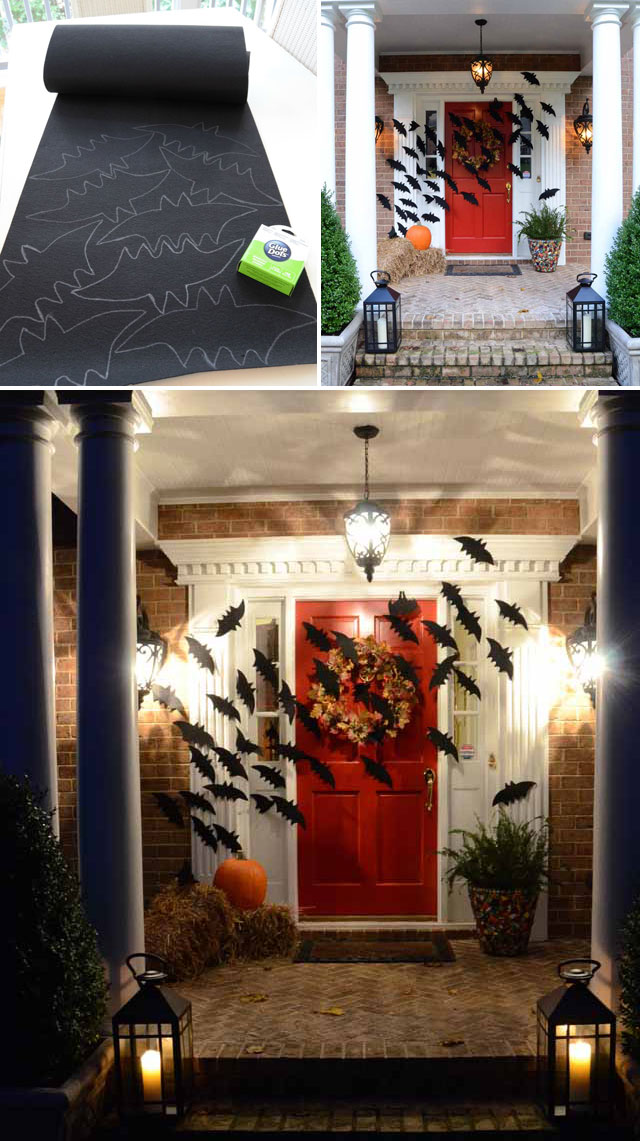 See the full tutorial here.
15. Turn dollar store black birds to elegant raven wreath: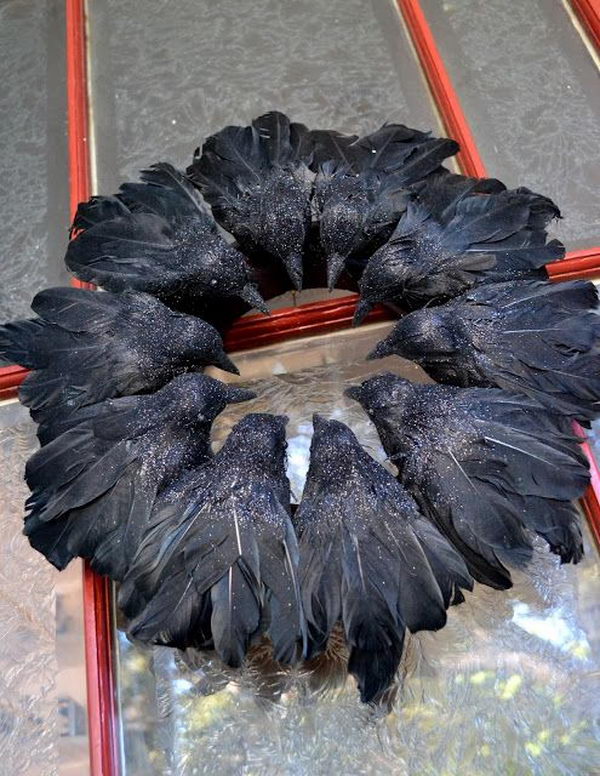 16. Make front porch curtains from black plastic garbage bags: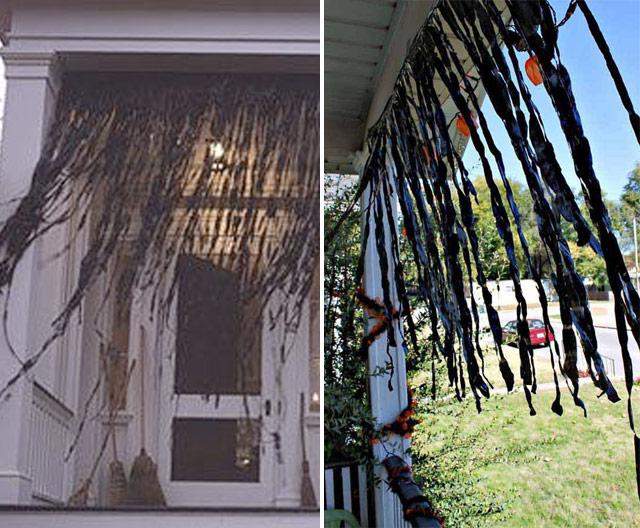 17. Get giant beach balls and paint eyes on them, then place in tree facing neighbours house: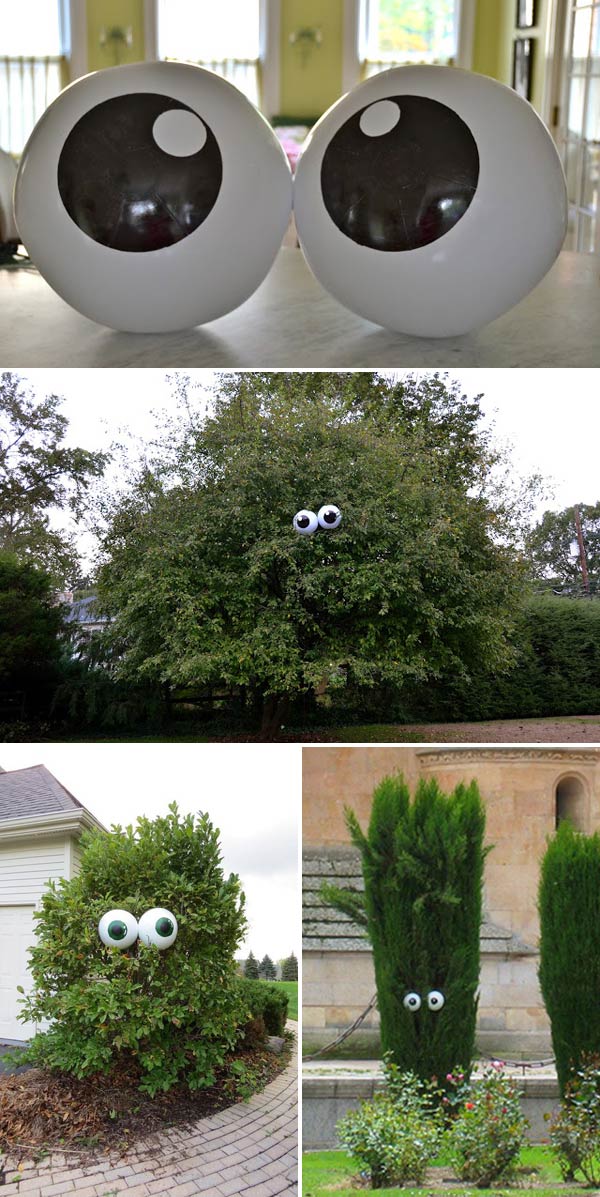 Tutorial at: princessandthefrogblog.blogspot.com and instructables.com   Image source: makezine.com
18. Put on witch's boots for your Halloween table legs: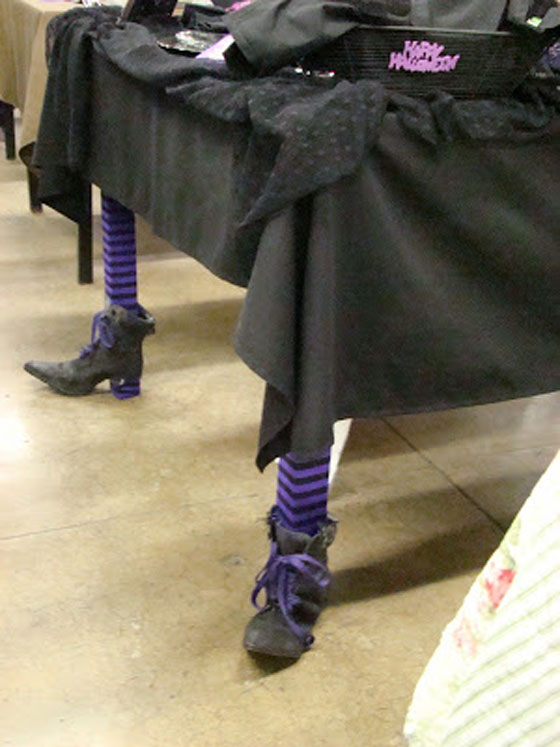 Source: bubblegumandducttape.blogspot.com
19. Take 50 black trash bags, 3 plastic skulls and 6 plastic skeletons to make a door garland for less than $20: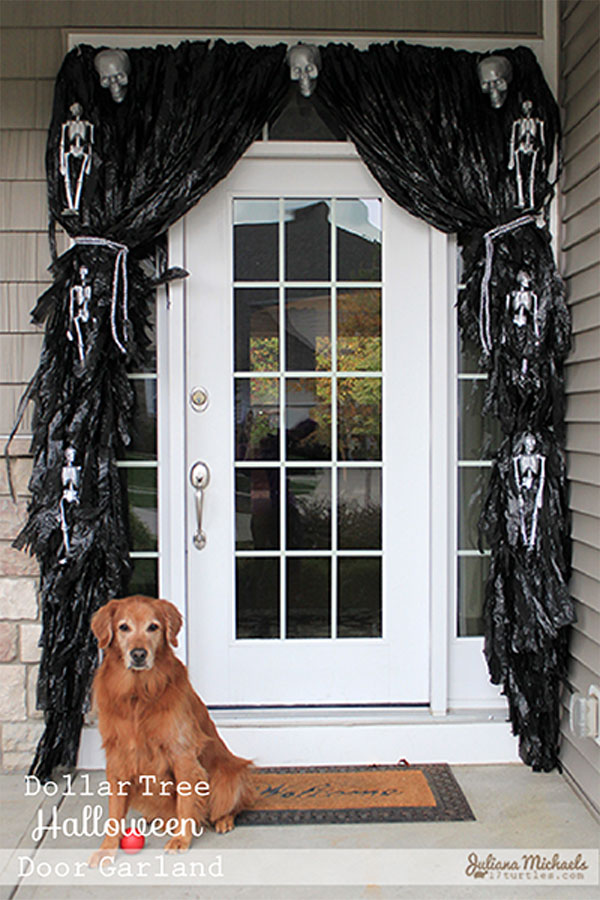 Tutorial: 17turtles.com
20. Vintage gas can jack-o'-lanterns: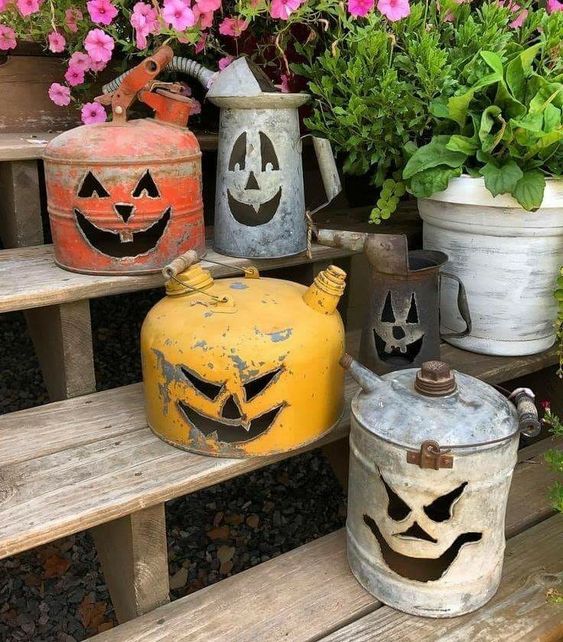 21. Tattered drapes made from cheesecloth will instantly transform your front porch into a creepy setting:

See the full instructions here.   Image source: homedit.com
22. Create a spooky setting on your stairs with white pillar candles and candelabras made from old wine bottles updated with matte black spray paint: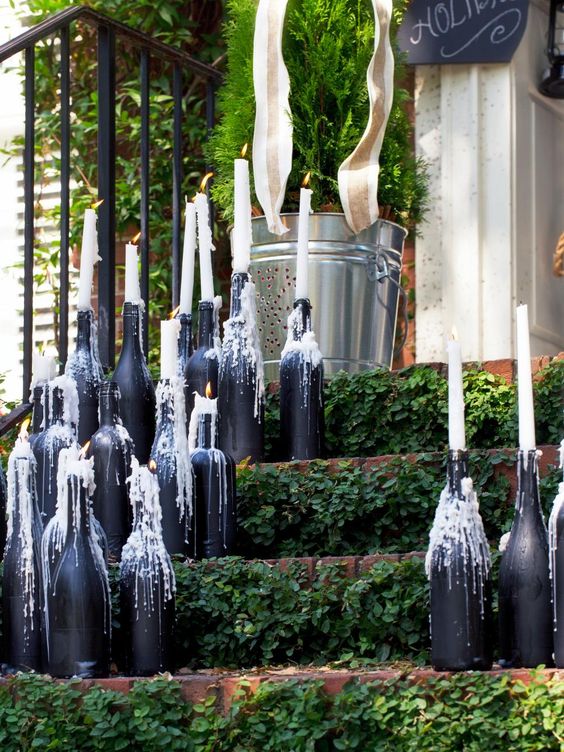 Source: hgtv.com
23. The wizard from black trash bags danced around the campfire: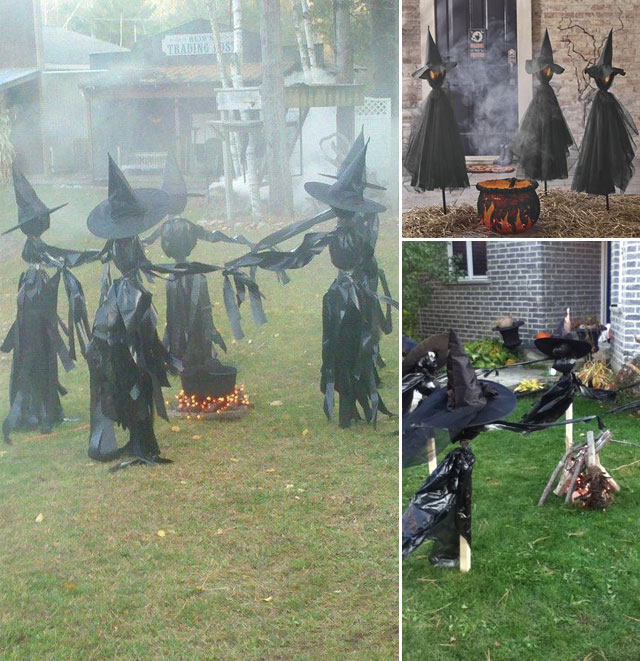 24. Use store-bought cobwebs and plastic skeletons and spiders to make these weird archways: