Adding reclaimed wood details to any home decor project is a win win combination, as you are saving the planet and you are also improving the home in a warm, rustic and beautiful way. The kitchen is a wonderful place to introduce the richness that reclaimed wood brings to a highly used area of the house. Reclaimed wood is a great material that you can use in your kitchen to achieve a stylish look and provides a striking contrast to any paint color of surrounding. A lot of kitchen examples prove that using reclaimed wood for ceilings, walls, floors, and cabinetry can revitalize your kitchen. We have made a list of 15 cool kitchen decor projects done with reclaimed wood that are useful and interesting. Take a look and get inspired!
1. Decorate your kitchen ceiling with these clever faux wood beams:
Check out the full instructions here.
2. Kitchen ventilator striped in reclaimed wood board and white trim: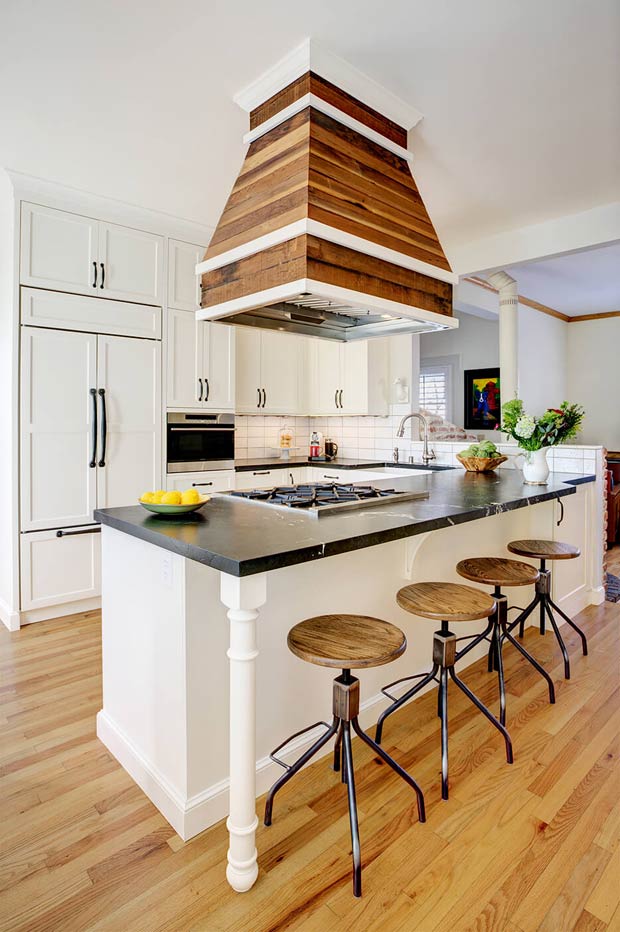 Image source can be found here.
3. Fake a place of Bake with a cute white distressed wood sign:
See the tutorial here.
4. Reclaimed wood kitchen tray:
Image source can be found here.
5. Add a decorative wooden support beam between the living room and the kitchen:
6. Reclaimed wood shelves with metal brackets: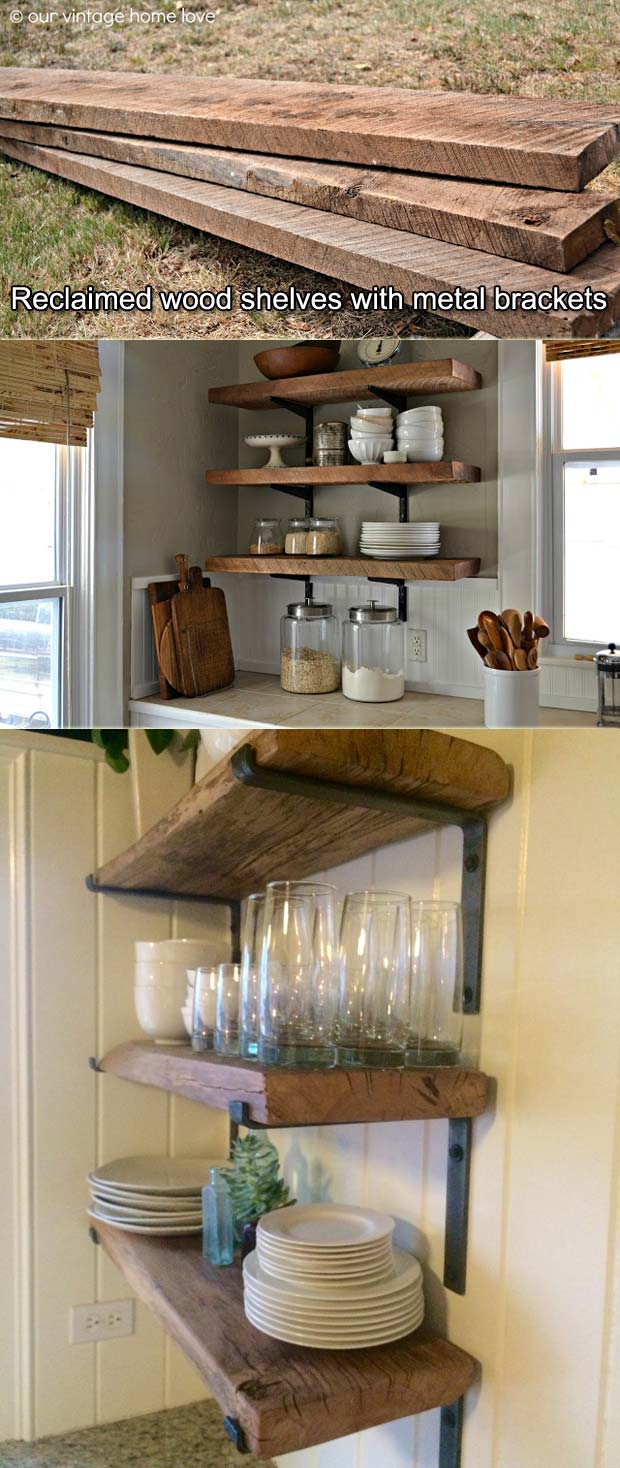 For more details visit here.
7. Modern and rustic oak waterfall wall feature sure to capture everyone's attention: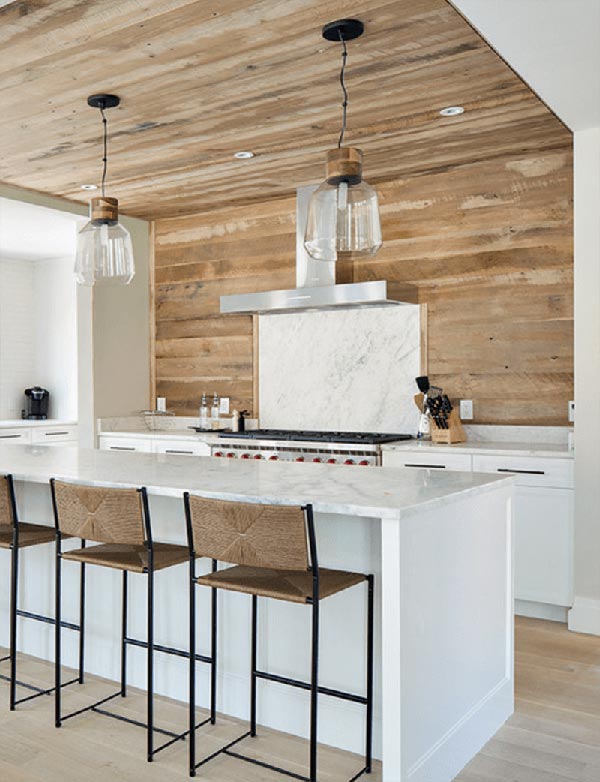 For more details at houzz.com.
8. Make a giant "EAT" wood sign for your kitchen wall: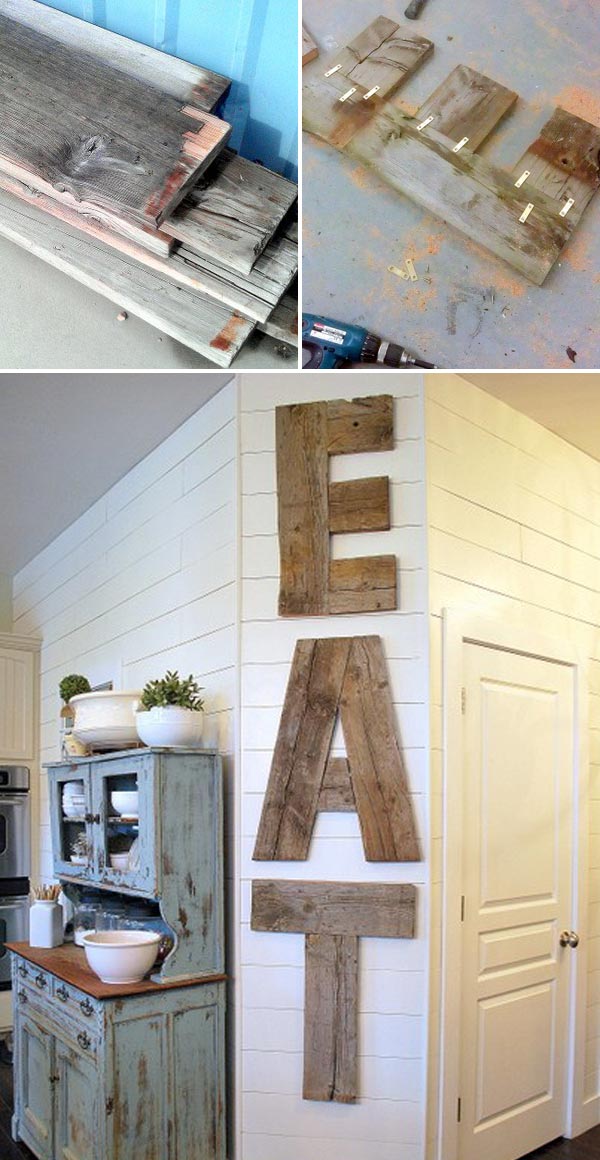 See the full instructions here.
9. Kitchen island reclaimed wood cladding on a diagonal grid:
The image can be found here.

Check out the step by step tutorial here.
10. Use reclaimed wood to create hanging pot rack: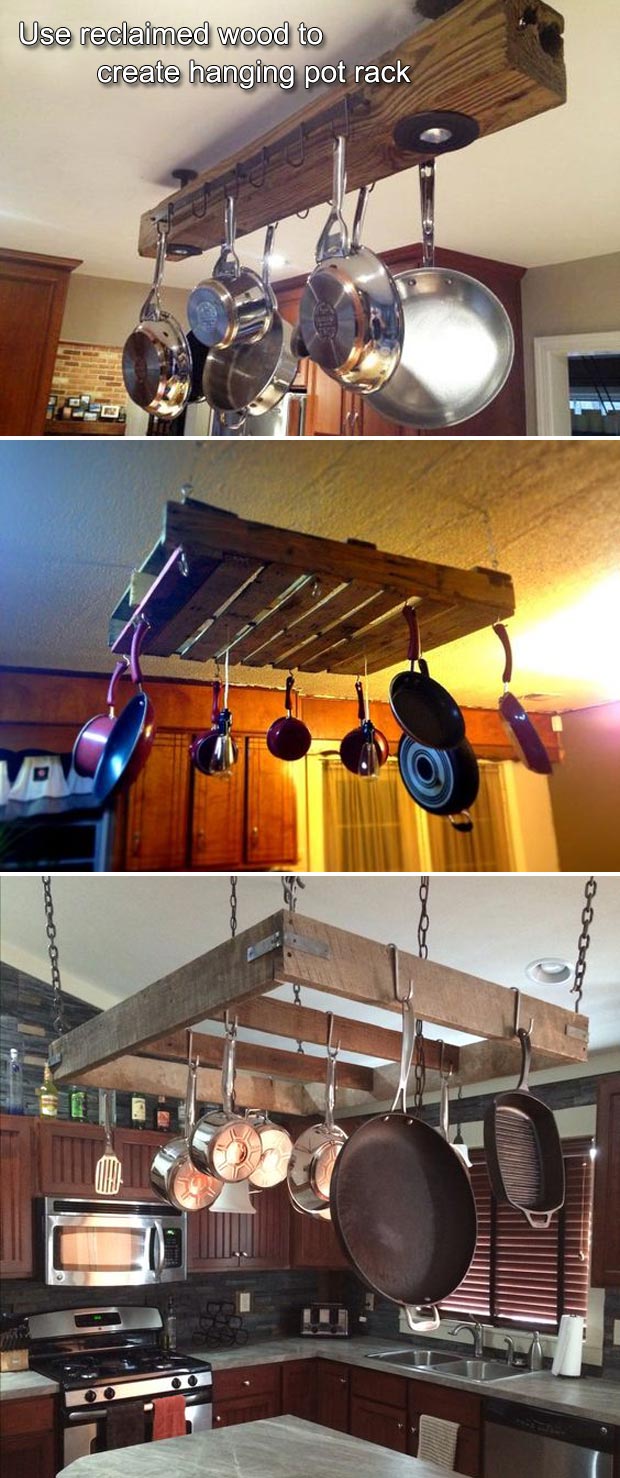 11. Install a reclaimed wood backsplash: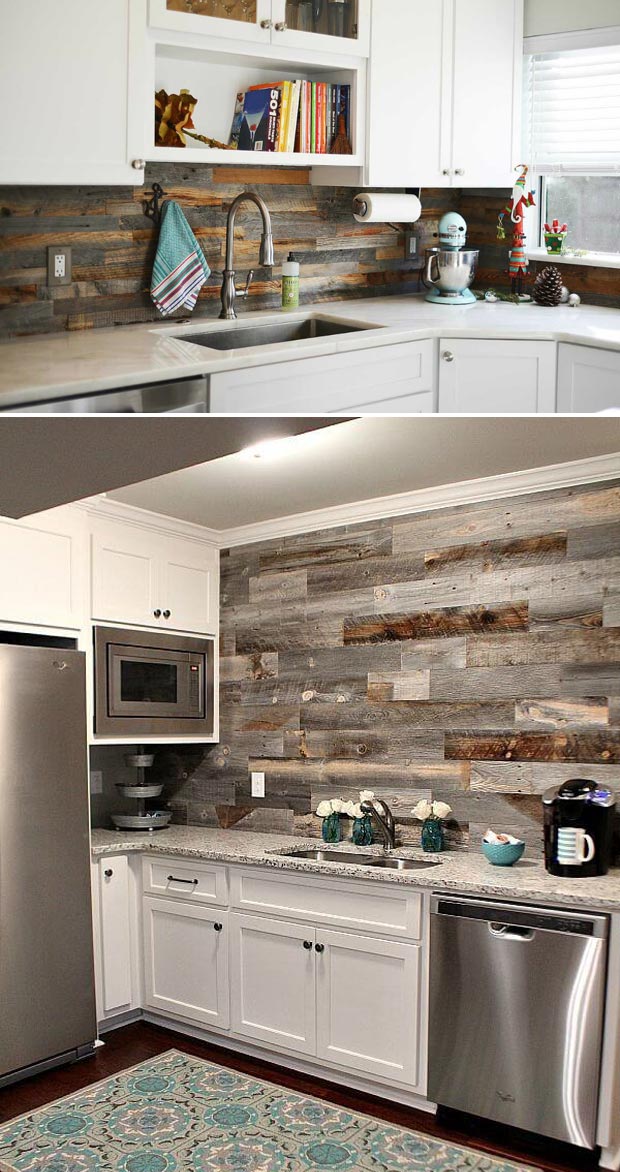 Images can be found at houzz.com.
12. Kitchen island completely built from wooden pallets: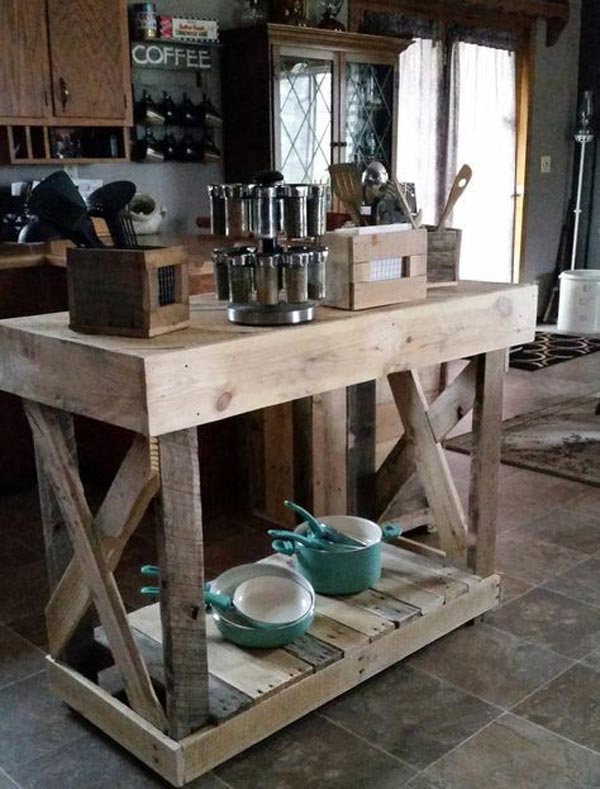 You can get it from here.
13. Use plenty of strong wood gule to secure three piecies of reclaimed wood together to be the base of this DIY Mason Jar Chandelier: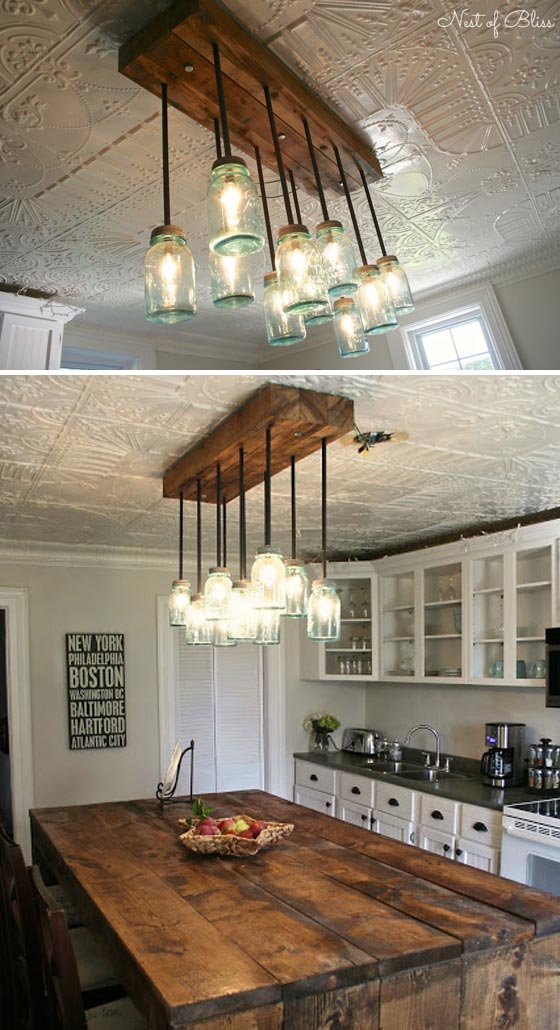 See the full instructions here.
14. Reclaimed wood vent hood frame will add a bit of rustic feel in a kitchen: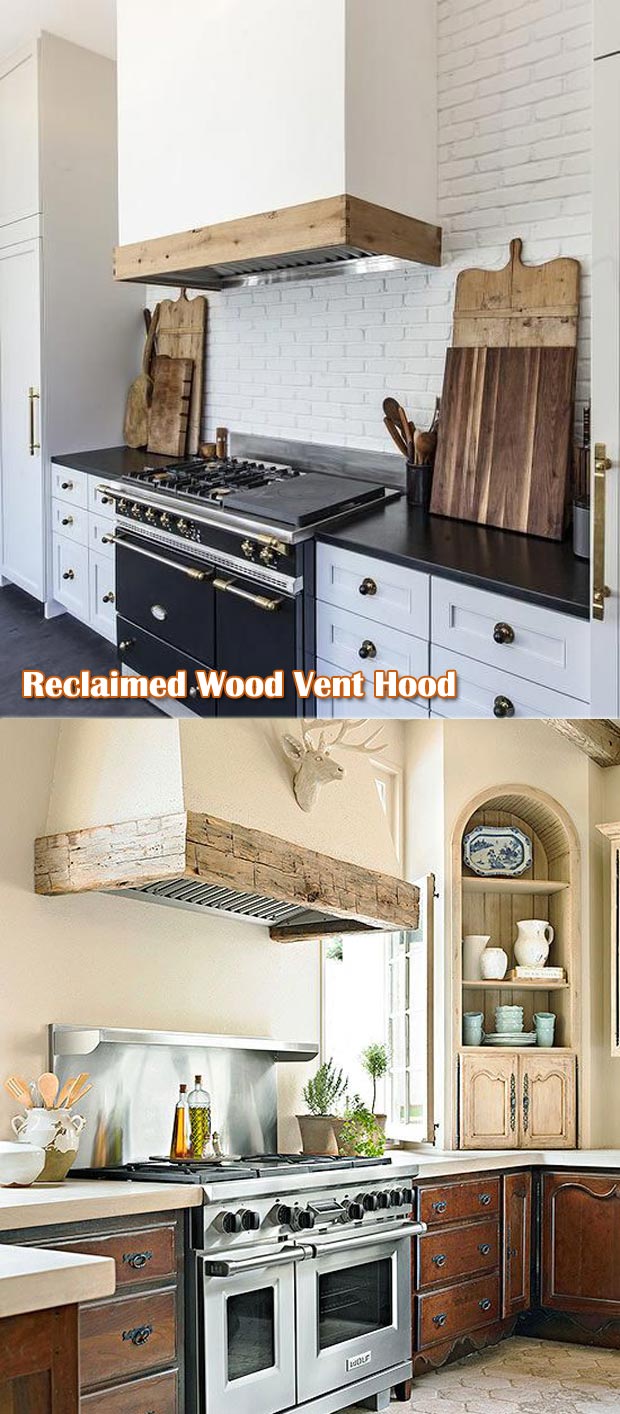 15. How about a reclaimed wood kitchen ceiling: