Christmas is the season of peace and joy… and it is the great time to display your incredible Christmas lights and decorations. But sometimes, untangling holiday lights and climbing ladders won't exactly fill you with holiday cheer. If you're unprepared, hanging Christmas lights can be a time-consuming and tricky task. The good news is that there are a lot of clever holiday lights tips and tricks will make hanging decorating lights much easier. These ideas will show you how to hang Christmas lights easily and safty and get your house looking merry and bright.
#1. When installing exterior lighting, make sure you are using a good ladder. Secure them with insulated holders.
#2. Make sure you are always choose waterproof lights.
#3. Do not face your light directly into the sky. Because moisture may leak into the lamp socket, causing damage.
#4. Try to avoid extending the cords. If you have to extend the wires, make sure they are rated for outdoor use, and keep the connections above ground, snow and water. Using an old plastic container with notches cut in the sides to protect extension cords would be a good idea.
#5. If applying lights around windows, you can use a hot glue gun.
#6. When you want to lighting trees and you are low on lights, we recommend you to light one tree well than to light several trees with only a few strands of lights.
Below will show you some ideas with Image and Tutorial:
1. Liven your holiday tree up with two different bulb sizes:
Image via: vintagerevivals.com
2. DIY ping pong ball lights you will want to hang them all year round:
Video Tutorial at: Youtube.com
3. Attach the lights to PVC pipes using zip ties, then hang the pipes on fasia hooks to make your hang lights more easy and safe:
See the full Instructions at: fromcalculustocupcakes.com
4. Use clothespins to clip the holiday lights to the bottom lip of the fascia when you're hanging Christmas lights: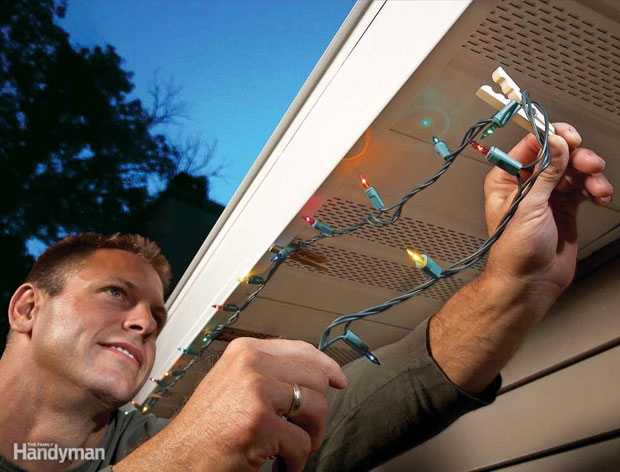 More details at: familyhandyman.com
Or Binder clips:
More details at: holidappy.com
5. It is a simple way to keep holiday lights from getting tangled. Simply wrap them around a hanger.
Source: sharonscrapbook.blogspot.com
6. Line up several milk-jug lights along the path you want lit:
Check out the Tutorial: thrifty101.blogspot.com
7. Use hot glue to temporarily attach a string of holiday lights on brick or stone:
More details at: mysixringcircus.com & christmasdesigners.com
8. Wrap a rope light over the cage, turn on the lights and enjoy your homemade new centerpiece:
9. Add a rustic touch to holiday decor with this Christmas lighted garland made with burlap:
10. The zip ties won't leave marks, so they can be used to tie holiday lights to railings:
More details at: familyhandyman.com