Decorating your home for Valentine's Day is a great way to show your loved ones that you love them. There are fascinating heart-shaped ornaments or many other romantic decorations that can be purchased from stores, but they are really not cheap. Why not make them yourself? Nothing does that better than impressing them with handmade holiday decor.
As the tradition of Valentine's decoration, Valentine's Day Decorations are not Complete without flowers. But you don't need to spend a lot of money to buy them. In fact, flowers made of red and pink cardboard also reach decorative effects. It's also cheap to get a table decoration – just use natural things like twigs and keep them in an empty vase and then hang dollar store hearts from it. So if you are fond of decorating your home for February with homemade decorations then you will be glad to find that we have made a collection of 27 DIY Valentine home decor ideas that we are sure you'll find at least one that suits your taste. Share!
1. It is incredible that this flower market bucket was transformed from a plain 5 gallon bucket: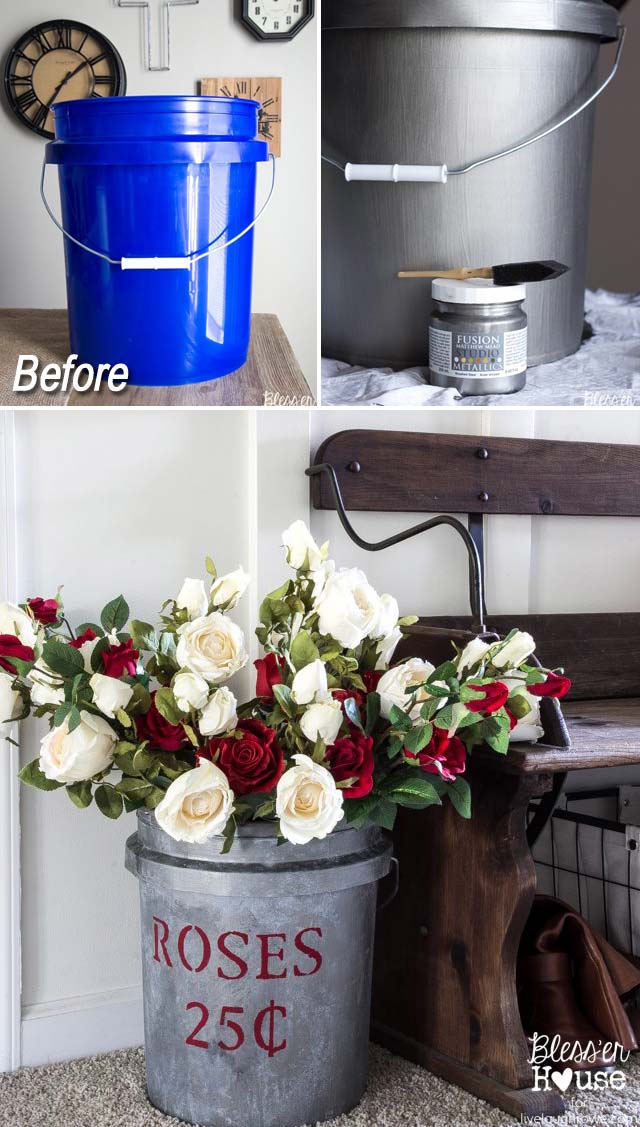 Tutorial: livelaughrowe.com
2. Create a stunning XOXO Valentine's Day decoration using pieces of reclaimed wood and heart wire wreathes: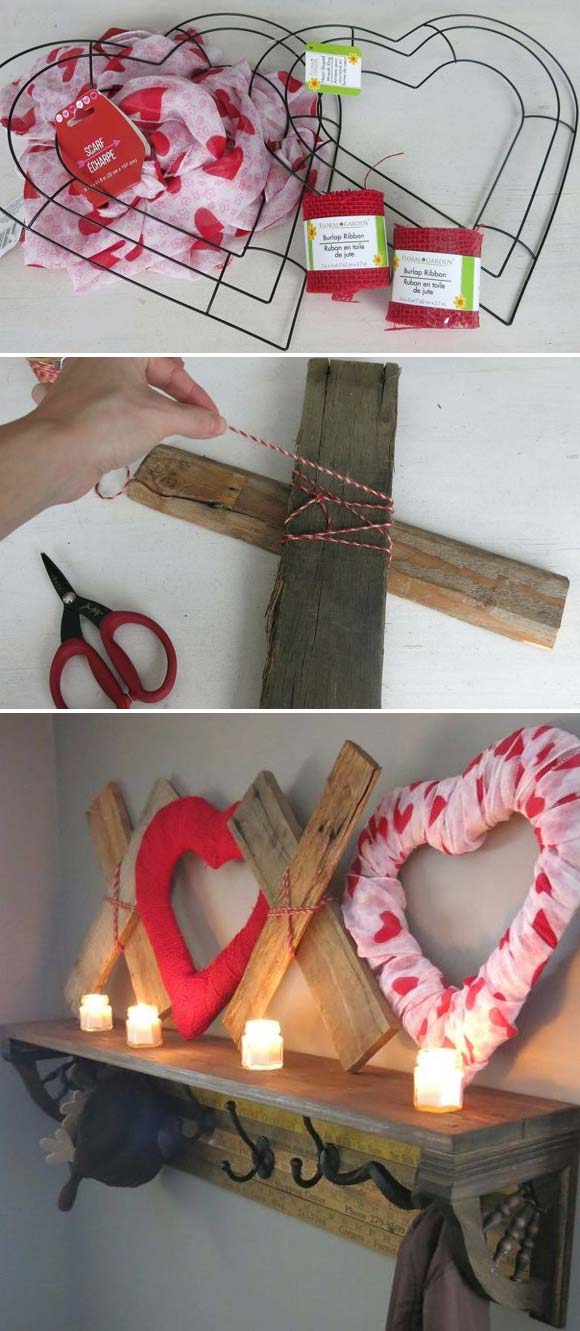 Tutorial Can be Found at: hometalk.com
3. Add a bit of romantic flair to your kitchen with a 3-tiered galvanised tray decorated by a variety of heart ornaments: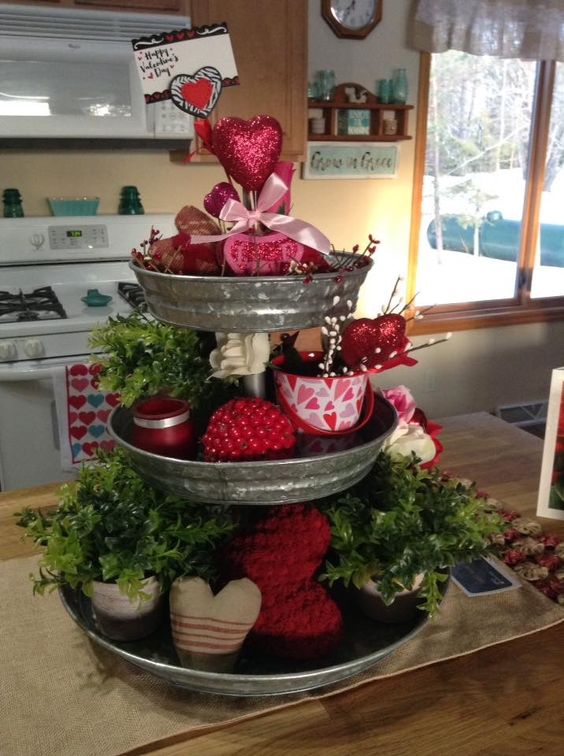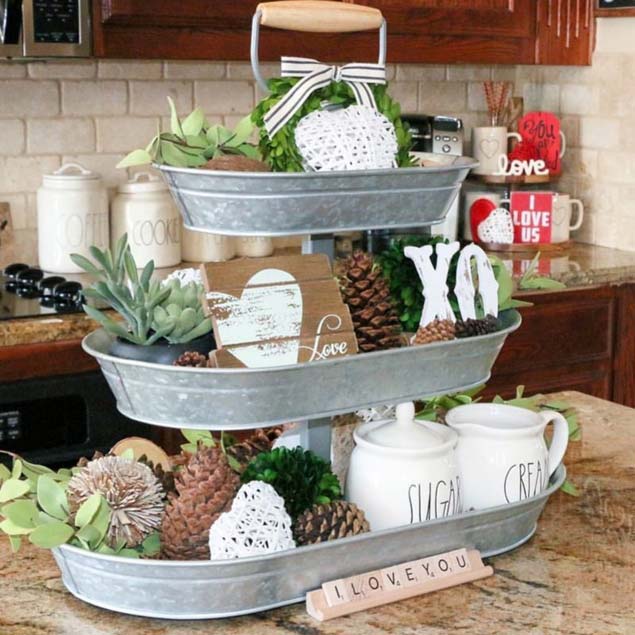 Image via: lifeonsummerhill.com
4. The extremely visually stunning Valentine's Day mantel decorating idea: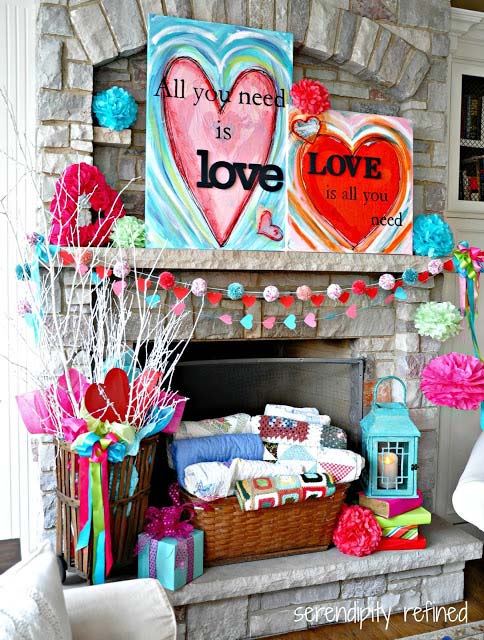 More details at: serendipityrefined.com
5. Mix vintage farmhouse pieces with tulips in different colors to create a chic Valentine's Day decoration: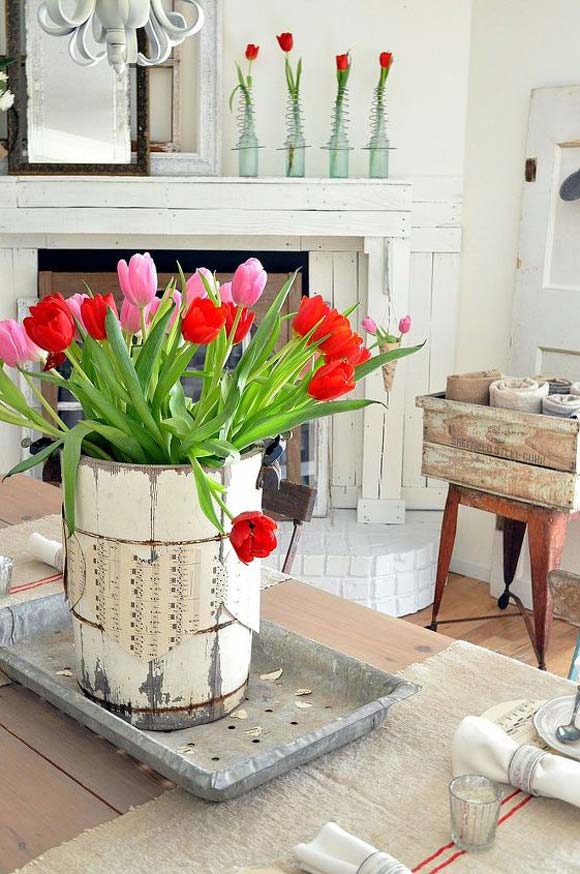 Image via: hometalk.com
6. Try doing this cute table centerpiece by glueing some paper roses on dry branches:
Tutorial: dozidesign.blogspot.com
7. Take advantage of a variety of pink heart crafts to decorate your romantic coffee and tea station: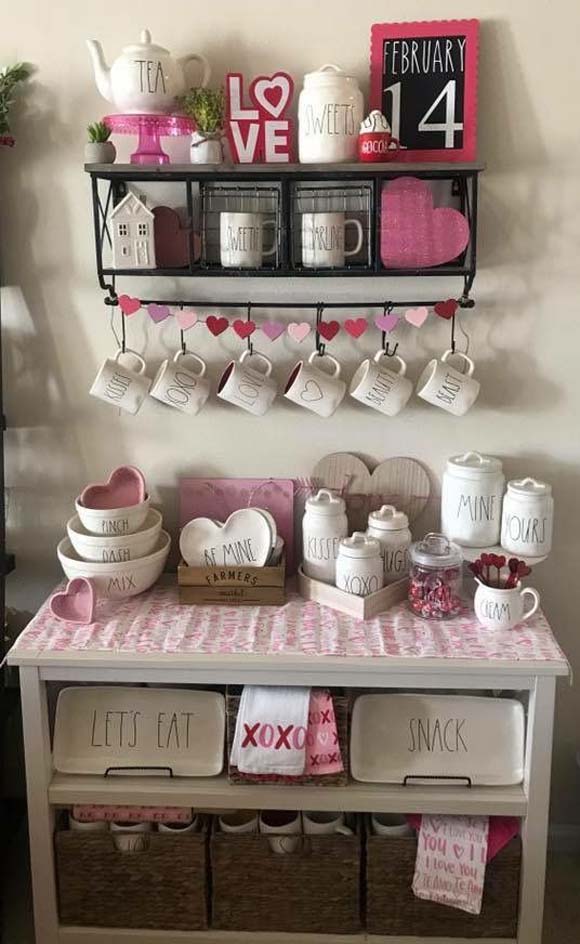 8. If you have leftover cones from last Christmas, why not transform them into Valentine yarn wrapped trees?
Tutorial: shakentogetherlife.com
9. It would be fun to lighten up your home with a little lovely forest of felt hearts: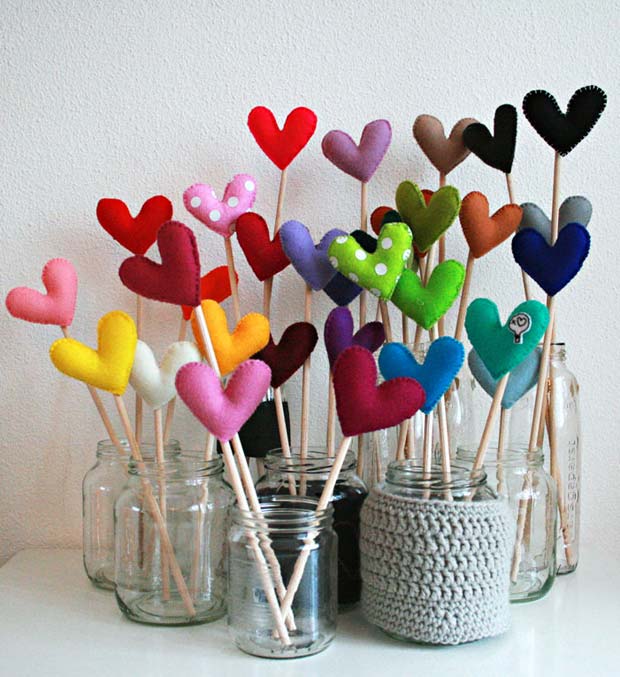 Tutorial: revlie.typepad.com
10. Hang a homemade heart shaped wreath in front of a chalkboard frame where you can write any love message: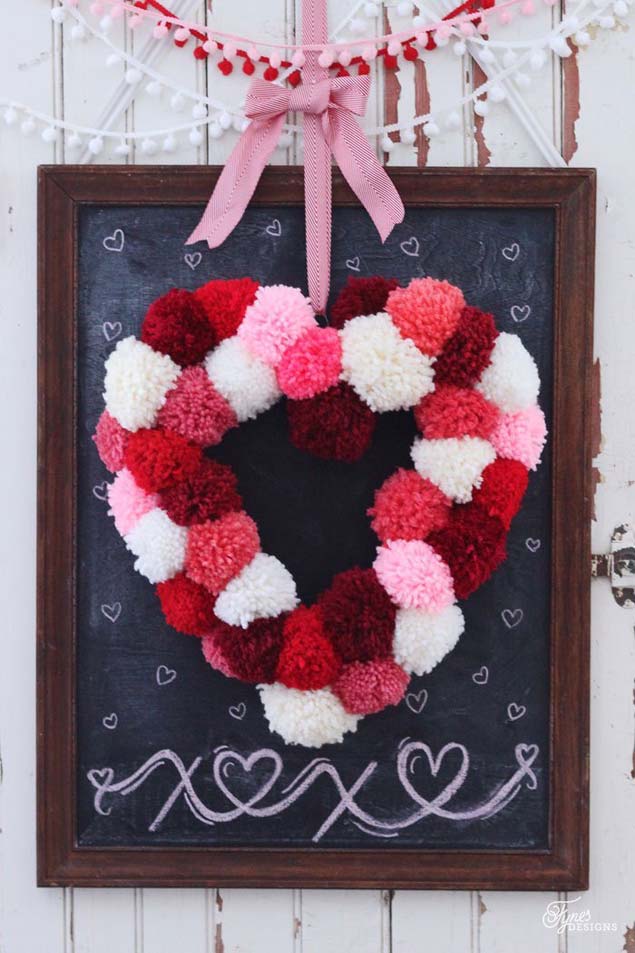 Tutorial: fynesdesigns.com
11. Mantel banner made with the hearts from a deck of cards: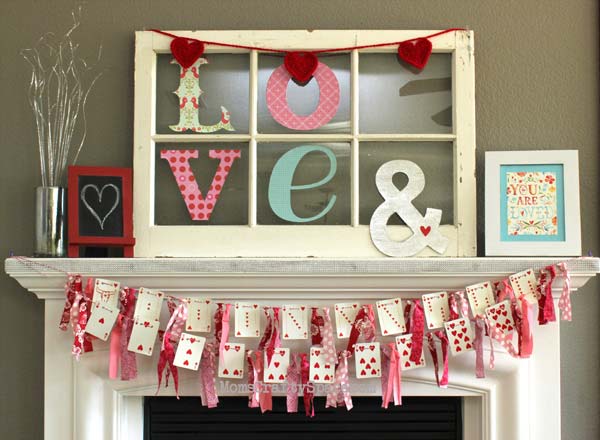 More details at: happinessishomemade.net
12. Candle Decoration with Ropes and Felt Hearts: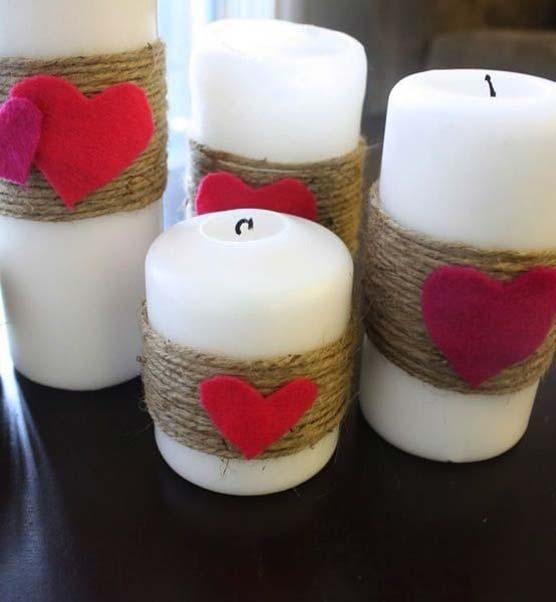 13. DIY Valentine's Day pallet string art: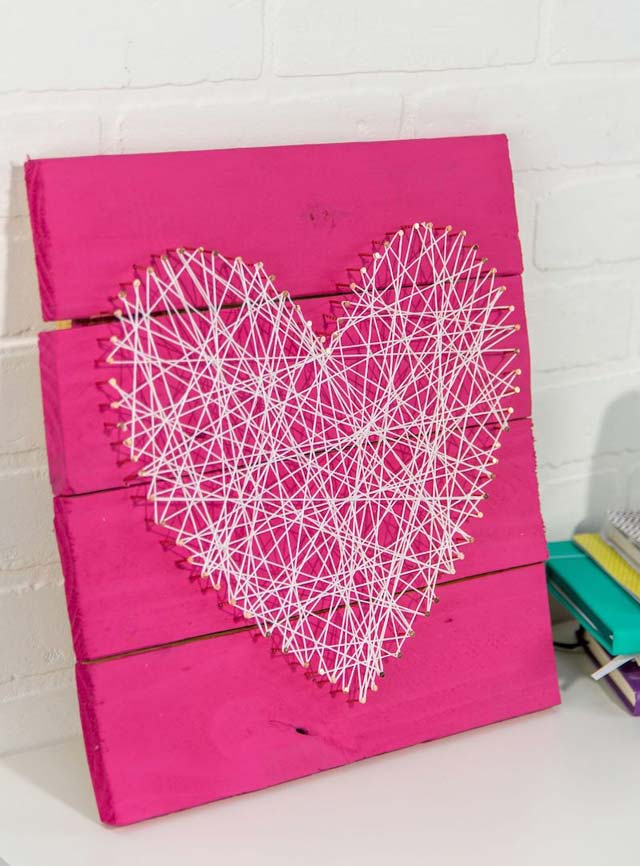 Source: alittlecraftinyourday.com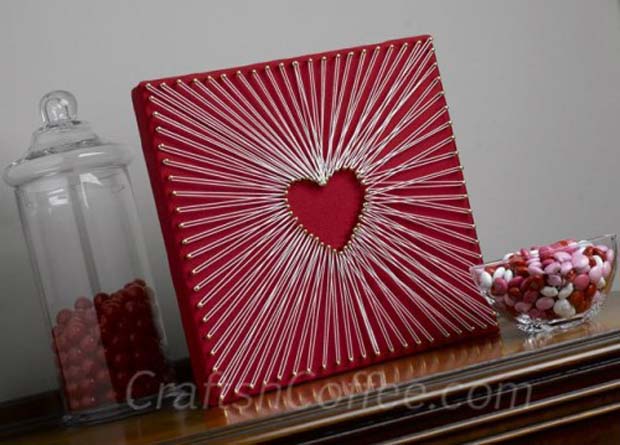 Source: craftsncoffee.com
Similar Tutorial for above projects: feelslikehomeblog.com
14. Use candy hearts in a long plate where has three candles in the middle to make a Valentines Day centerpiece: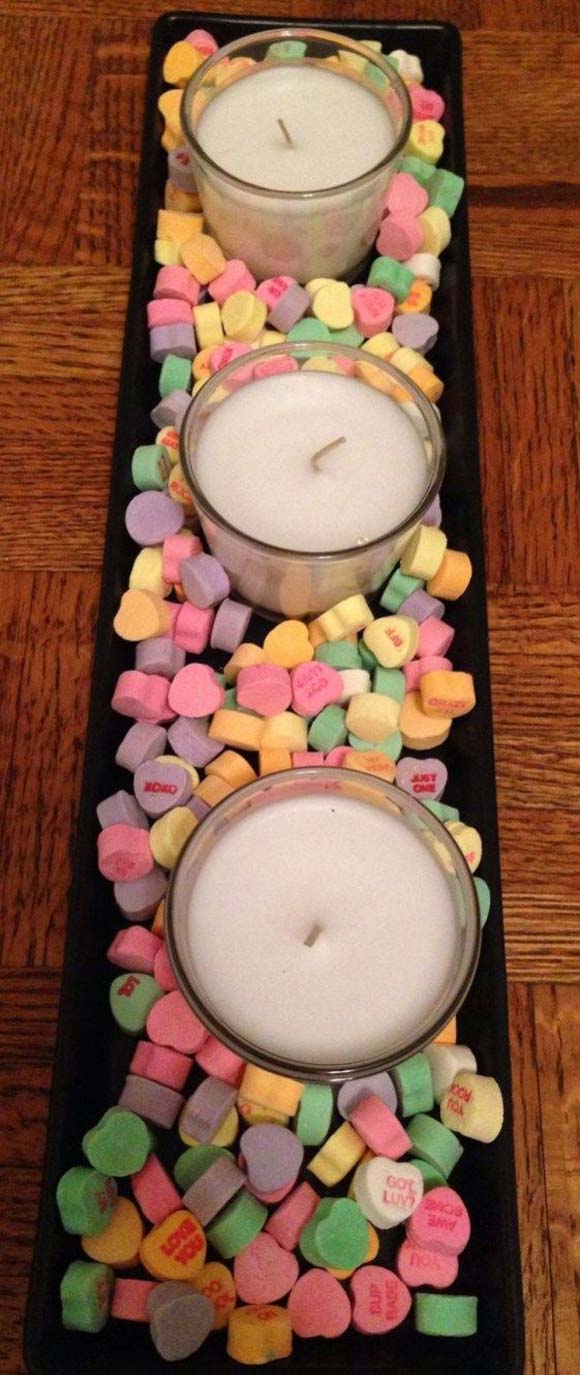 15. Decorate your entryway console with a small chalkboard with the word "love":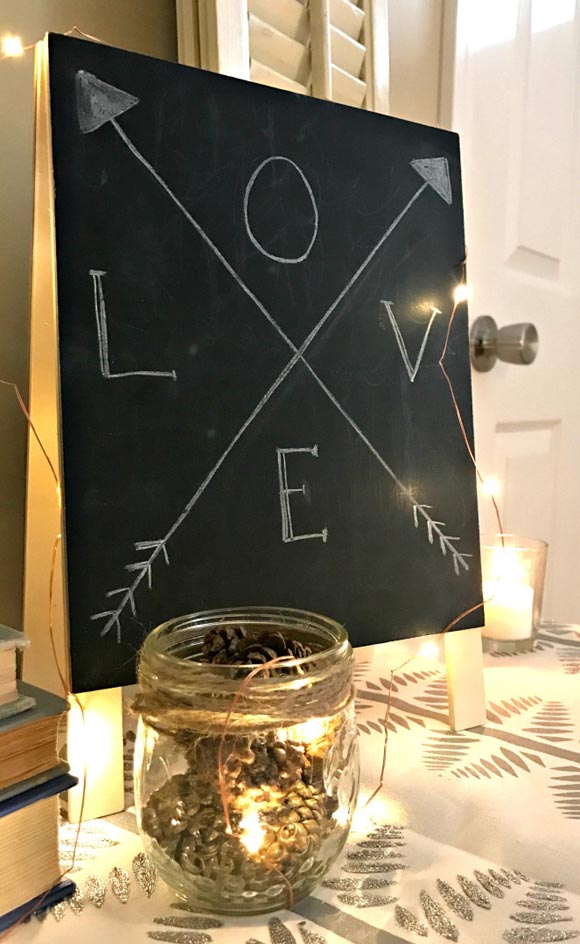 Image via: comehomeforcomfort.com
16. Decorate the plants of centerpiece using wire heart picks:
Tutorial: landeeseelandeedo.com
17. Decorate your Mirror with Notes Arranged in the Form of Heart:
18. "LOVE" sign made from wooden pallet: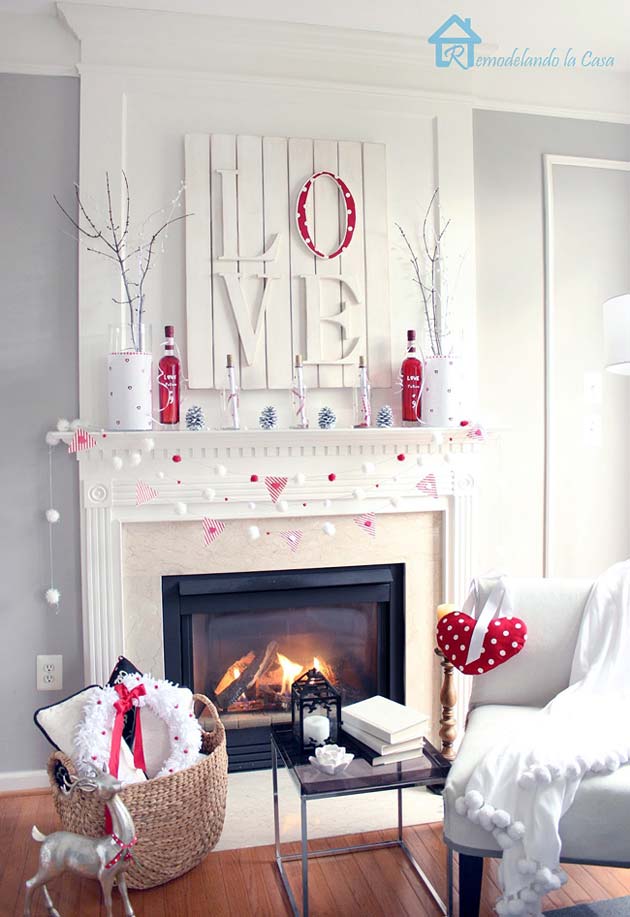 More details at: remodelandolacasa.com
19. Valentines Day Table Decoration with Candles and Chalkboard Table Runner: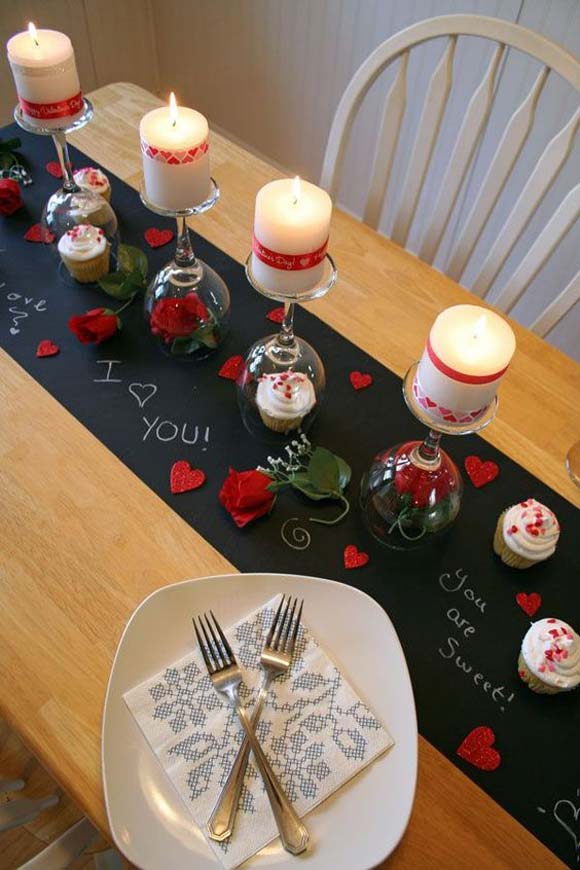 20. Cut card boards in heart shapes to make these lovely LOVE signs to decorate your front yard: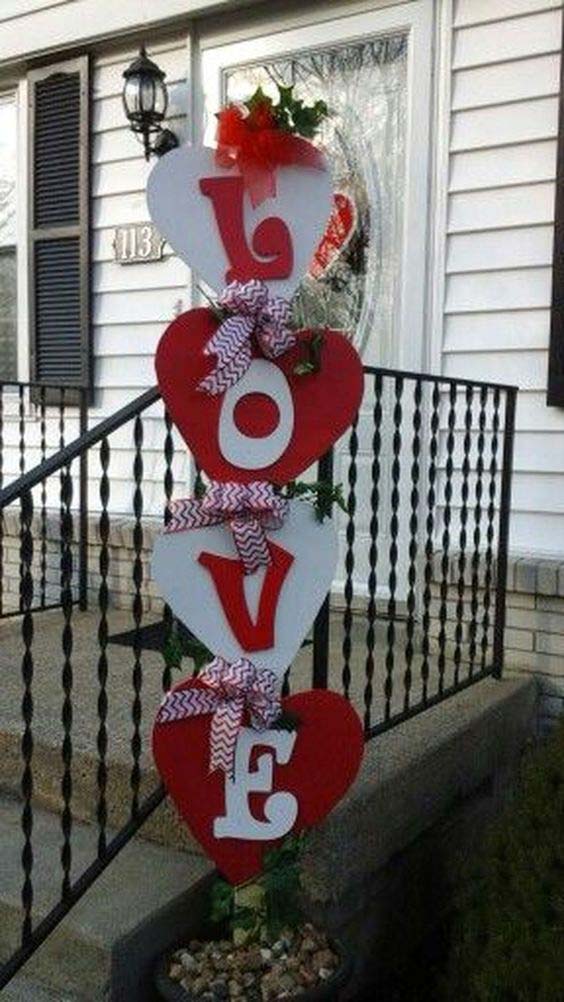 21. Making a heart accent out of corks: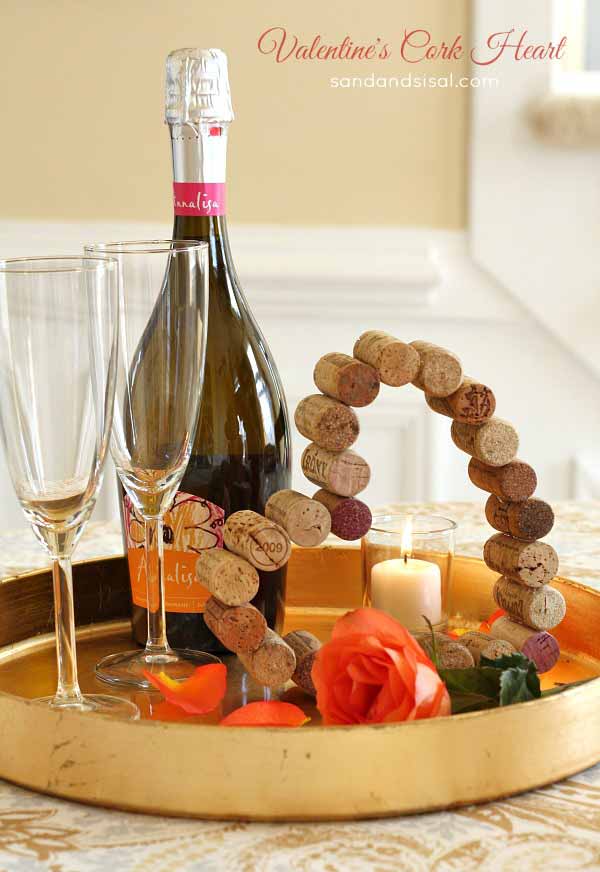 Tutorial: sandandsisal.com
22. Mod Podge Heart Art: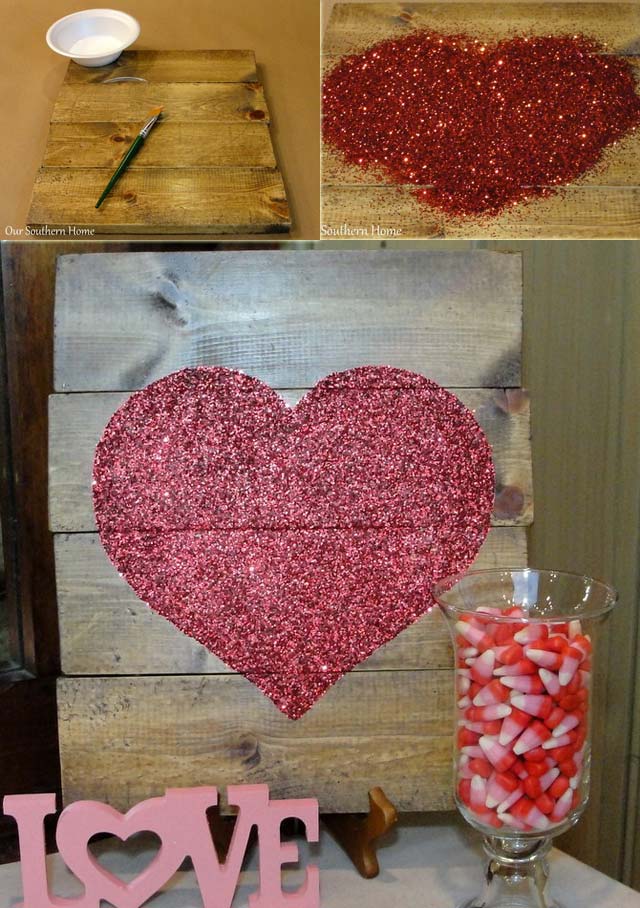 Tutorial: oursouthernhomesc.com
23. DIY Heart Shaped Table Runner: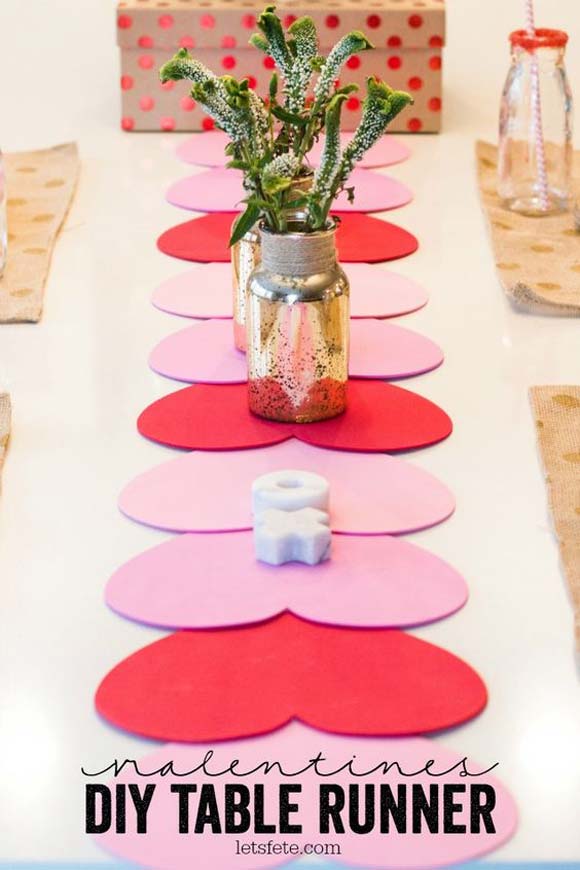 Tutorial: anightowlblog.com
24. Dollar Tree Valentines Day Heart Wreath: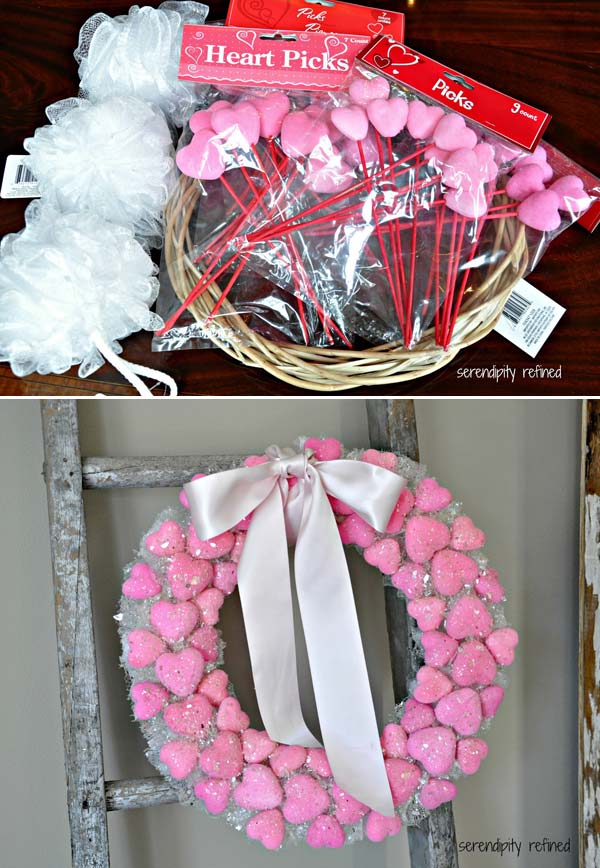 Tutorial: serendipityrefined.com
25. Carve a heart-shaped pattern on a piece of log, and write yours name with a pencil and woodburning tool: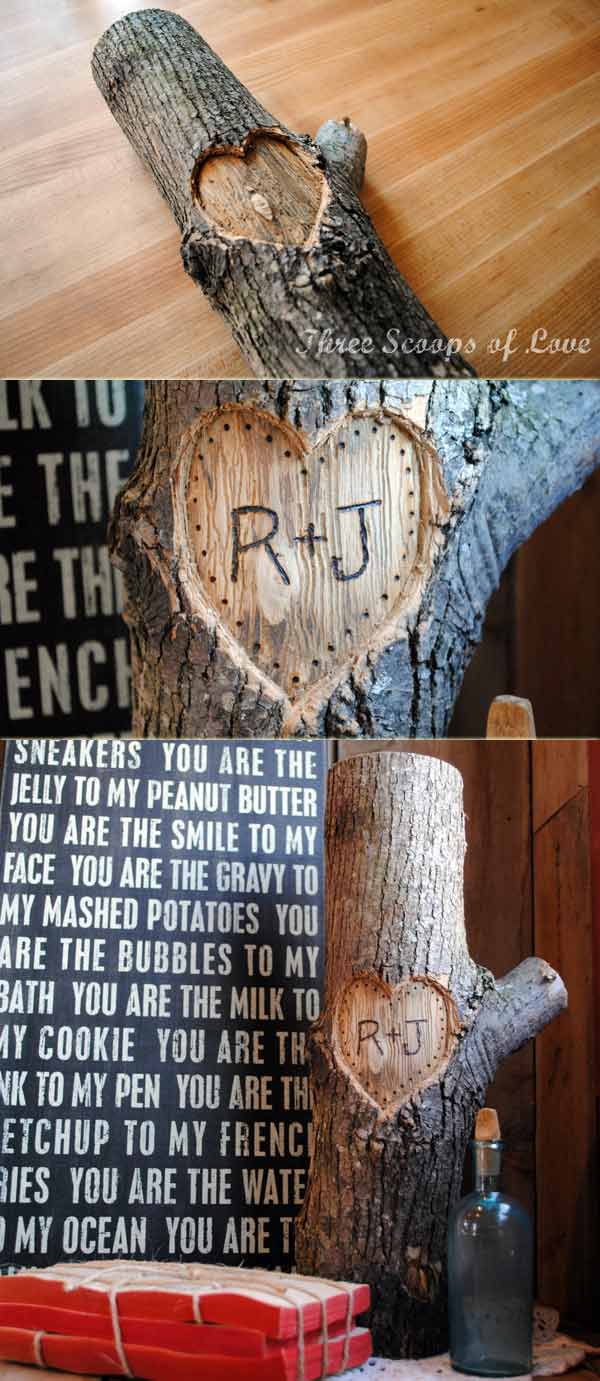 Tutorial: threescoopsoflove.blogspot.com
26. Valentine's Day Window decor with Pom Poms: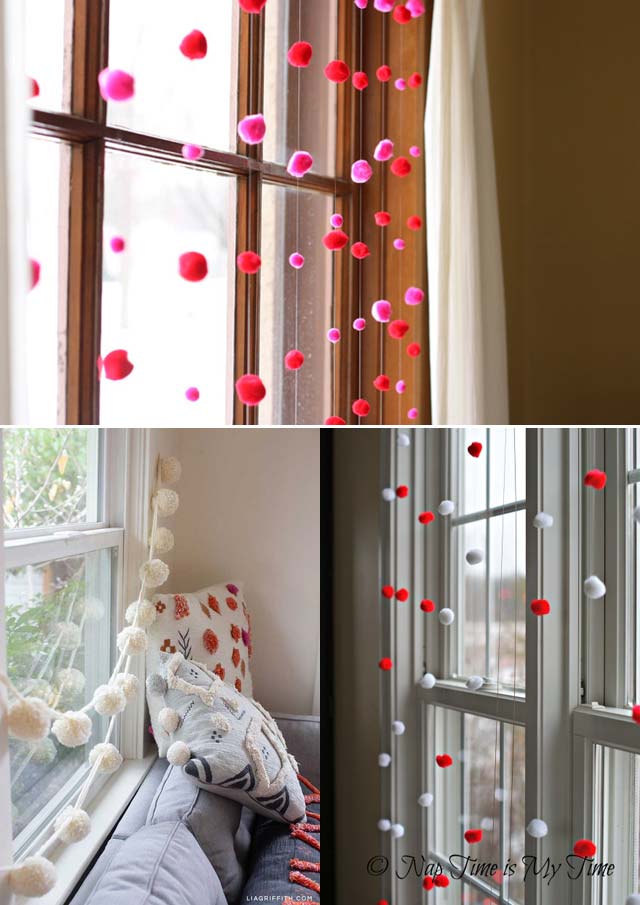 Tutorial: noodle-head.com    and    naptimeismytime.com
27. Another wooden sign decoration for Valentine's Day Mantel: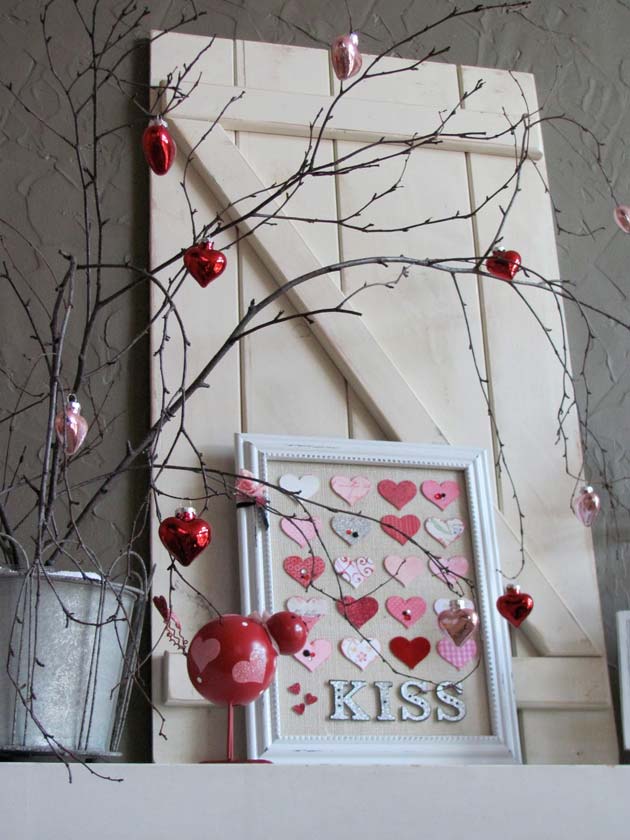 More details at: cottageon39th.blogspot.com